Pillows are a bit of an OBSESSION for me, I won't lie! My husband always cracks on me about it (& I usually won't admit it to him), but I do L-O-V-E decorative pillows. I'm still VERY into paint patterns, chevron, ikat & classic patterns too! I like to change around the pillows in our house from time to time… Kevin always says… here today, in the bedroom tomorrow. What can I say, I move things around a lot!
When I am searching for a client or just browsing the internet, I can't help but to check out the pillows. In fact, Kevin and I were shopping the other day & I realized the pillow aisle is one of my first stops. Pillows are one of the easiest & most inexpensive ways to update a room and add personality & color. I try to tag my favorites when I come across fabulous patterns… here's a collection of pillows I'm really loving right now!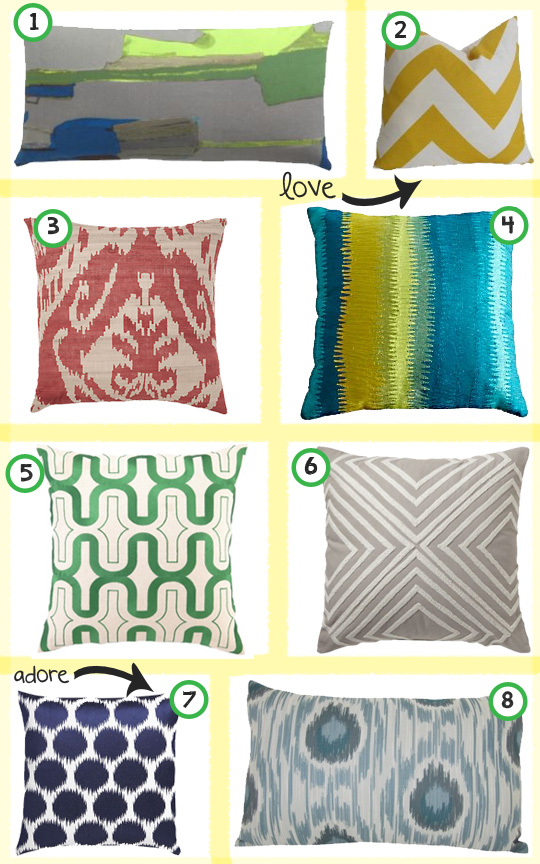 Here's the breakdown:
1. Painterly Pattern by CB2 (Watercolors & Brush Strokes are "in")
2. Yellow Chevron by Amazon (I heart chevron)
3. Exotic Ikat by Z Gallerie
4. Bright Ombre by Pier 1
5. Green Honeycomb by Layla Grace
6. Diamond Crewel by West Elm
7. Navy Ikat by Crate & Barrel
8. Soft Ikat by Target
Any favorites? I love, love, love number 2 & 7! Do you all like to change your pillows a lot too? DO TELL…
Related posts:
Updating...