I'm Lindsay Milner and this is my little corner of the internet.       
I'm a 28-year old college grad with a Bachelor of Fine Arts in Interior Design from the prestigious Ringling College of Art & Design and I'm living my small business dream.
My love affair with interior design and all things creative started when I was a little girl. Many of my childhood days were spent with markers and a sketchbook in hand designing my bedroom and rearranging my furniture. It was a rare day if I didn't have the magic markers, craft paper and scissors out creating something. I guess you could say being creative is just in me. In addition, my dad just happens to be a talented home builder, so I grew up around job sites, blueprints and paint chips!
I launched A Design Story in 2009 and it quickly became my own little interior design kingdom. A Design Story consists of 4 integral pieces that play big parts in the overall puzzle: Local Interior Design Services, E-Design (local & virtual), the blog and a shop (launching really, really soon). I absolutely love what I do…
I reside in Sarasota, Florida (a fabulous beach town) with my handsome realtor husband, Kevin, our adorable dog Bentley and our hilarious cat Tebow (whom has 7 toes on each side). I am a Virginia gal at heart (I grew up in Richmond), but I traded in my coats and boots for sundresses and flip-flops! Turquoise is my obsession and you better believe it plays a part in every room in our home!

Interior Design isn't everything—believe it or not!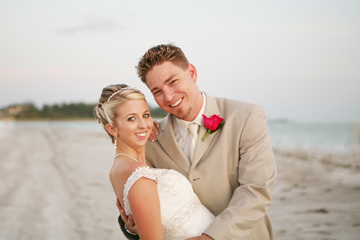 I am a Mrs. to the most incredible Mr. My love story began when I met my handsome guy, Kevin, in early spring of 2008 at a church bible study and we started dating not long after. On March 29th, 2009, Kevin "tricked" me into a boat day (it was cloudy & chilly out)… we pulled up onto the shore of a small, nearby island and he walked me to the path that led to flowers shaped in a heart with our names and candles everywhere. It was beautiful. I cried, jumped into his arms and said yes and my life hasn't been the same since. We said our "I DO's" & got married on the beach one year to the date of him first blurting out "I Love You" (Wedding Date =July 12, 2009). Everything about that day was so special, but every day since is what makes me get on my knees and thank God for him daily. I like to think of us as a perfect fit. We are best friends and we absolutely balance each other out! He's the financial planner, the "saver", the business guru and the practical one, I… well; I am the "spender", the dreamer, the encourager and the creative one. He helped me put my vision of owning a small piece of the interior design world into reality. How it works: we put Kevin's business degree from the University of Florida to work… he's the brains behind A Design Story and that leaves me to do what I do best… Design, Create and Repeat!
As far as business goes, we have the perfect triangle. Kevin is the high-end realtor, I am the interior designer and my dad is the builder. We make quite the dynamic team! Together, we work on projects, rehab houses and always dream big!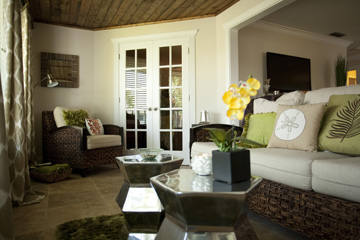 Interior design is what I love and my distinguished design talent has led me to design dramatic and luxurious interiors for many prestigious projects.  Before venturing out on my own, I worked with many esteemed firms that further cultivated my design skills and broadened my business practices.
Presently, I'm armed with over 7 years experience in high-end residential, boutique, small scale commercial, healthcare and hospitality (hotel) design. I am polished in a broad range of design styles and have the education, talent, ingenuity and knack for style to create timeless and beautiful interiors.
Let's unlock the hidden potential you have hiding in your home… For more information on top notch design services, visit my local interior design or e-design pages.

I like to think of my blog as a virtual sketchbook; a place for me to share & showcase my designs, projects, inspiration, our own home's happenings, hopes, dreams, ideas, fashion finds, diy and craft projects, recipes, thrifting hunts and so much more!
I launched the blog in February of 2010 and I have learned so much about the world of blogging since! I didn't realize how much I would come to LOVE & value my blog. It's actually turned into one of the primary business ventures within A Design Story. It was a goal I had since the start of my business and I really feel certain it's been one of the puzzle pieces that complete it.
Since the start, the blog has been featured on sites such as AOL, Apartment Therapy, & MANY more as well as recognized by HGTV and The Nate Berkus Show. In addition, I just completed my first article for SRQ Magazine's "Design Notebook". (Click here for more press).
When I am not designing interiors, writing for the blog, or creating goodies for my shop, you might find me pursuing the magical aisles at Target, hanging out at the beach or somewhere around town holding hands with my Mr.
I believe in miracles, being as girly as possible, having fun with color, love letters, retail therapy and that a good cup of coffee can make your day. Our life isn't always rainbows and cupcakes, but we are happy, in love and loving life.
Oh, and if you're in the market for a new home… Kevin would love to help! Just click here.
I'm so tickled you stopped by! Please have a look around, stay a while and introduce yourself! Lindsay (at) adesignstory (dot) com or Kevin (at) adesignstory (dot) com.

Updating...