Please excuse this interruption from the scheduled blog party! Actually, two of my guest bloggers ditched us this week. But no fear, we have bigger and better ahead! An announcement…
 We have an announcement… remember back when we mentioned we were looking for a kitten? No, well just click here & refresh your memory.
Well, we found one.
Kevin has a friend who just so happens to run Honor Sanctuary here in Sarasota. We were invited over to the Ranch to pick out our very own kitten. As soon as we got there I fell in love with every kitten. Some of them were so small that they fit right into the palm of my hand. So sweet! Well as you probably know from our previous post, we wanted a gray, striped kitten. Boy, oh boy did we come out with something different.
Back to what's furry & has 14 toes?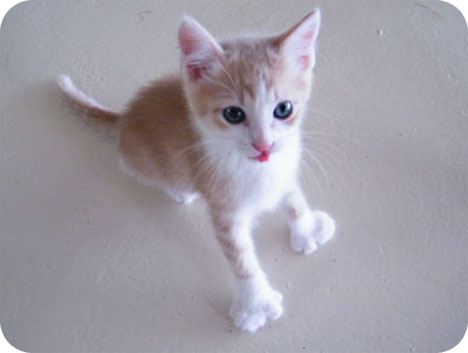 Well, we actually pick up the little guy today… here he is… all 14 toes and all. Yes, he has 14 toes in the front… he is polydactyl! Don't know what that means (I didn't)? Click here to learn all about it! Basically, instead of having 5 toes on each side in the front, our little guy has 7 on each side. He looks like he has mittens on… but we love him already. What's funny is he is white & light tan, he matches both our living room wall (click here) & our dog~ I know, I can't help it… I am built that way!
Oh, are you wondering how our Bentley (A.K.A. Boo Mouve) is taking the news? Not so good! Look at him… he is thinking that his days of being #1 are over. But no worries, I assured him that he will always be the #1 baby Mouve in my heart 😉 (Want to know what Mouve means? It's a nickname we call each other~ we'll describe why someday).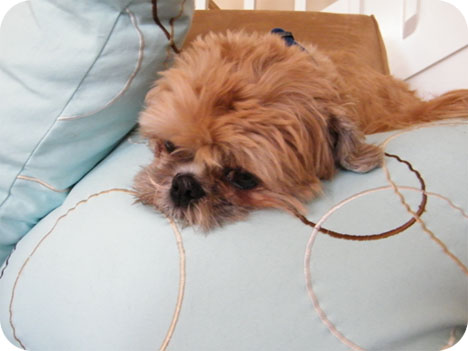 We are headed out this afternoon to pick him up. We will keep you updated on our adventure next week. We will have fun information about Honor Sanctuary, Design for Pets & how our little guy fits into the family.
Like what you read? Click here to subscribe.
All images courtesy of A Design Story, LLC.