Hi All! I hope everyone is enjoying summer! I try really hard to sneak off at least once or twice a week for a little sunshine at the beach or pool… what about you?
As a designer/design blogger, I have tons of resources for furniture, accessories, art, rugs, window treatments, lighting & more. I thought I would show you a few of my favorite lights from Lamps.com today.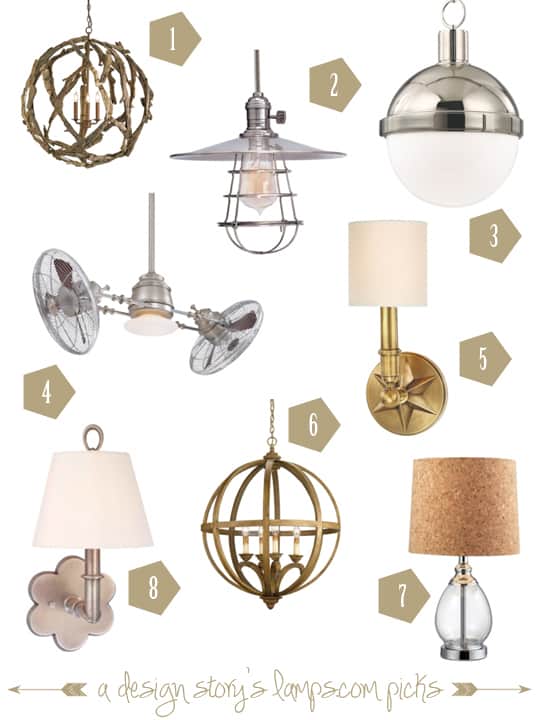 1/ Driftwood Orb Chandelier… I LOVE this. I love the idea of using this in a rustic coastal setting (like my dining room in-progress). It goes perfect with a rustic table and metal chairs. It's absolutely a statement piece.
2/ Heirloom Light Pendant… I love all things coastal. I think this would look great above a bar area in the kitchen.
3/ Lambert Light Pendant… This is a great pendant to place in the kitchen above the bar or island. It's vintage-yet-modern. It comes in a few finishes and I really think it could bring a classic look to a room.
4/ Gyro Ceiling Fan… I have always loved these types of ceiling fans. They would best in a fairly large space with super high ceilings. This fan tends to lend itself to a beach/tropical/coastal look.
5/ Bethesda Wall Sconce… I am OBSESSED with this sconce. I would love to have two for my entry way. It's absolutely adorable… love the star! It's classic and nautical. It would look great in an entry way, bathroom, or hall.
6/ Axel Orb Chandelier… Orb lights are extremely trendy right now. I love the fact that this one takes on a nice gold finish to it, which makes it more versatile as far as room styles go.
7/ Pomana Wall Sconce… This is another wall sconce I absolutely love. I really like the soft finish and the shape. I think this would look great in a bedroom, entry or even hall. It's adorable!
8/ Clear Table Lamp… Clear glass lamps are perfect for any space. I try adding them into almost every design project because they blend seamlessly into many designs styles. They are classic and modern and can stay put in a space even when you change décor. This cork lampshade is a great addition… it speaks coastal to me!
Are you loving any of my picks? Well… here's fun 10% coupon code so you can shop until your heart's content… ADESIGNSTORY10. You can also check out this post on the official Lamps.com blog!
That wraps up my faves… What about you? What are your favorites? Are you guys adding any new lighting elements to your homes? Do share…