Happy February!! February is absolutely one of my favorite month's because it's my birthday month! Who doesn't love their birthday?!?!!
The new year has gotten off to an incredibly busy start! I have some new things in the works for the blog, site & shop (I will reveal those secrets next week), I am going to be contributing monthly (or more) over at Chic Cheap Nursery & so, so, so much more…
Like most monthly favorite posts, it's easy to come up with a "love list. There's so many things that have caught my eye recently, that it makes it a bit hard to narrow down the list. Since I am in the process of changing out a few things in our home and adding some new "fresh" colors, I used my inspiration & ideas as a guide to this month's home edition… Let's begin shall we?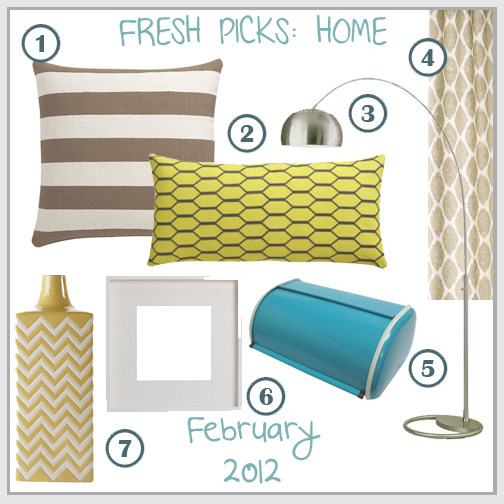 Here's the breakdown:
1. Stripes!! I love stripes (hence the striped wall in our living room). I am really loving these large striped pillows from Crate & Barrel to add to our living room. I love the idea of playing off the stripes on the wall to create a cohesive look.
2. Ever since I just finished a beach condo project for a fabulous client of mine, I can't get citron & chartreuse colors out of my head! We are playing with the idea of incorporating the shades in our bedroom actually. I LOVE this graphic pillow from CB2 as an accent!
3. Lighting is a huge element in decor/design. We are lacking in this area for sure in our home. I would love to add a floor lamp to our living area near a chair to create a reading nook. I love this inexpensive floor lamp from Lowes, in fact, I recently used it in the above mentioned beach condo project (which you will all see photos of soon!)
4. Ikat is a huge trend these days. I love it. I recently ordered one single ikat window panel from West Elm to re-upholester a bench I picked up from my local thrift store. These window panels are bea-u-tiful in person!!
5. Right now Target has some of the most adorable + modern + trendy home decor & kitchen products. You can find chevron pattern items, floral items and fun pops of color. I think this bread box is adorable. It comes in turquoise, white, red and black I believe. So cute!! It makes me wish I didn't have to refrigerate my bread– gluten free.
6. Gallery wall time. I finally got the "go ahead" from the hubby to add a white framed gallery wall to our living room's back wall. I have so many cute pictures & graphic prints I can't wait to add! I am going to take a lil' trip to Tampa next week to visit Ikea for these Ribba frames! Stay tuned on this one.
7. Zig zag fever. I am a huge fan of the chevron pattern… who isn't? I think this adorable yellow vase from Zgallerie would look great on white shelves or even a coffee table paired with a few shorter vases.
Now, here's a few fashion + beauty items I am into right now…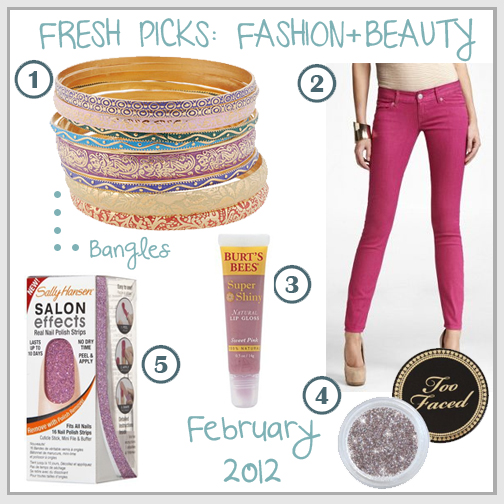 Here's the breakdown:
1. Bangles. I am pretty much obsessed with fun bangles these days. I think they are a fun way to add a pop of color into your accessories. You can mis-match them or use just one depending on your outfit. These golden cuties are super inexpensive & from Forever 21. Costume jewelry doesn't have to be expensive to be cute. As girly as I am and as much as I like to stitch up things, I try to pair a few inexpensive pieces with a few pieces that cost a bit more to each outfit.
2. Skinnies. God Love Them. I do. From the moment I brought home my first skinny jeans, I was addicted. I love them. I live in them. Awhile back I even purchased a cobalt blue pair of skinny capris… and I love those too! Then because they gave me so much joy, I bought some turqouise skinny pants. HEART THEM. Now my eye is on a pink/ magenta pair like these from Express. Adorable, right?!?!
3. I have probably mentioned a million times on the blog, but I eat gluten free now & have for almost 2 years exactly now. I have it down to a science these days (after a lot of practice and tough days). What I fail to remember sometimes is makeup and how it affects my immune system. Since consuming gluten in any way is not tolerable to me, I have to be a little creative at times. The other day I was watching Elizabeth Hasslebeck on the Dr. Oz show and she mentioned that Burt's Bees products are g-free. I went out immediately and grabbed me some new lip gloss— I love it!
4. Lately I have been breaking out of my shell and wanting some glittery eye shadow. Are you with me out there?! Anyone else loving all those glittery eyes on Pinterest? Me too! This glittery eye shadow from Ulta  is long lasting and the perfect amount of shimmer!
5. I used to get my nails down all the time. I liked it. These days, my husband will give me a gift card for a mani-pedi (which is so sweet), but I find myself enjoying the pedicure, but the manicure + polish doesn't last long. I heard about these nail strips from Sally Hansen from my hubby's cousin and I knew I had to give it a whirl. These puppies last like 14 days folks. I grabbed mine from Target with a coupon— so look for those! They have sparkle designs, floral, geometric one's.. kinda fun +different!

So, really… what are you loving this month? Have you bought anything recently that you just want to shout about? DO TELL. Also, I am extremely sorry for the lack of posts lately, unfortunately I came down with a bronchitis like virus and then shingles. I must say I have had a rough start to 2012, but I am coming out of it and feeling good. I am grateful for your understanding, patience and loyalty!
What have you been up to lately? Welcome back!