Happy June! Summer is in full force… yay! As with every new month, it's time for the monthly favorites post! It's by far one of my favorite posts to pull together… I enjoy sharing new purchases that we love and even some items that have made it on the "wish list".
You may have noticed the lack of posts lately… I promised I was getting back to it… but things came up! I am spending as much time as possible with my grandparents. Thank you for your patience, prayers and sweet emails… I appreciate it. If you follow me on instagram or twitter, you may have seen (or read) that my parents and grandparents decided to stay right on the beach (right on the water) for most of the summer. It's really to have a summer together and have my grandmother be able to watch the fireworks for the first time on Siesta)… we are hoping it works out and her wish comes true! So.. for the next month and a half… I am blogging from this view… (iphone pic)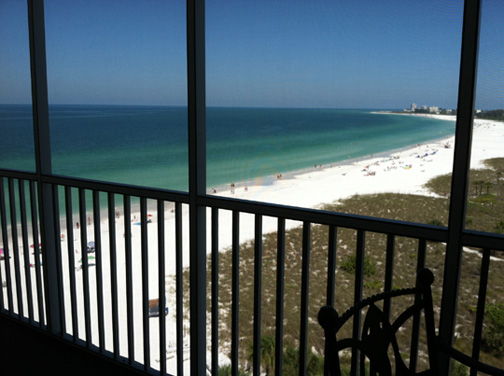 We are sitting pretty right on Siesta Key Beach… the whole family. It's wonderful. I plan on showing you each condo we stay at… (we have to all move half-way through to different units). What's funny is, we are staying two places over from where most of my summer childhood memories were made. Even though we are all only a few miles from our homes… a staycation was the perfect idea this year! (Although— Kevin and I plan on a fun trip or two after this…) Oh… and check out this sunset… (iphone pic)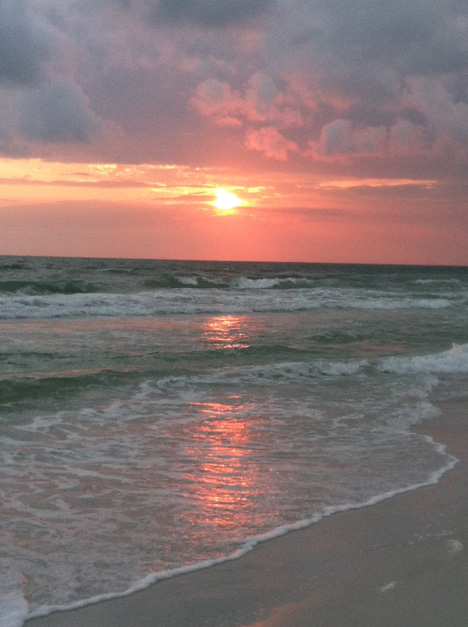 Today is a BIG DAY! Before I go into the Fresh Picks, I wanted to let you know there have been a few small changes to the blog… I will clue you in on those next week. In addition to that… I have a fun fun fun secret to reveal on Monday… It involves ME in a MAGAZINE. Stay tuned…
Now… finally… June's favorites…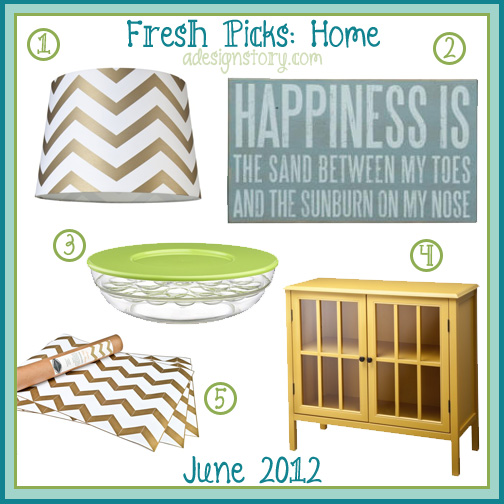 The Details:
1. I recently picked up the most fabulous Kelly Green Gourd Lamp at a local thrift store for a whopping $7. It's brand new. SCORE! I have been looking for a unique lamp shade to add to it… I really wanted something chic and trendy… enter this WONDERFUL Chevron Lamp Shade from Target.com. At $19.99, it was a steal since shipping is free with my lovely red card! (I'll show you the finished product once the mail comes in)
2. It's beach season. I LOVE the beach… nothing is better than living just a few minutes from one of the most beautiful beaches in the world. Kevin and I like to add fun beach finds to our home over the summer months… whether it's seashells we found or little items here and there that give our home a little "beachy character"! I came across this sign from Seaside Inspired and fell in love— cute right?
3. It's time for picnics and bbq's… It might sound silly— but I just made my first 'batch' of deviled eggs— we call them angel eggs in our family— I think I might be obsessed. I have been hard boiling eggs and making "angel eggs" like a crazy gal… now I just need a dish! I love this egg server dish from Crate & Barrel because the ice sits on the bottom, keeping them cool… perfect for a summer get-together!
4. Awhile back, I was designing an office for an e-design client and I came across this yellow bookcase/cabinet from Target… IN LOVE. It would be great as a foyer table, storage for an office or bathroom… love, love, love!
5. Kevin and I recently re-did our foyer/entry area. We added a fabulous gallery wall (details coming), shelving and a new dresser/table with tons of accessories! I really want to add these chevron drawer liners inside for an extra pop of color, pattern and design. These chevron liners are from the fabulous Karen at Hammock & High Tea!
Have any loves? Do tell… I LOVE to hear what you all are into these days!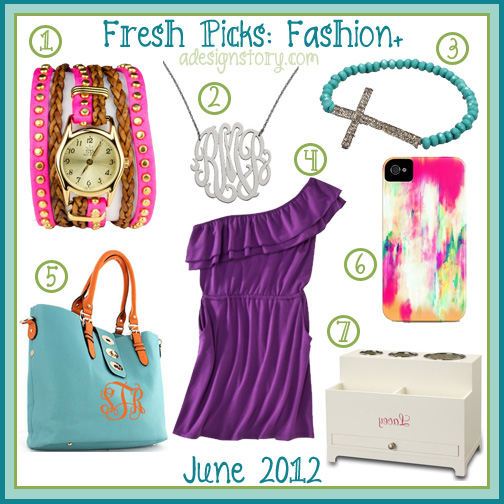 The Details:
1. Lately, I have been on a watch crave. I love, love, love my watches. I have several now, but this wrap watch from Luxeyard is on my must have list this summer.
2. I love all things monogrammed. I have a sterling silver monogrammed ring from my "maiden days" (It has my "old initials"– I am keeping it for my kids one day)… I would love to have a new necklace with my "new initials"… this necklace from Max & Chloe comes in a variety of color choices!
3. Everyone knows I am a lover of turquoise… just look at this website!! I also love the ONE who died on the cross… I recently stumbled across this cross bracelet from Windsor Store on Pinterest and knew it was a must have… It's adorable and it was only $11!
4. Warm and sunny days call for cool clothing. I love to slip on a cute & casual dress with a pair of flip flips or sandals and my hair in a cute side braid and pony! This deep purple dress from Target is comfy and perfect for these hott days here on the beach!
5. Summer is the time for getaways & beach days, I always like to have a cute bag for both! This monogrammed bag from Tiny Tulip is adorable for the occasion! It comes in tan, aqua, pink, white & orange!
6. I love this I Phone Case from Society 6. It's "summer" in a case 😉
7. Kevin and I have a fairly large bathroom, which I love… a large vanity with two sinks, a walk in shower and my beloved garden bath tub. We have under cabinet and drawer storage, but my every day things like my straightener, curling irons and blow dryer (plus my Mary Kay face wash etc) tends to get a little messy. So, I love the idea of this beauty organizer from Pottery Barn Teen… I can monogram it and save us some space! Plus… it might save me some time getting ready 😉
So… what are you all into this month? Any vacations? Any must have items? DO TELL. Also– coming up on the blog: News, E-Design reveals, giveaways, summer vacation posts & more… stay tuned! So.. what are your favorites?