From time to time, Kevin will bring home fresh flowers just to see me smile. I LOVE fresh flowers! Adding fresh blooms in a vase brightens up any room and makes my heart just jump for joy.  
If you are like me, I try to make the flowers last as long as they possibly can. Flowers can wilt fast when you don't use formula to care for them. I used to pour in those packets of white powder the florist gives you in the bouquet… until I read the back of the package that is.
Warning: Keep out of reach of children. In case of emergency call 1-800- you know the drill.
In addition to our adorable dog, we have a cat who loves flowers too. I really don't want to use the packet of white powder when I have curious animals or nieces & nephews running around. So… I am going Au Natural.
There is no need to buy fancy preservatives anymore… we are using common household ingredients to keep our blooms fresh longer…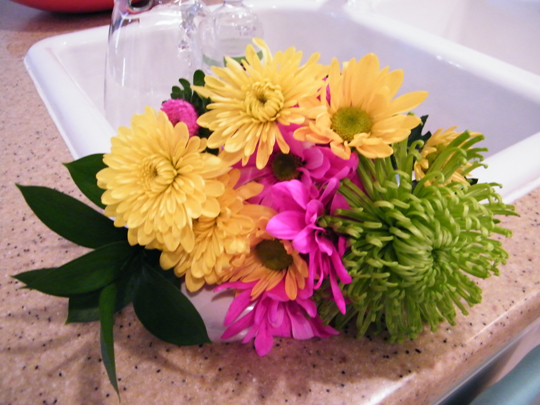 Here's the "green" fresh flower care formula…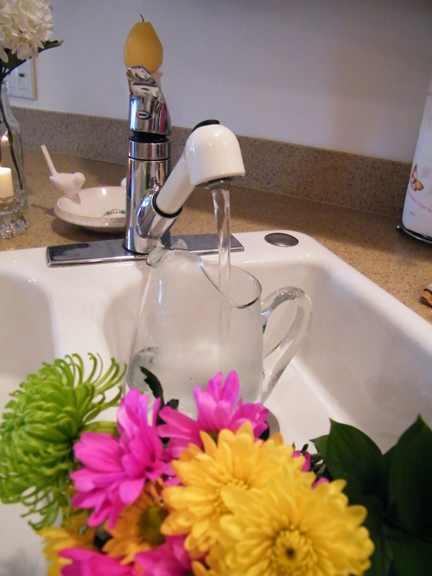 Step 1: Add 1 quart warm water to a clean vase.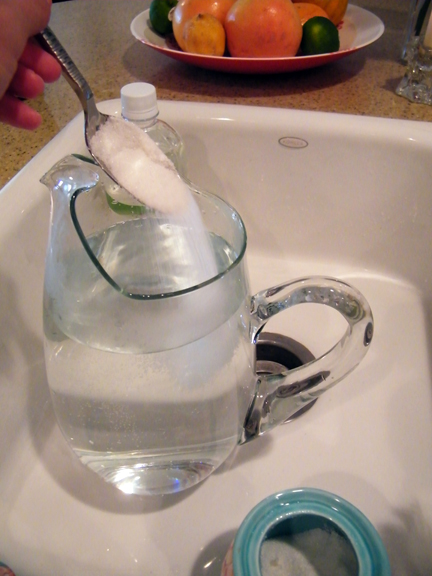 Step 2: Pour 2 Tbsp sugar into the water. The sugar will help nurture the flowers and encourage opening of the blooms.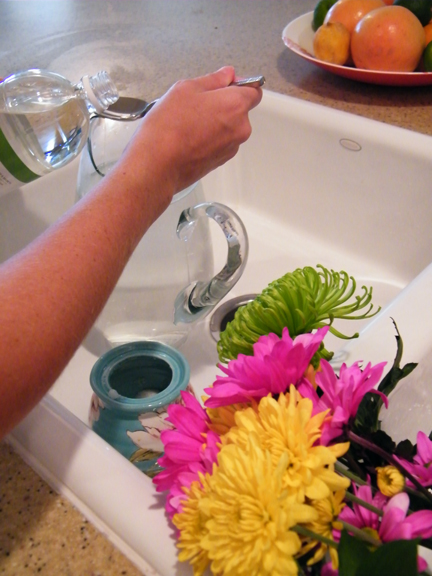 Step 3: Add 2 Tbsp white vinegar and stir well. The vinegar helps slow down the growth of bacteria and keeps your flowers fresher longer.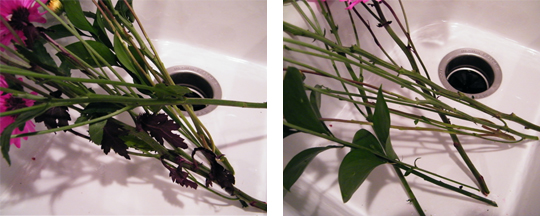 Step 4: Remove all lower leaves from flowers so there won't be any in the water. Loose leaves make the water thick and can soak up the solution.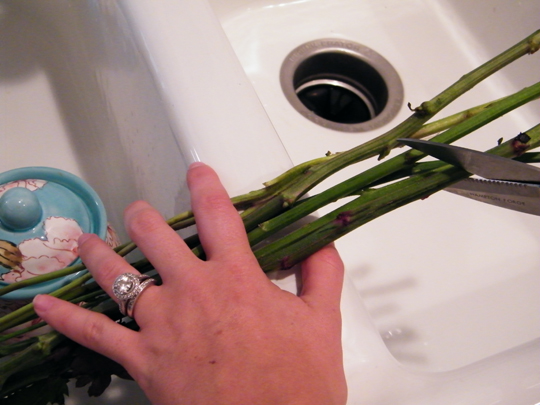 Step 5: Cut 1 to 2 inches off the stems at an angle.
Step 6: Arrange your flowers in the vase. Play with them & get creative!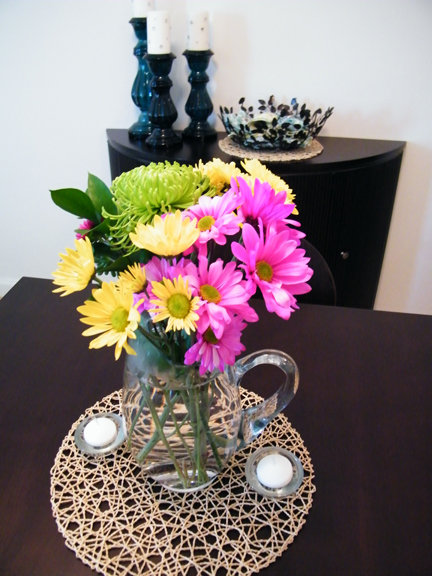 Step 7: Display your bouquet in a cool, draft-free area. Avoid direct sunlight, which causes the flowers to die more quickly.
Step 8: Change the water every other day and re-cut the stems each time.
Step 9: Enjoy your long-lasting flowers!
Here are a few extra trips…
– Tulips grow a few inches after they are cut and will continue to grow toward the closest light source.
– Daffodils should not be added to a vase with other flowers. They secrete a substance that kills other flowers when in the same vase.
– Hyacinths should not be cut down off the bulb, they actually last longer if left on the bulb.
Love more 'green tips'? We have a post all about lemons & their many uses & a post chock full of homemade 'green' cleaners!
Do you have any home remedies for flowers or cleaning? Share please!! On the subject of flowers, what are your favorites? I love Peonies, Gerber Daisies, Roses, Tulips & Hydrangea. You?
{I linked this post up to the Lettered Cottage}