20 Don'ts in Decorating… A Little How-To in Reverse

Many of us read books and browse through magazines, watch HGTV and visit decorating show houses in search of design inspiration for our own interiors. But it's hard to learn ahead of time what things to avoid before you even begin decorating project.
Here is a fun list of the top 20 Don'ts in Decorating:
1. Don't let someone make all the Choices for You
Your home, store or office is your personal space. Don't let someone else tell you what you should do. If you have a designer, make sure you go through a list of your wants, needs and personal design styles before you hand the project off, it's the best way to ensure your space will be designed how you envisioned. (Before A Design Story starts a project, we have a design questionnaire you must fill out before we begin).
2. Don't decide on colors while you are in a store
Never purchase fabric, flooring, or paint on your first visit. Ask for samples of paint and carpet and swatches of fabric so you can see what they look like in the actual space in which it will reside. Check them out in both natural light and artificial light (lamps) in the evening. Most paint stores carry small samples you can purchase… check these out from Glidden…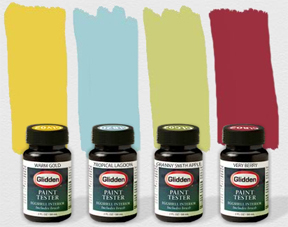 3. Don't paint first
Choose your fabric, carpet and upholstery first, then match your paint color to them. Paints come in nearly every color under the sun now and it is much easier to match paint to fabrics and other items than it is to find items to match a specific paint color.
4. Don't select paint from a paint card in the store
A small paint card may look great in the fluorescent light in the paint store, but entire wall of it may be a bit much. When you decide on a color, purchase a color sample and paint a small section to see how the color looks in the room with both natural light and lamps in the evening.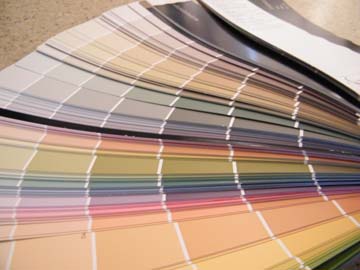 5. Don't settle for boring if you really love bold
A gallon of blue paint really doesn't cost any more than a gallon of white. Get my drift? If you love color, find a way to incorporate your favorite colors in your space. Choose colors that express your personality and coordinate with the things you love.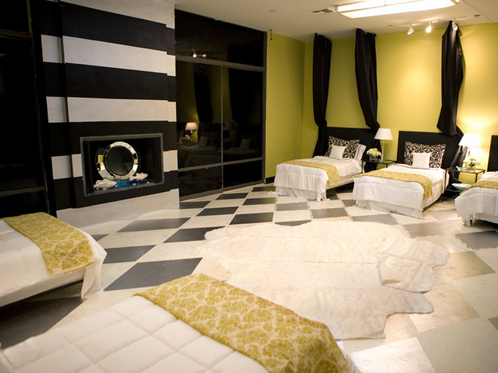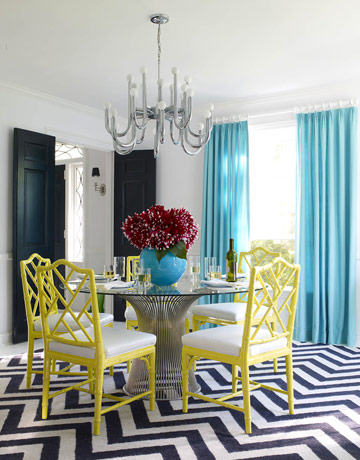 6. Don't make your favorite color the main color
If you love blue, you don't have to choose it for your walls. Instead, choose a more indirect shade to provide a background that will allow items in your favorite color really "pop" and add drama to the space. To create a more unified space, try incorporating curtains and accessories that are different hues of blue… see below!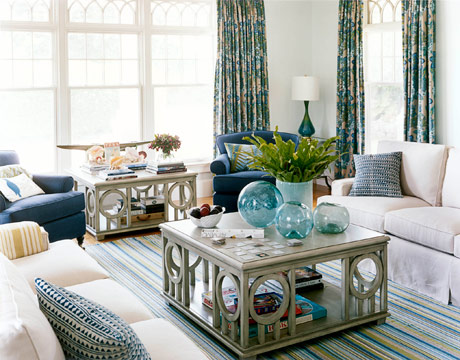 7. Don't ignore the psychology and effects of color
Don't think that you can create a relaxing sanctuary in a room with red walls. Blue and green are more relaxing and calming colors. Choose red and orange for rooms when you want to evoke creativity and excitement. Select a color scheme to create the atmosphere you want in the room. Want to learn more about how color affects you? Click here for a post all about it!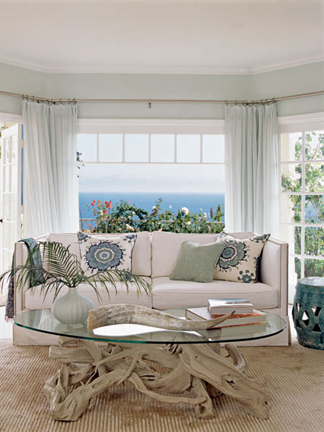 8. Don't forget about color undertones
Not all greens are green, for example. Not all whites are the same white. Look beyond the main color to see if the hue is light or dark and what the undertone is. For example, some greens have a yellowish tint to them, as well as some tans are subject to lying on the mauve fence. Select coordinating colors with the same level of intensity to ensure that your items will create a more unified space.
9. Don't push a specific color scheme
Don't "make" things match if they really shouldn't. Just because you have a green print sofa doesn't necessarily mean that it will coordinate with any green stripe draperies. Choose your color family and identify furniture, curtains and accessories that will bind the elements together.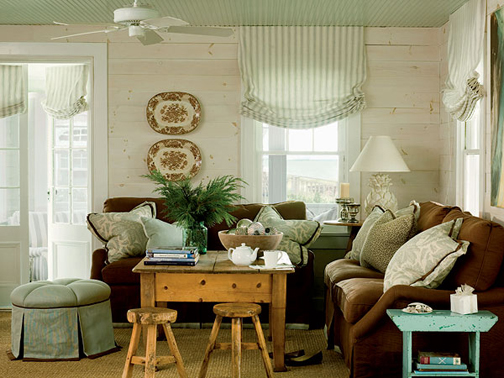 10. Don't ignore the focal point of your room
Not every room has a focal point, but if yours does, make it special. Arrange the artwork and furniture around this element to draw attention to it. A focal point, for example, could be a fireplace or the bed wall in your bedroom. You can add drama to the wall with paint, wall paper, large art, etc.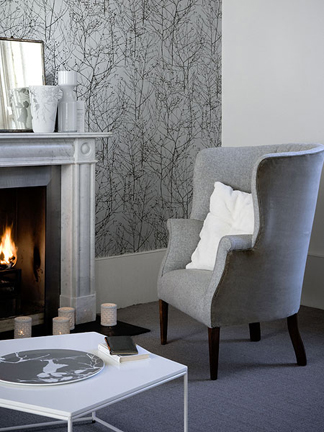 11. Don't let your furniture hug the walls
Don't arrange the chairs, sofa, and tables all around the room unless you have no choice. In a more open floor plan, create groupings of furniture for conversations and pull pieces into the center of the room for a more comfortable feeling.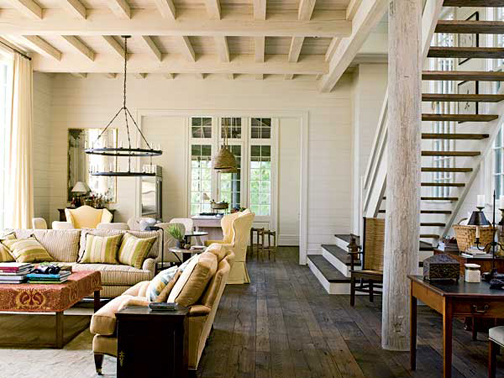 12. Don't Build Barriers
Don't put a chair in front of a door or a table in an obvious traffic area. Leave room for easy access and movement within the room. Remember, flow and function come first!!
13. Don't settle for cheap just because it's cheap
Don't choose a piece of furniture because of a pretty cover or fun color. First, see if it's well made, has interesting details or classic lines. If it does, you can always recover the upholstery in a fabric you choose or refinish the frame. The foundation of a piece is more important than the things you can easily change!
14. Don't invest in trends
Don't break you budget on pieces that are trendy. Trends come and go. You'll want to spend your precious resources on pieces that will last for a while. If you are attracted to the newest trends, buy less expensive pieces in case you decide to change them out frequently. Like below, the tables & sofa are classic pieces, while the chair and rug are trendy pieces that can be easily & inexpensively changed!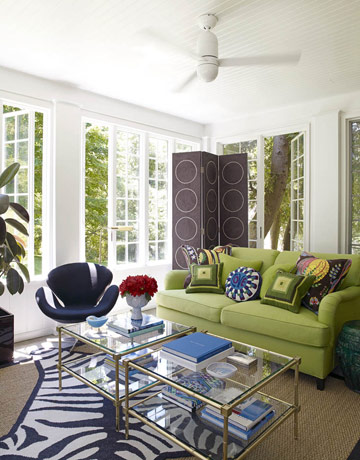 15. Don't keep a bunch of mismatched furniture
If you inherit or end up with a lot of pieces that don't match, find a way to tie them together in your decorating scheme. Paint odd wooden furniture frames to match or recover pillows and upholstery with coordinating fabrics. (See how we repainted some items, click here.) See below for a great use of mismatched furniture…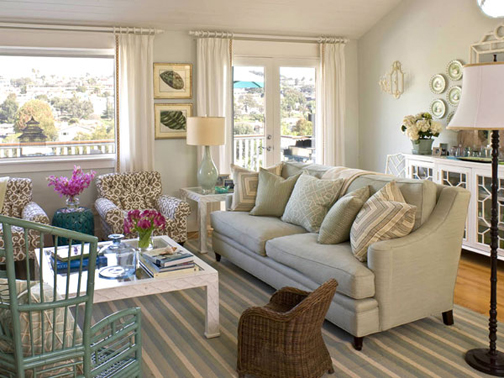 16. Don't be exorbitant on useless pieces
If a piece doesn't serve some function and won't last for several years, put your money back in your wallet. Go easy on your wallet and save for the necessities unless you just can't resist.
17. Don't just keep things because you think you should
Don't feel obligated to keep a piece you've inherited. If it doesn't appeal to you or it doesn't fit your space, either fix it or get rid of it. After all, it's your home. They'll understand! (Joke~ Or if you do have a ton of storage… you can always pull those items out when they come around to visit!)
18. Don't allow ugly anywhere in your space
Of course, ugly is in the eye of the beholder. But don't think you can learn to like something if you really don't. Get rid of it! Or try re-finishing it with spray paint etc.
19. Don't display every personal treasure you have
Don't overcrowd your home with collectibles. Make each piece be important. If it isn't or if you don't have room, store them away and change your collection from time to time. You'll be glad when it's time to dust! Plus, a overcrowded room tends to make people feel less comfortable! Take a look at these unique ways to display collections…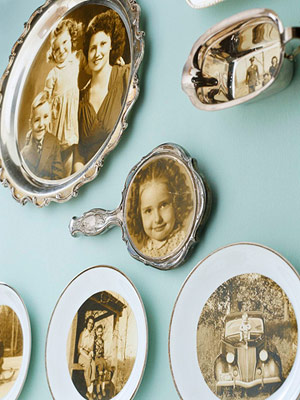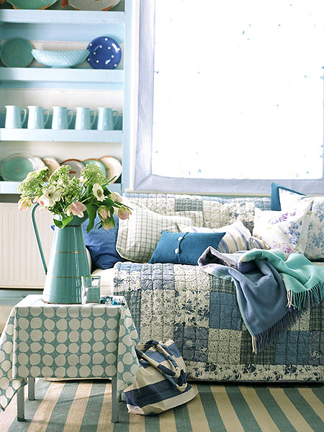 20. Don't forget… it's all in the details
Don't just paint the walls and put the furniture around the room. Take the time to add the details that will make your space more unique. Keep your room organized, find interesting lamps, add decorative pillows and throws to the furniture and include flowers and candles. Remember, it is ok to add fun accessories as you go… My own home is never done, I find odds and ends sporadically that enhance specific rooms.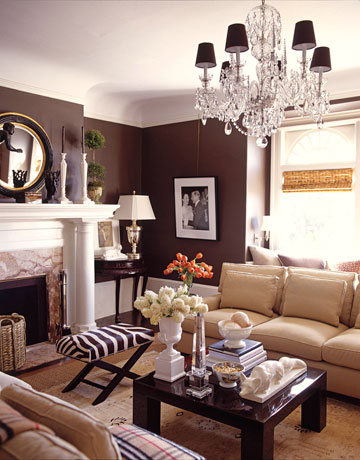 Decorating is so much fun! If you follow even at least some of our advice, you'll be able to avoid most of the major decorating mistakes and have a space that is well designed! Do you need design advice? Check out "Our Shoppe" for design packages tailored for your needs! We look forward to designing a new story for your interior!
Have you made one of these 20 don'ts in decorating? Do tell (comment). We want to hear all about it!!
Images courtesy of My Home Ideas, Better Homes & Gardens, Beautiful House and A Design Story, LLC.
Want more decor advice and inspiration? Subscribe here.