Happy April! Did anyone get fooled yesterday? We aren't really into the jokes all that much, but it's fun to see what others came up with!
Spring is in full force here… which means I have been doing some organizing & cleaning, planting new flowers, brightening up our home and switching out my closet! What about you? Any annual to-do's being checked off on your spring lists?
As always, I have a fun lineup of favorites for you this month. Some are items I bought, some made it to my wish-list and a few are just must-have items for the season! Let's begin the roundup…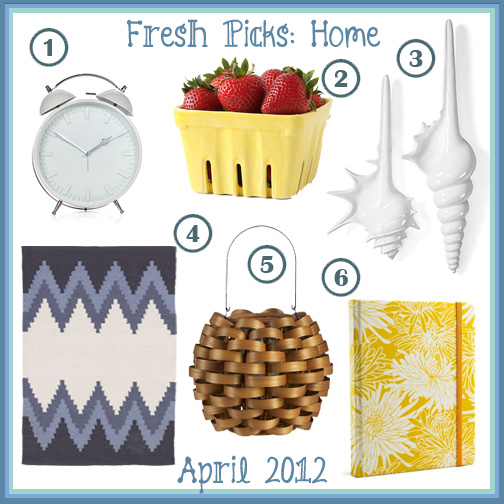 Here's the 'Home' breakdown:
1. Since the time change, I have had a hard time getting up! It totally messed us up… I even have dinner on the table later than usual! We are in the process of revamping our bedroom and I have been on the hunt for the perfect alarm clock… I love this white metal clock from Z Gallerie.
2. I did a little spring cleaning recently and one of the first things on my list was to clear out the refrigerator. It's a task I am not a fan of, but it had to be done! One of my new favorite things are ceramic fruit/egg cartons by Anthropologie. I pretty much leave them in my fridge and grab what I need when I need it…
3. These white shells from Z Gallerie are one of my favorite new accessories. I recently specified these for a client of mine for her beach condo… I loved them so much, I picked up one too! I can't wait to show you the pictures of both places..
4. Kevin and I revamping our porches/lanais this season and have been adding new pots, plants & furniture to make them more "outdoor rooms" than spaces we rarely use. On our hunt for the perfect outdoor rug, I spotted this blue beauty from West Elm and had to share it. Gorgeous?!!
5. I am in love with lanterns right now… for some reason they feel like a summer vacation to me. When Kevin and I got married, our decor was purely a beachy style/look. Over time, it transformed a bit and now we are re-thinking some of those changes and heading back to that modern-beachy look we both love. I really like this lantern from Crate & Barrel for the coffee table or powder room.
6. I heart this yellow mum journal from Barnes & Noble… these days I keep my journal in my purse so I can jot or sketch ideas as they come to me. I jot ideas down for the blog, our home, clients and even ideas for date nights!
What do you think? Any favorites? What home items are you loving these days?
Now… for some good ol' fun fashion finds…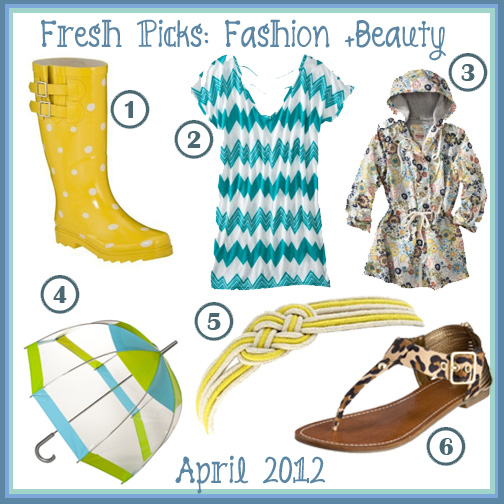 Here's the breakdown:
1. You know the saying.. 'April shower bring May flowers'… well my rain boots get a workout every year around this time! I am loving these yellow boots from Target… pair it with a bright outfit!
2. Since we live in Florida, pool time is a regular occurrence! My mom picked up this awesome chevron cover-up as part of my birthday gift (back in February)… I L-O-V-E IT! It's actually so comfortable and soft that I could wear it all day…
3. I love rain coats, they remind me of my grandma because she always had the cutest jackets! I picked up this floral rain coat from Target awhile back. I use it all the time– it's the perfect light spring jacket!
4. What's the perfect rain coat & rain boots without the perfect umbrella? I love the bubble umbrellas because they keep the angled rain drops off ya! I found this blue & green one at Target for a whopping $16.99!
5. Hairbands are a must in my book. I love adding bright new hair accessories to my ensemble in the spring. I especially love this yellow & white band from Forever 21, it's inexpensive and fun!
6. I live in sandals… the more girly they are, the better! I just bought these leopard sandals from Target and they look fabulous with bright colors for spring. I adore them.