A few months ago I purchased this fantastic metal side table from Goodwill for only $3. Can't beat that! It was in perfect condition and I had a place for it! Our upstairs hallway ad this little corner that needed a fun table…
And so it began!
My original thought was that I was going to spray paint and then stencil the top and the legs were going to be an entirely different color.
Then I nixed the idea and went with one color. Actually I ended up choosing the same color I used on the vanity chair for our master bathroom! It's a deep peacock turquoise shade. Love it!
Here's what the side table looked like before…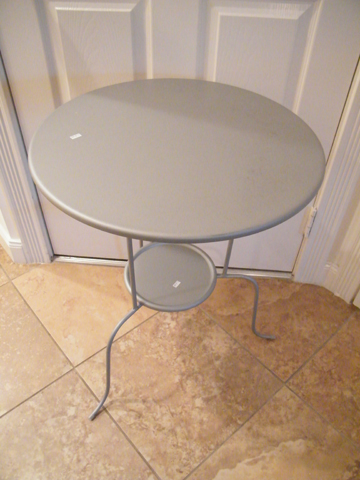 Here's what it looks like now…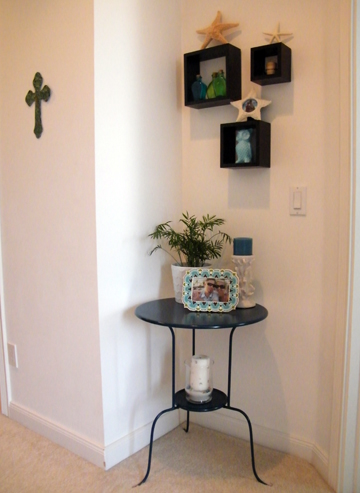 Since Christmas is over and we are in the mood to re-arrange the house a bit, I took a few accessories from various places and added it to the hallway corner! It is bright, tropical and fits in perfectly with the scheme in the guest room!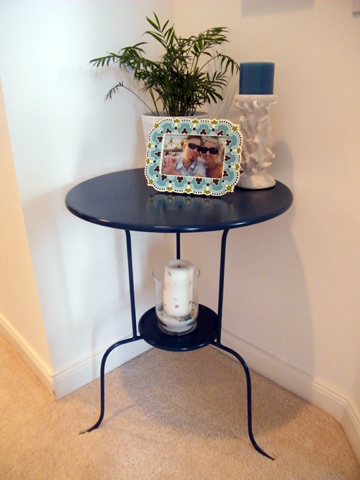 I admit, I have never been in love with the accessories I had previously on our little box shelves in this corner. Adding the deep turquoise side table inspired me to change a few things out! I added some bright colors and starfish and now I am pleased!! Although as the Mr. says, accessories never stay in the same place for more than a few weeks anyways… it will change again. I promise.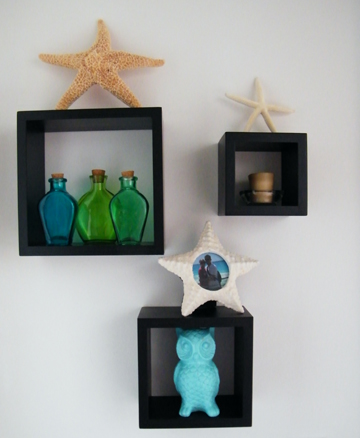 Since I already had the paint from the vanity chair I previously DIY'ed, this project rang in at exactly $3 and some time. Love that!
What inexpensive and easy projects have you been working on? I have TONS in the works!! Have one you are dying to share? Email us (lindsay@adesignstory.com) and we would love to showcase it on a Reader Redesign!!
This post was added to these linky parties: Element Interiors, We are That Family, House of Hepworths.