Last year, I had the opportunity to design a fabulous waterfront condo on Longboat Key, Florida (the beach where Kevin and I got married). The place was beaming with design opportunity and I couldn't wait to get started!
Here are a just a FEW of the details:
Site/project:
– 2 Bedroom/ 2 Bath
– Newly Remodeled
– Needed selections for furniture, rugs, accessories, lighting & everyday household items (sheets, bedding, etc.)
Client's Style & Wants:
– Loves clean lines
– Really wanted to focus on the view
– Needs everything to be durable since they will have children & grandchildren visiting
– Sleeper Chair in Guest Room
– Loves budget friendlier items that you can replace easily
– Likes Crate and Barrel, West Elm (and stores like that)
– Wanted nothing custom
– A relaxing "vacation" feel
Here's the blank slate we started with (these are just the main spaces: entryway, bathrooms and closets excluded):
The Kitchen: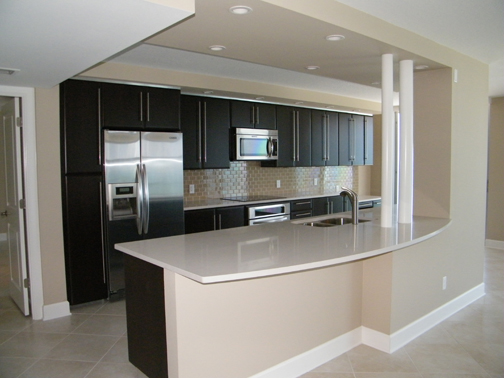 The Living/ Dining Room: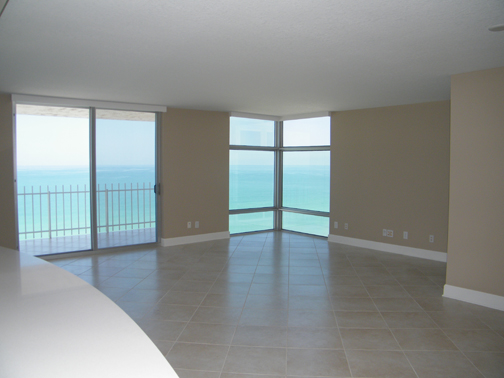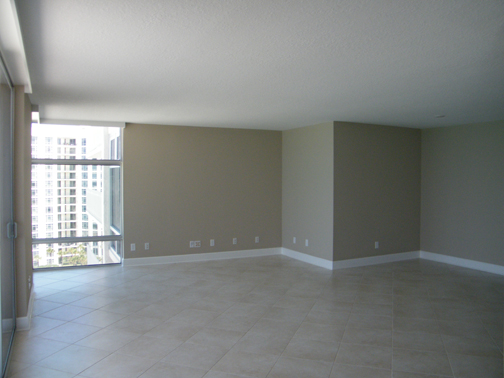 The Master Bedroom: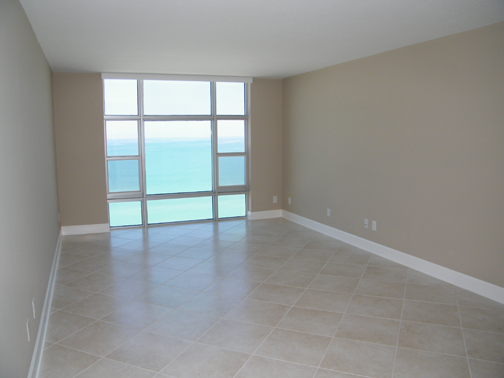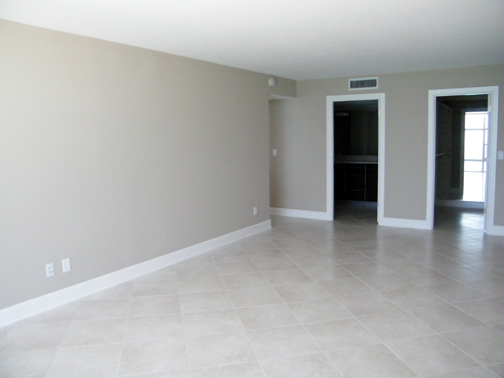 The Guest Room: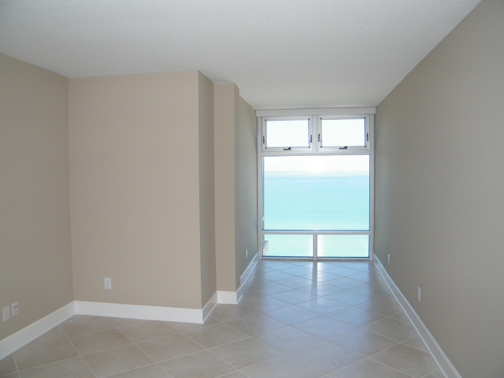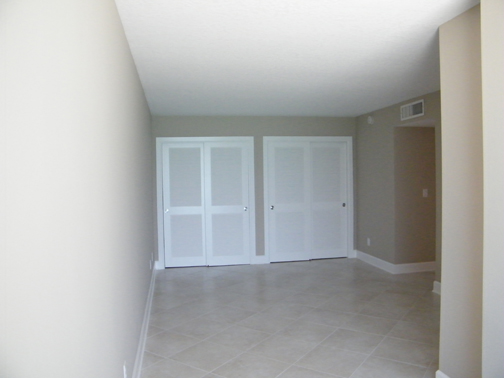 The Porch & The View: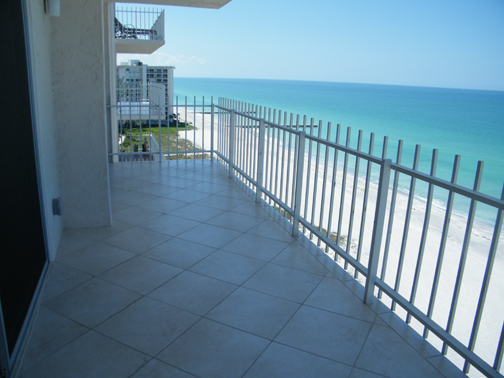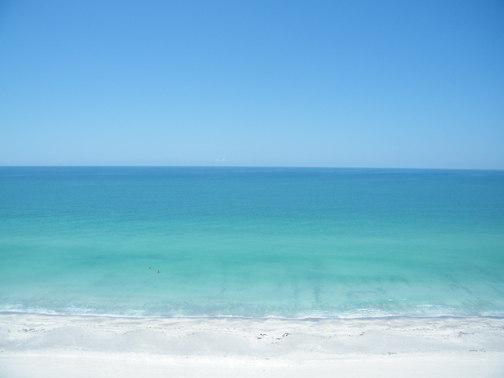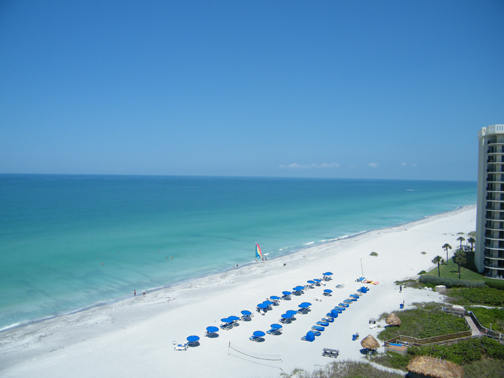 Stunning, right?
With a view like this one, I felt that the design should completely be driven by that! With that being said, I utilized colors that would bring the outside right in. Using similar colors and textures that replicate nature always aids in creating that inside/outside feel.
After talking the my client about her needs & wants, I came up with (general/conceptual) design boards for the 3 main areas first, each having two options. I like to give conceptual design boards to my local clients to truly give them an idea of where we are headed, so that when we nail down the contract, we can begin with a mutual idea before we begin Design Phase 1. (Other: accessories, rugs, lighting and household items will fit into Design Phase 2).
The Living/ Dining Room: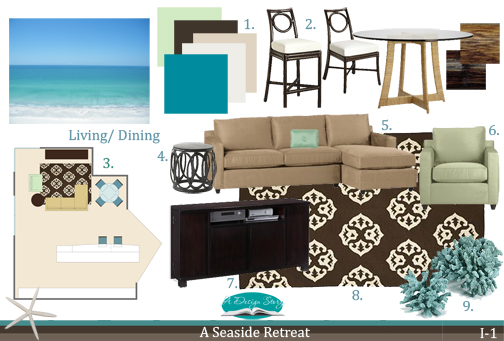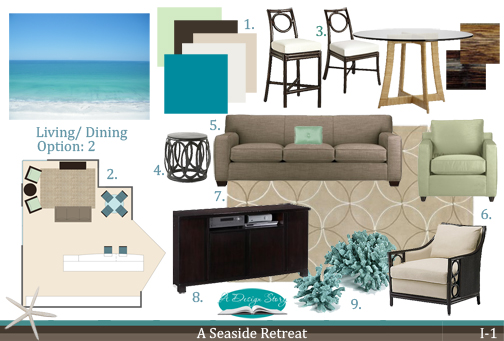 See Breakdown Here: A Seaside Retreat Breakdown I-1
The Master Bedroom: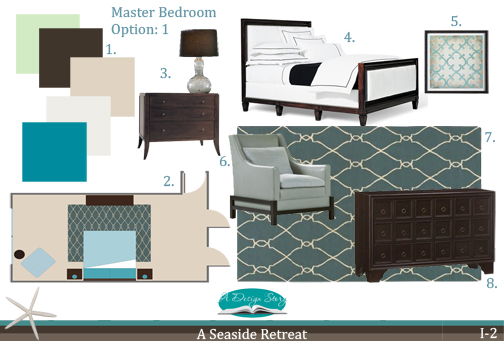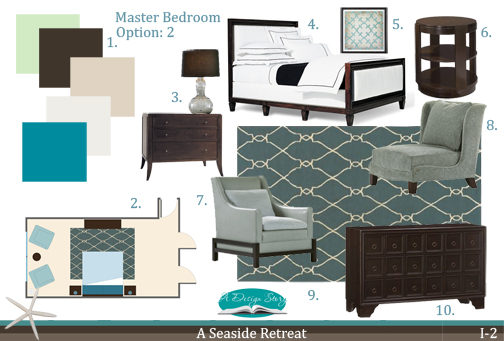 See Breakdown Here: A Seaside Retreat Breakdown I-2
The Guest Room: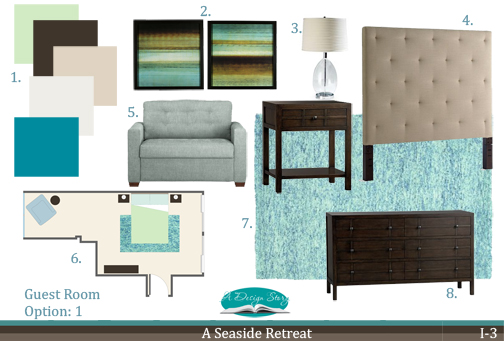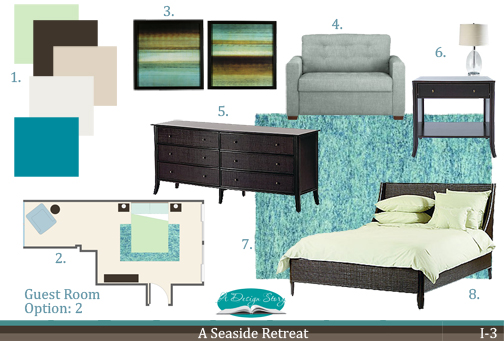 See Breakdown Here: A Seaside Retreat Breakdown I-3
My client adored the design! Love to hear that! So I am now the interior designer on this project….
Now we can move on into Design Phase 1 and get this condo ready for my clients to move in!
Want your space redesigned and don't live in my town? No problem! In addition to my local design business, I specialize in E-Decorating! Plus, I am having a Winter Sale. Just use the coupon code: Winter, and take part of the 30% off all design package pricing! Email me @ lindsay@adesignstory.com for questions! Wanna see other projects? Click on our portfolio (but P.S. we are in the midst of adding TONS of projects to the list).
*Please note: All of the budget, specifcation and clients details have been left off of the breakdowns and the board designs for confidentiality reasons. If you love a piece of furniture and want to know where I selected it from, just ask away! All designs, breakdowns and images are property of A Design Story, LLC. Please see privacy information if you have questions.