Hi… Happy Monday! Hopefully everyone had a great weekend! Is anyone else totally obsessed with the Olympics? I love watching… Like love it. I did manage to get a few things accomplished this weekend around our abode– stay tuned for those!
As promised, I am showcasing my new e-design projects I have completed for clients on Monday's. I have a TON under my belt and have been working hard to start bringing the finished projects to you on a weekly basis. In case you have missed any, you can catch them under the ever-improving portfolio (I still have so many projects both locally and virtually to add– so keep watching for those updates). This week, I am bringing a timeless design to you…
Dean & Lindsey's Design Dilemma:
Hi Lindsay with an A! We're newlyweds who just recently purchased our first house. We thought we knew exactly what we wanted to do with our living room until the closing day. I like classic spaces with a few trendy items, while Dean prefers a more urban décor. We want to mix the two and are failing miserably. We have purchased two chairs (West Elm's Elton Chairs in Steel Blue), one side table (West Elm's Rustic Storage Side Table) and a bunch of dark brown picture frames for a gallery wall. We do have a collection of vintage maps we plan of placing in the gallery wall as well as a small collection of globes. We LOVE maps. We want to create a map-classic-urban living room and we are lost. We have budgeted for a new sofa, coffee table, décor & any other furniture pieces & lighting & decorative elements we need to make this space perfect! The one thing I must have is a chevron rug— I love this pattern! As far as colors go, we love blue, neutrals & reds. P.S. – We found your blog when we were looking for ideas for our summer wedding, we tagged A Design Story as a favorite and now we are so glad we did! Thanks Lindsay!
I had a blast designing this Classic & Urban Living Room for Dean & Lindsey. They are an incredibly sweet couple and it was a blessing to "virtually" work with them. I can't wait to see the room when you guys complete it! Here's what I designed for Dean & Lindsey: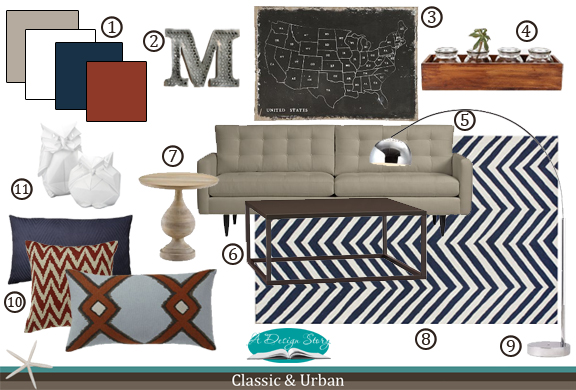 Here's the breakdown:
1. The color palette was created based on Dean & Lindsey's love of all things blue. Since your trim is bright white, I suggest painting the room Sherwin Williams Perfect Greige (6073) to set the tone for a classic and rich space. Adding deep navy blue and rustic reds will keep the space timeless.
2. Since you recently purchased frames to create a gallery wall, I suggest adding a few letters to the bunch to personalize the space. You can go with the first letter of your last name OR add one of each (first name & last name). I advise making each letter a different size & material, start out with this Acid Etched Letter.
3. Let's make the space above your sofa a real statement wall about the two of you. Your collection of globes will look great on the built-in bookshelf you have & your vintage maps will look fab in the gallery wall you're creating. Incorporating another map, like this large canvas wrapped USA Map, will successfully unify the room… Repetition is key!
4. Incorporating Lindsey's love of flowers, plants & herbs was also a element I wanted to showcase in the design . I love the idea of placing these window box vases on the coffee table or built-in bookshelf to display her flowers from her garden or fresh herbs. (This item could actually be a diy thing if ya like).
5. The main furniture piece needed was a sofa, one that is classic & clean-lined. This tufted sofa features a classic design & an incredibly durable fabric. This is what I like to refer to as a staple piece. A sofa is the one piece that gets used the most in a living room, which makes it the most important both functionally & style-wise. I always try to persuade my clients NOT to buy the most modern sofa or the one that's the most trendy at the time. Buy for comfort, go classic and go neutral– this way when you decide to re-decorate or add in new colors or accessories, you don't have to design around your sofa.
6. Let's go with a simple & clean coffee table, we don't want to compete with the rug or other furniture in the space–  let those be your 'stand out' pieces! This coffee table rethinks classic in a contemporary way, it's simple in profile and has a very rich cocoa finish.
7. The square end table you recently purchased will work well with the new sofa and coffee table I selected for the space. I think adding another side table between the dusty blue chairs you already own will be important to the overall furniture plan. This turned pedestal table is traditional in shape and boasts a beautiful sculptured wood finish. *Note- When decorating & designing a space with a combined themes, mix wood finishes & metal finishes… play a little with the merge!
8. Since many of the furniture pieces in this room will be "floating", I recommend grounding the 'room' with a rug. Lindsey mentioned she had an obsession with chevron rugs and incorporating a rug in this pattern would be of 'top importance'! This great (8×10) navy & white chevron rug is perfect for the space– it brings in the trend in a very chic way! This pattern is a more asymmetrical version, which lends itself to a more urban vibe!
9. The overall lighting is this room is fairly good since you have can lights and a ceiling fan + light. I suggest adding this floor lamp behind the sofa for extra lighting for reading and other tasks.
10. Pillows are always an inexpensive & easy way to pop color and personality into a living room (or bedroom). I would add a few navy blue pillows, a couple of the chevron pillows and the ikat diamond pillows. Mix and match! Pattern & color will be important to the space since most of our furniture and walls are neutral.
11. Pull in some whimsical and fun accessories to complete the space. I would grab some wooden candle holders, a brightly colored tray and add in some solid white accessories, like these geometric owls. Think outside the box with your accessories!
The key with this space is to have fun… mix & match the styles to combine them successfully. Go subtle with curtains and finish the space off with your globes! Enjoy! It was a pleasure designing your new living room for you… I hope it's everything you wanted & more!
What do you think? Are you in love with chevron rugs like Lindsey? What about the classic & urban design? Anyone as jealous as I am over their vintage map & globe collection? To die for… If you are someone you know is interested in design help— send them my way!  (PS— MY shop will be opening within days— for real.