Happy August! It's August 2012. If I have said it once, I have said it a billion times… time is flying. Flying. Yesterday, I wrote a check and dated it 2010. 2010 people… that just says it right there… Time needs to slow down a bit!
Anyways, it's the first of the month and time for the beloved Fresh Picks post! It's a bit late today… I had a full day with new interior design clients (locally) and somehow I forgot to schedule the post to go live this morning. My new client's are fantastic and I am looking forward to working with them on their new home!
Before I show you this month's favorites, I wanted to clue ya in on a few things. Kevin and I have been talking about moving & looking for a new home since March. We have gone back & forth on if we want to stay put on where we are or buy a new house… decisions, decisions. There are a lot of things that go into this decisions and we are praying for guidance and peace. We have discovered a few things a long the way… we decided to make an updated list of to-do's if we stay here (projects we want to complete, start & new items we need to purchase) and we also have a list of our wants/needs in a new home. We haven't decided which way to go, but once we do… I'll keep you updated.
I say all of that to clue you in on something we discovered. We completely stopped working on our office re-do mid-way through this journey. When we began making the lists of what we want in this home or a new home, depending on what we decide, we started to like the idea of a crisp/industrial office. It really wasn't the route we were previously planning/creating. So we stopped. This month we are taking the time to discuss items we want in our space and exactly what we want it to look like, regardless if we move… so stay tuned… there will be a lot to show you whichever way we go here!
Let's begin… shall we?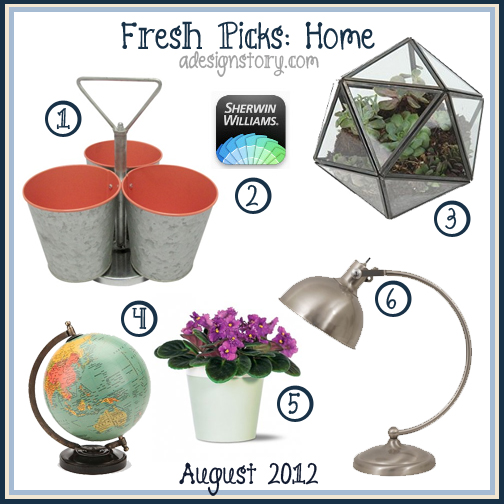 Here's the home breakdown:
1. This metal utensil caddy from Target has been on my desk for months & months. I bought it forever ago and LOVE it. I originally purchased for the office, but now I am thinking I may move it to the kitchen. We stopped our office re-do half way through because we began looking at new homes, when we started to think about what kind of office we wanted if we moved, it really motivated us to re-think some of our office plans (either way). We think we want to go in an entirely new direction— more of a crisp, industrial feel– hence the galvanized metal caddy! I will keep you updated once we make the final decisions— I promise!
2. I am an i-phone/ i-pad gal these days (although I use a PC for 'work' here in my studio (I need it to run my Autocad Software for interior design). I like to play with new apps that could potentially be beneficial to my business. I have really enjoyed playing with Sherwin Williams Color Snap App… it's a must have friends!
3. It's no secret that I love succulents & plants- this faceted terrarium from Urban Outfitter's is on my wish list. I think it would look fab on a coffee table or entry table. Pop it on top of a stack of books and pair it with some candles and a fun tray.
4. Kevin (my hubby) loves maps & globes, he always has. When we were thinking of buying a house, it came up in conversation that maps/globes could be a part of our office space in some way. It's a compromise sort of thing. I recently bought the BEST lil globe decorative balls to fill a glass vase or bowl from Kirkland's (they don't seem to offer them online–in store only). In continuing with this little idea, I really want to get him a globe like this one from Urban Outfitter's. We don't want to go all-out with a full globe or map theme by any means, we just want to make sure we both have a bit of our "loves" and personality in the space going forward.
5. I love, love, love flowers & plants. I just do. Recently, my mom bought an African Violet and I knew instantly I 'needed' one. I bought mine from Lowe's and it's currently blooming— gorgeous! It's more of a house plant and it's quite easy to take care of. Water it moderately and it needs moderate sun…
6. In thinking about our possible new office design scheme, we are also thinking about new lighting solutions. We both loved the idea of this brushed nickel desk lamps from Target for work/task lighting. Usually we rely on natural light during the day, but it would be nice to also have extra lighting besides the floor lamp we currently have.
So, what do ya think? Have any must-have items to add to the list? Anything you have purchased recently worth shouting about? Please do…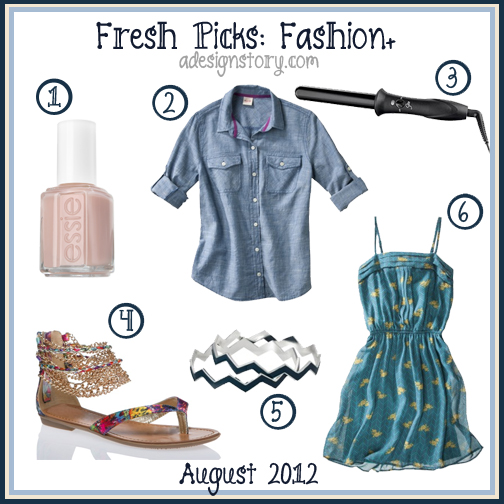 I added this fun lil fashion + feature awhile back and it seems to have sparked more of a fashion + style interest around ADS. So… I decided to keep it around… here's the fashion+ breakdown this month…
1. I am admitting something here: I watch the Bachelorette/Bachelor on tv. In fact, my fabulous husband actually sits and endures it like a champ to watch it with me. (I have a keeper ladies). Anyways, I absolutely adore Emily Maynard (who was just the Bachelorette). I recently popped in on a twitter party she and Style Magazine were having and I learned she used Essie's Ballet Slipper nail polish a lot during the show. I happen to love the nail color, so I 'had' to have it too… Yep, I was 'one of those'.
2. Denim… it's back "in" I happen to love this (inexpensive) denim shirt from Tarjay… I bought it & plan on pairing it with some mint green or turquoise skinny jeans. It will also look cute with navy blue shorts or pink shorts with sparkly sandals.
3. Back to Emily Maynard from the Bachelorette… has anyone else loved her hair style during the show? Well, I did. So… I hopped in on this lil twitter party she was having and asked about her styling iron… it happens to be Sultra's 1″ Bombshell Curling Wand… This is on my must-have list to purchase right away… she said it has been such an easy way to curl her hair in no time. You can buy it through Sultra's site or on Amazon too…
4. Girly, sparkly or jeweled sandals have something over me. I love them. I love these sandals from Shoe Dazzle… aren't they perfect?
5. Chevron… I am still a bit in-love with the pattern. I just am. I think these zig zag bracelets from Target are a fun accessory… don't you?
6. I am a girly girl (in case you haven't previously noticed)… I love dresses and all things girly. I found this chiffon dress at Target a few days ago and paired it with a mustard yellow sweater… I was having one of those "I don't feel like trying anything on" days… so I put it away and now I really think the lil ensemble would have been a perfect outfit for the late summer/fall… I may have to go back for it… what do you think?
Your turn… what are you loving these days? Has anything recently landed in your shopping cart you must shout about? How about on your wish lists? DO TELL… (P.S. — The Shop will be opening in just a few short days… stay tuned & be excited)…