E-Design Vintage Chic. Recently, I had the pleasure of working with Brenna on an e-design project. She is a 17 year old girl who needed some help making her bedroom look grown up, mature and more "her". She really wanted a vintage chic bedroom. This was actually such an exciting e-design project for me because I too am a girly girl!! I had so much fun with her project she received 2 e-design concepts instead of the typical 1! Let me show you the first mood board…
All E-Design projects start out with a questionnaire to get the project moving. Here's the super quick version of the Q+A:
What's your profession? Student
Do you rent or own? Own
My decorating pet peeves are? I like vintage but i don't want my room to look country.
Describe any possessions or collections that may be an inspiration for the design of your space. I love my bed frame (not the bedding though!) i like how its a little vintage but sophisticated at the same time.
Are there any additional style preferences or notes you would like us to know about? I wanted a pattern behind the shelves to make them stand out more. I was thinking navy blue and white chevron but I'm not totally sure how the colors would look together
How would you like this room to feel? What are your goals?  I want my room to feel sophisticated and inviting. I want a space that is functional but pretty at the same time.
Are there any existing colors we need to work with in this space? Tan Carpet, White shelves and cabinets, and pink/coral walls (Koral Kicks, Sherwin Williams)
What are some of your favorite colors? Pink, Navy, White, Grey, Teal
What types of colors are you comfortable with? Check all that apply. Vibrant/ Bright, Pastels/ Tints
What are some of your least favorite colors? Neons and black
Color of adjoining rooms or hallways: yellow/gold
Here's a few of her before photos…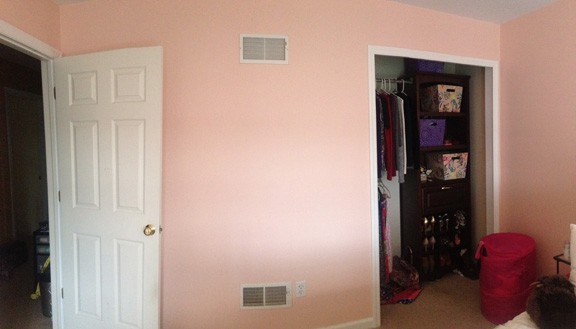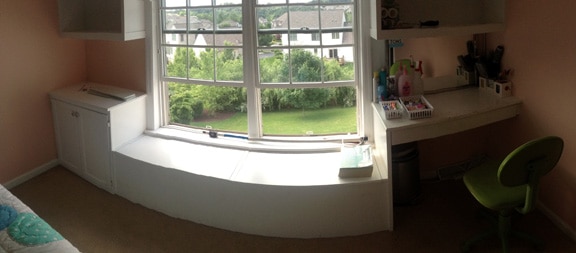 After reading the Q+A in it's entirety, I came up with two designs (I'll show you the second option next week) that fit her needs.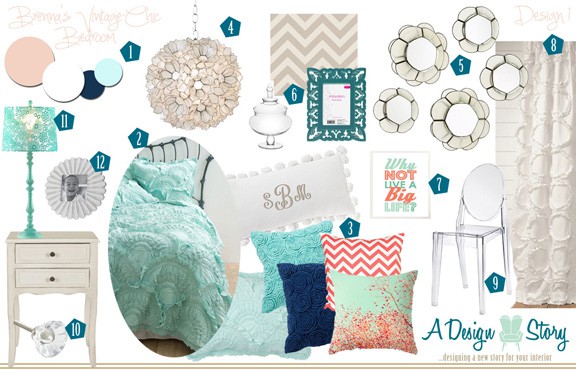 Here's the breakdown:
Suggested Items & Info:
1. The Color Palette: I love that you picked SW Koral Kicks for the walls; it's a really chic coral shade that will brighten up the room in a soft way. We are going to incorporate a soft aqua/mint shade, white and you're pick-navy. Creating a vintage inspired room is really all about texture & pattern and we are going to incorporate those in unique ways to create a truly successful vintage-chic bedroom!
2. The bedding in one of the most important elements in a bedroom… especially in a vintage inspired space. I selected this fabulous & chic textured mint/aqua quilt & shams. It's comfortable and will become a great focal point in the space.
3. Pillows are another great way to add personality and color to the bedroom. I suggest adding the pillow sham set from the bedding collection and adding to it. Let's add in some ruffled pillows, a monogram pom-pom pillow and patterned pillows. I love the fact that you have the adorable window seat… let's dress her up too! Add some of these pillows to this spot and create a space that beckons you to sit! Another great element would be to have a cushion made for the seat. (I added additional pillows in the extras list below in case you wanted a ton on the bed & on the window seat.
Royal Navy & White/ White Monogram (Go with white pillow & either coral or khaki stitching)/ Chevron/ Spring Blossoms/ Fabric For Cushion
See additional pillows in extras below.
4. You had stated on your wish list that a chandelier was a must. This Capiz Chandelier has a vintage feeling and can be adjusted on the chain to fit right above the bed!
5. I selected these adorable Wall Flowers to place right above your bed. These blend well with the chandelier and will really become a nice centerpiece.
6. I absolutely love the built-in shelves for functional and decorative purposes. It's a great place to store things and display fun items. Let's spruce it up a bit and add some pattern with an easy to use & remove (rental) wallpaper in this chevron pattern. After that goes up, let's style these beauties. Add decorative boxes, picture frames, jewelry dishes and books to the space. Here are a few elements to add:
Wallpaper/ Turquoise Picture Frame/ Jonathan Adler Bookends/ Scalloped Dish for Jewelry/ See extras for additional items.
7. Art brings in character and adds a touch of whimsy. Frame a few of these prints and add them to the shelves (by leaning them) and the gallery wall. They are absolutely adorable!
Prints: This Day Glimmer & Shimmer like the Diamond You Are/ She Leaves a Little Sparkle Wherever She Goes/ Gem Print/ Why Not Live a Big Life
8. Drapery adds a soft touch to a bedroom. Since your window seat in encroaching on the space to add a long dreamy drapery, I suggest adding two panels to the closet to hide the clothes & shoes. These panels have a soft texture to them and the white color won't take away from the bigger focal points of the room.
9. The desk/makeup area needs a chair with style. I adore this ghost chair because it has a girly & vintage shape and add a touch of modern style to it.
10. Let's add a small nightstand to flank the left side of the bed (closest to closet). This white nightstand is perfect in size and the curvy legs and bottom offer a girly look. I suggest changing out the drawer knobs with the glass knobs shown to match your bed & the hook mentioned below in extras.
11. Let's bring in a touch of lace with this Lamp. I love the pop of punchy turquoise and I absolutely love the lace shade. Place this right on the nightstand for additional lighting and personality.
12. I love the idea of adding a gallery wall (with a vintage approach) to the wall opposite the bed. This is something you can add to over time. Start out with these frames and then add drawings, paintings, family & friends pictures &/or memorabilia in new frames later on. You can also add one of the Etsy prints I suggested above to one of these frames. It's kind of an everlasting work of art! See the below labeled gallery wall to see additional frames not shown on the design board and layout idea.
Frame A/ Frame B/ Frame C/ Frame D/ Frame E/ Frame F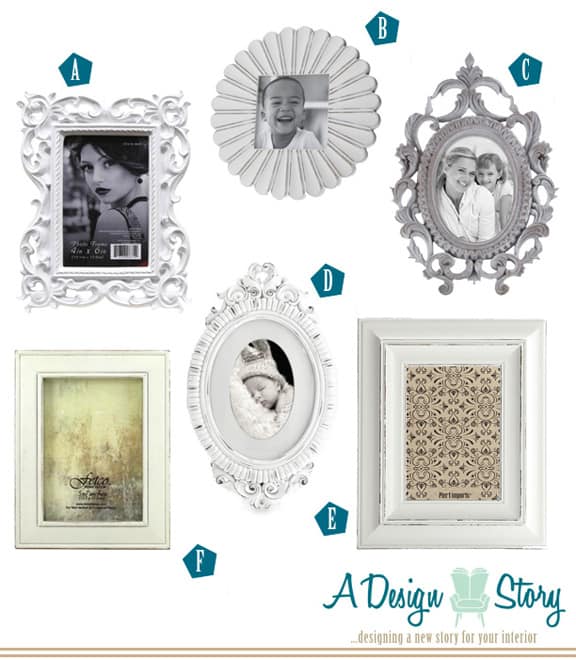 Extra Items (just additional items that might help carry out the design):
Estimated Cost Breakdown of Items Suggested (extra items & shipping are not included in this) Total: $1,973.30
I hope Brenna loves the design! I can't wait to show you guys the second option I gave her. What do you think? Do you need a design dilemma solved in your home or office? Well, E-Design Packages are on sale for 20% off with the coupon code: ADS14 (coupon code valid until February 1st, 2014).