I'm feeling a bit green today. Not eco-friendly, do-good to the environment type of green. Just green. It's good to be green. What's spring without bursts of green? Even though spring hasn't fully proven itself in the weather, it is on the way, despite the fact that outwardly, we are still bundled up in all the winter gear. So until spring decides to come out of hiding, I'm going to think green. It's such a bright, cheerful colour, one that elicits feelings of life and rebirth, rejuvenation and new beginnings.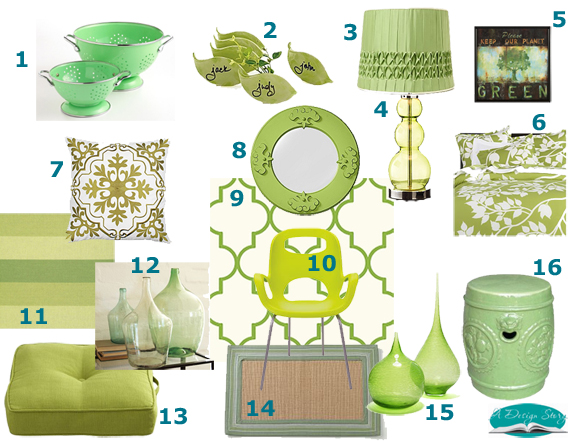 These picks flaunt the hue in high style! Happy Shopping! 
1.         Collander by Martha Stewart
2.         Place Cards by Ballard Designs
3.         Lamp Shade by Anthropologie
4.         Lamp Base by Walmart
5.         Green Art by Z Gallerie
6.         Bed Linens by Crate and Barrel
7.         Pillow by Z Gallerie
8.         Mirror by Maine Cottage
9.         Trellis Wallpaper by Ballard Designs
10.     Oh Chair by Umbra
11.     Striped Rug by CSN Stores
12.     Bottles by Pottery Barn
13.     Floor Pillow byCrate and Barrel
14.     Jute Rug by Kohl's
15.     Vases by Z Gallerie
16.     Garden Stool by Target
Side note, if you are feeling up to a little DIY Project, try purchasing a mirror you can re-paint green! It is a less expensive route and can really add charm to a space! Also, try painting your room green for a refreshing look this spring!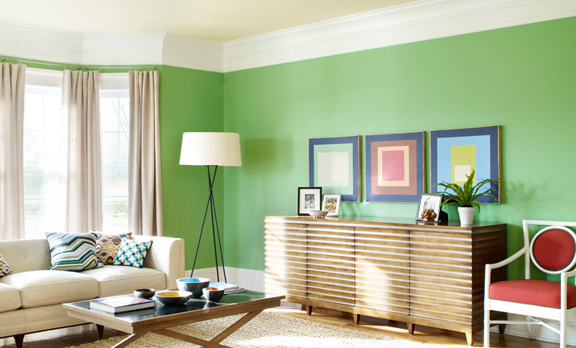 So… what do think? Are you into green? If you are ready to freshen up your space and need some help, please contact us!!
Interior photo courtesy of Benjamin Moore.