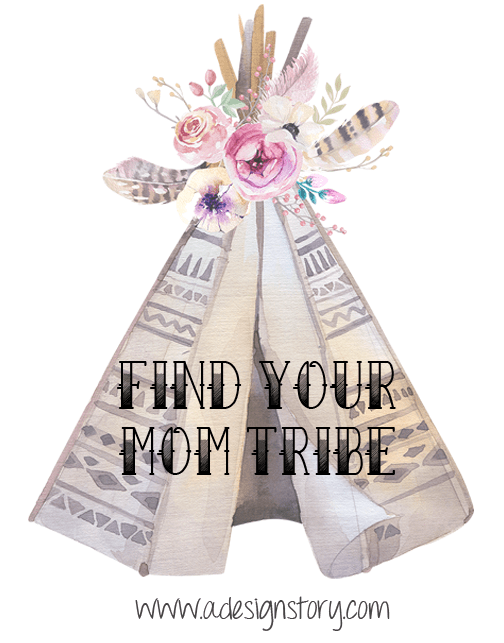 It's called a mom-tribe and everyone needs one.
Your Mom Tribe is essential to your quality of life as a mommy. They are like-minded mothers who share your values and parent similar to you. These moms are easy to bond and the relationships bring life to you. You are connected to them on a different level than the rest of the world. They give you the confidence and inspiration to be the best om you can be. The relationships should be positive, balanced and somewhat easy. After-all, when you are a mom, there isn't a ton of time for drama.
Finding your tribe.
Finding your mom groove and getting into a tribe is vital. Becoming a mom was a whirlwind for me. It was a mix of pure awe, times I thought my heart would explode from pure happiness and also times of deep desire for friends… You know, the kind of friends who you and now your kiddo will do life with. If you're like me, the mom tribe experience wasn't super easy. When I became a mom, I  turned around looking for my crew and literally couldn't see where I fit it in anymore. So the question is: how do you find your tribe?
Here are a few places I have found my tribe and a few ideas on locations/events…
Search Social Media. Be safe, please be safe. Seriously, I found my mom tribe through social media. I actually became part of the Snap Mom community on facebook when B (our son) was an infant. I reached out looking for moms to hang out with and have play dates with. An amazing mom invited me out to her play group at a local playground right away. She searched to see if I was legit and if we had any mutual friends (as did I) and it turns out we did. A few days later,  I was at a park downtown enjoying company with 10 new moms and their babies! The friendship grew from there. So, search out mom pages in your area.
Who doesn't love a church with a room for nursing moms/moms who need to do diaper changes and a little comforting? I do! Let me tell you why. I told you above how I became part of a moms group on facebook, well it just so happens the founders have a blog. One Saturday night at church, I sitting in the mother's room rocking my sweet B and in walks the most adorable mom with her newborn baby boy. I smiled and said hi and realized immediately she was one of to co-founders of this crunchy mom blog I had been following. I asked to be sure and we started up a conversation about motherhood and blogging etc. It was God. From there, we immediately became Facebook friends and then fast-forward a few months and we finally had a playdate. We have now become the best of friends and are really enjoying doing life together. In fact, I have become an admin on The Snap Mom community and this group of women have been a life saver to me.
Mom Small Groups. Our church has a MOPs type of small group, it's every other Friday morning. They had childcare and we had a morning of fellowship, food, crafts and encouragement. It's a great place to meet new friends and share about your family life. Check out your church or a local church to check out a small group.
Mommy & Me Classes. I have been to several mommy and me music classes and they attract stay at home moms who have the attachment/nurturing parenting styles. They are actually really fun and give you the chance to meet new people with kids around the same age. Typically, the classes are mid-morning and people end up going out to lunch after.
Get out. Seriously, if ideas above don't tickle your fancy, just get up and get out of the house. Go to parks, mall play areas and the community pool or just walk your neighborhood. Hangout where you would like to hang out with your future friends and chances are, you will find a mom doing the same.
Be yourself. Be the parent you are, the friend you want to be and the gal that you are at home. You won't attract the right type of friend if you aren't yourself. Do you and let you shine.
You've met some, but they aren't for you? Keep looking. Don't be afraid to move on and keep looking for a tribe that best suits you. I went through a couple of rounds before I landed in the right zone. Be patient.
Now's the time to become outgoing. Seriously, now's the time. Go out of your way and tell a group you had a great time and follow up. Maybe even set up a playdate and send the invite texts out. Go and build your friendship.
So tell me… do you have a mom-tribe? How did you meet your besties? Do share.