Happy April! Spring is here in full force! It was a beautiful Easter weekend… how was yours? Since it's the 1st, it's time for the good ol' Fresh Picks post where I get to dish about some of my most favorite recent finds. It's one of my favorite blog posts to conjure up…
Before we get started, let's take care of a little housekeeping blogkeeping. In case you haven't noticed… the blog hasn't been updated as frequently as I intended. I have a great new blog plan and a bunch of fresh ideas that have been waiting to unveil themselves. Sometimes when we think we have a plan, something comes along to push our plan to the side for just a bit. My grandparents (on my momma's side) have been ill and we all have been doing our part to help out. So, the house projects that needed to be finished just sat there , the loads of to-do's piled high and yet… I was ok with that. Actually, I am still ok with that. The blog is my passion, but my family is my love. So, here's to starting over (again) and trying this (again) now that things may slow down a bit it seems!
Alrighty– thanks for letting me get that out there! Let's begin…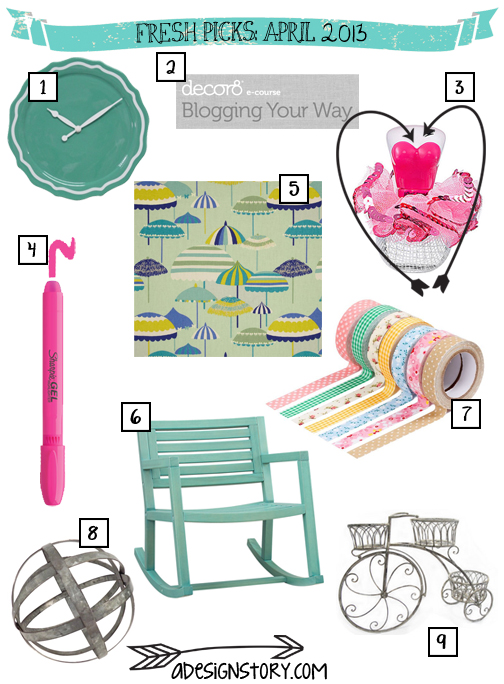 Here's the list…
1/ How cute is this ceramic plate clock from the newest Target Threshold collection? I seriously LOVE it. I haven't seen it in the store yet, but it may find my way right into the cart once I see it. Wouldn't it be just adorable on a kitchen wall?
2/ Another reason March's blog posts ran a bit on the low side is because I was busy taking the Decor8 Blog Boss class online. It really inspired me in ways I can't even explain yet. I had a ton of "homework" to whip up and it really got the creative juices and ideas flowing… so there will be some BIG changes coming.
3/ I love a good spring/summer perfume. I am a big fan of girly/flirty scents for the warmer months. I recently picked up the new Betsey Johnson perfume, Too Too Pretty, and it's FABULOUS. Simply, fabulous.
4/ It's no secret I am a sharpie lover. I have been since I can remember… & going to art school only made me more obsessed. Well, Kevin and I recently bought a new car and when we were signing on the dotted line the gal had this fabulous highlighter. It doesn't bleed through the paper and it's really just plain fun. I had to have them for Kevin and I… the Sharpie Gel Highlighter is AWESOME.
5/ I have been on the hunt for some super cute fabric for a chair re-do my brother and I have been working on. On my hunt for fabric, I fell in love with this umbrella motif… how cute! I ordered 5 different fabrics, including this one, for some upcoming projects… I can't wait to get them so I can decide which one I want to use for the chair cushion!
6/ Who doesn't love an aqua rocker? Ok, well I love an aqua rocker anyways. Now that it's spring, I feel like planting new flowers in our pots and sprucing up our porches just a bit. I like the idea of this aqua rocker for the porch just off our master bedroom. We'll see if the Mr. goes for it.
7/ Washi Tape. If you don't know about all glorious-ness of washi tape yet, you need to catch up. You can use it for so many fun things around the house. I absolutely adore it. I found this fun pack of washi tape the other day and thought it would be the perfect collection for spring!
8/ Target has really outdone themselves lately… I seriously can't go in without buying something or somethings. It's really a sickness people. At any rate, In an effort to bring in more metallic finishes into our living & dining room, I am debating on the idea of bringing in this galvanized decorative ball for some added texture. It feels nautical to me… which is what draws me to seriously consider it!
9/ Like I mentioned above, planting new flowers is always something I look forward to during spring. There's something so sweet about sitting in the sun with your hands in some soil and watching the flowers bloom after your hard work. I love it. I have added a few pots to my collection over the last few weeks. I haven't taken the plunge yet, but I do really like this bicycle pot holder for our front porch. What do you think? It's really cute… right?!!
What do you think? Any favorites? What are you all loving these days? Do share.. please do!