Easter is on the way… in fact, spring is officially here as of today! Thank goodness! Spring is actually my favorite season for many reasons… I adore the cute spring dresses and sandals, I enjoy cleaning out our house and bringing in some fun and bright colors! Don't you? Spring is all about rebirth and I really try to have fun with that every year!
In the pursuit of all things spring, I thought it would be fun to design a few Easter tablescapes. Let's get started…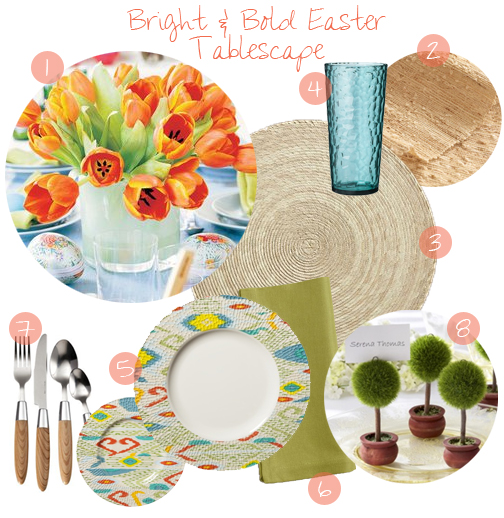 1// Flower Arrangement– Let's go with orange-yellow tulips because nothing says spring more than these cute blooms!
2// Burlap Table Runner– Go neutral with your table runner when you have a ton of pattern going on with your dinnerware! It grounds the tablescape!
3// Natural PlaceMat– Bringing in several natural elements will give the tablescape a more rustic and outdoor feeling.
4// Turquoise Cup– I love these hammered glasses!
5// Ikat Dinnerware– I actually fell in love with this new Threshold line of dinnerware– I bought the entire set! Ikat is in folks!
6// Green Napkin– Go solid with your napkin.
7// Wooden Flatware– Let's bring in another natural element… this flatware set is so versatile.
8// Topiary Place Card Holders– Adorable. Simply adorable.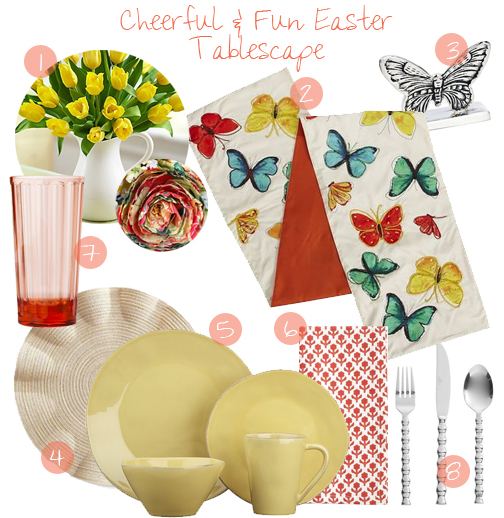 1// Centerpiece– Tulip & Handmade Flower Arrangement… Mix real flowers with handmade flowers made from scrapbook paper. It really gives more personality to a one color floral arrangement.
2// Butterfly Runner– Beautiful! This runner sets the entire tone of this fun and cheerful tablescape.
3// Butterfly Placecard Holder– Love. With this theme, carry it out in a big & bold way!
4// Flutter Placemats– Continuing with the butterfly theme, these placemats have flutter edges— so cute!!
5// Yellow Dinnerware– Pair this tablescape with solid buttery-yellow dinnerware to soften it up a bit.
6// Floral Napkins– Rock another pattern and add these fun tulip napkins.
7// Coral Cup– These have an almost vintage look to them— really adds character to the table.
8// Beveled Flatware– This set's shape is fun and chic… it will add personality to the tablescape.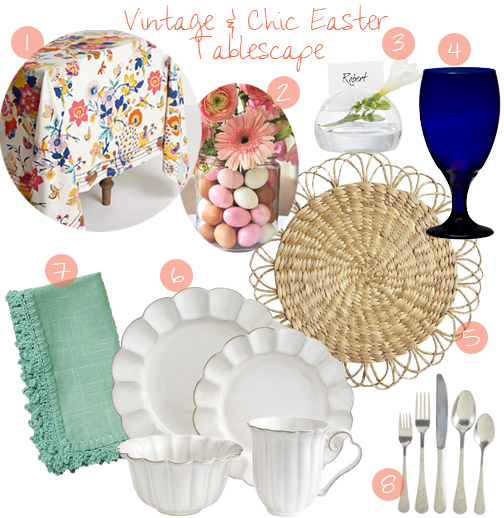 1// Floral Tablecloth– I love this vintage inspired tablecloth… it's fresh and chic. The design will be the focal point of the
2// Floral Centerpiece- Grab up a bunch of eggs and a few blooms and arrange them in a cute apothecary jar or canister for vintage look.
3// Vase Placecard Holder– Pop a bloom & some water in with a namecard and place it right above the place setting.
4// Blue Tea Goblet– This goblet really gives this look a pop of color and vintage inspired fun.
5// Natural Placemat– I love this placemat for this look… the shape resembles a flower and is very shabby chic!
6// White Dinnerware– LOVE. I think this dinnerware is absolutely stunning. It really goes with the flower petal design and brings in a fresh feeling to this tablescape.
7// Aqua Napkin– I also really like the idea of a solid napkin— this one has the added benefit of fringe. I love it.
8// Flatware– Take a look up close… this flatware is embossed and looks vintage. It really pulls the theme together.
So, what do you think? Do you go all out for the holiday? Do you have any extra ideas to share? Do tell, please! I am excited for spring and Easter… we're not sure of what the plans are yet for our family, but it's always fun to host a special event. What do you think?