Wow. 2012. WOW.
With the new year & new month ringing in, it's that time for our Monthly Favorites post again! We get emails all the time from readers telling us that this is their favorite posts! I really just love to share items we are using & loving or even items we have our eyes on. Fresh Picks was really birthed from the idea of show & tell. If you love something, it's worth telling! So, without further ado… January 2012's Fresh Picks…
Here's the HOME breakdown:
1. Yes, we are jumping on the Keurig train. My mom and dad recently picked up one for their house and they were instantly glad they made the purchase. My mom and I are huge coffee & tea drinkers and having the Keurig makes it easy to just have a single cup whenever you want! I quickly fell in love with it over the holidays, so we are going to be using our Bed Bath & Beyond 20 % off coupon and the rest of our wedding gift cards  to make the purchase this week!
2. Ikat is a huge trend these days, I absolutely love it! I recently added Ikat drapery panels to a client's house on the beach (portfolio pictures coming soon). I was browsing the web for interesting rugs for another client the other day and I came across this gorgeous Ikat rug from West Elm. I might be saving my pretty pennies for this one guys…
3. At some point I will show you all some of the fabulous gifts I/we got this Christmas… we were very blessed! My mother-in-law was sweet enough to snag me this white Kitchenaid Stand Mixer… I have wanted it for so long…. I just know that my baking skills are going to blossom with this puppy 😉
4. The other day I was at Target (duh right?!?) and I came across their new kitchenware line. I die. It is so me. I think each item comes in orange, turquoise (Thank God) and Black. They have CHEVRON patterned utensils!!! I snagged up some of the turquoise utensils… the rubber spatula I got is white & turquoise chevron. LOVE.
5. Another fun gift I received was a Bissell Steam Mop. Friends, you must get one. MUST. I watched Kevin's aunt clean her floors after a dinner (packed with people), let's just say they were spit shine clean. I hugged the box after I opened it. Who would have thought I would be so excited to mop our floors! YAY!
 What home items are you guys loving these days? Anything you are dying to tell us about? Any great home decor Christmas gifts? DISH IT!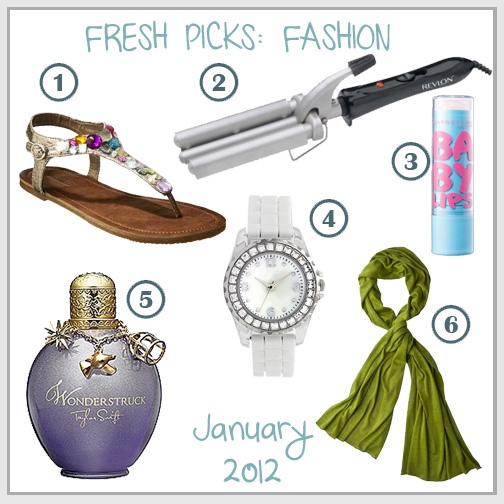 Here's the FASHION breakdown:
1. We live in Florida, so even in the winter, from time to time, we wear sandals. I picked up these cute jeweled sandals from my Target the other day. They are adorable with a cute dress, skirt or even skinny jeans!
2. It's getting a little chilly out (actually, it's freezing out today… for us anyways), so that means no humidity here! Whahoo! I can finally style my hair with a curling iron without it falling out when I walk outside. I picked up this new 3 barrel curling iron the other day after I saw a friend who had styled her hair using this. SO CUTE. It kind of gives you a bohemian look… very cute!
3. It's winter… chapped lips… need I say more. This new Baby Lip moisturizing lip color from Maybelline is fabulous! Just fabulous. They come in pinks, nudes, reds and purples. Perfect for these windy, chilly months!
4. One of the things on my Christmas list this year was a white watch, which Kevin totally delivered on. I have the world's tiniest wrist, so finding a watch that looks good on it is super hard! He opted for one similar to this white watch at Target (I think he actually got mine at Kohls). The only difference is mine came with extra bands to change out (love that). I got a black, white, gray, pink and purple band to switch out depending on what outfit I wear! Good guy or what?!?
5. Another item on my wish list was perfume. I think I ended up with 3 different perfumes. WOW. One of my favorites is Taylor Swift's Wonderstruck. Apparently my Mr. went EVERYWHERE looking for this surprise because it sold out fast! He finally was able to snag one and I ADORE IT. It has a unique sweet scent and the bottle is actually really cute too!
6. I am a huge scarf fan! I think adding a scarf to a plain tshirt is so adorable. I have tons, but my favorite is the green scarf one my mom & dad got me! This is from Target and it has more of a cotton/ jersey feel to it. It's the perfect green and it goes awesome with black, white, gray and even blue! LOVE IT.
 How about you? Any fashion or beauty items that have your heart fluttering? Any great winter items? DO TELL.