The hottest trends in backsplash designs…
Once considered just the back wall to countertops, backsplashes have become the focal point in most kitchens. There's quite an uprising taking place in today's kitchens. Backsplashes, which used to sit silently against walls, are beginning to resonate with design elements and flashy materials that command attention. New materials and design choices are continuing to energize this outbreak.
Today a backsplash can be used to unify an entire room together- more so than when paint and simple ceramic tile were the trick. Backsplashes have become the most important visual element in the kitchen (along with the cabinets). This is in part because they are vertical surfaces and they are exposed to all rooms that have a view in. Choosing the right backsplash is crucial when trying to design the ideal kitchen. It is the perfect place to put personality in the room and create a dramatic focal point.
The right goods can make a backsplash absolutely pop! I would say the most popular backsplash in today's kitchen is stone. The "stone look" can be ceramic, porcelain, or even natural stone and can come in an array of shapes and sizes. More often than not, people are mixing materials by adding in glass or metals to accentuate the informal look of the stone. The glass and metallic accents dress up a kitchen like a jeweled necklace.
The focal point in the design should be between the stovetop and the hood. This is the largest vertical surface in the backsplash and should really be a space to embellish. Many designers choose to create a dynamic mosaic or geometric design for this area to add character and appeal. Even if you don't hire a designer, producing the design you desire is all about imagining the options first. Try pulling inspiration images and circling or noting what draws you to each selection. From there, narrow down your selections and think about the materials most suitable for your space. For example, if you have a high traffic kitchen, you might want to think about granite countertops or even engineered stone (quartz) because of their durability and non-porous attributes. For more help on choosing the right materials for your space or designing the perfect kitchen for your style, feel free to email me with questions or visit "our Shoppe"!
I love pulling inspiration from kitchen photo galleries as much as you do. Whether they're dark and simplistic or colorful and somewhat cluttered, I find inspiration in many different styles. Take a look at a few inspiration images we pulled…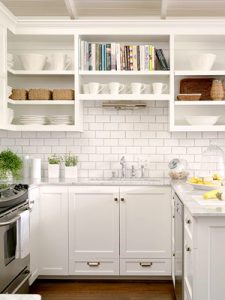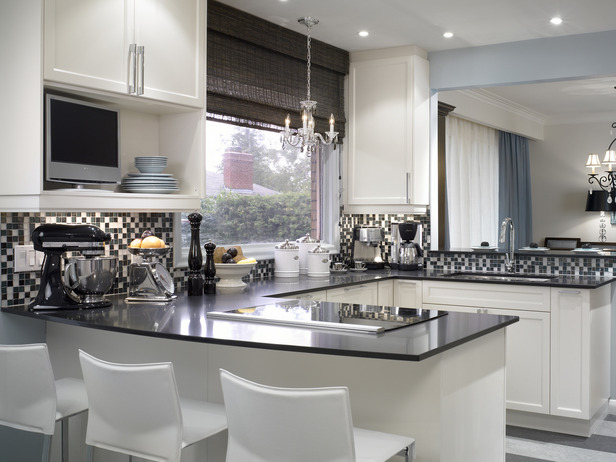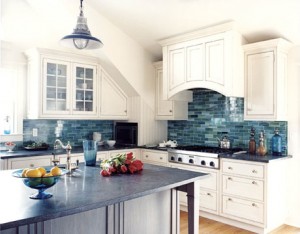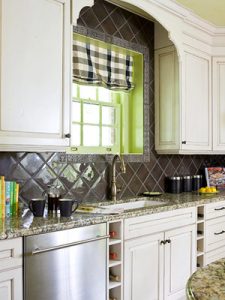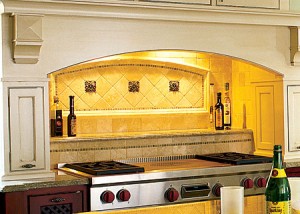 Here are just a few quick tips in selecting the right backsplash for your space & style:
Traditional choices are generally in honed stone, dynamic colors and textured ceramic tile, ceramic tile murals, metal tiles, and various ironwork.
Contemporary choices include glass sheets, glass tile, stainless sheet, copper sheet, aluminum sheet, pewter, embossed metallic tile, embossed glass, slab stone and even windows.
Contemplate the marriage of the backsplash and countertop while in the design process (pull your cabinet, countertop & backsplash finishes & materials and place them in the space they will abide in… look at them in the natural day light and then again in the evening)
Understand all of the options available within your budget
Keep in mind the backsplash you choose may either reflect or absorb light (for example, glass tile will reflect light, especially if you have a light & shiny countertop)
It is ok to reflect your personality and be creative in the backsplash design (try color or mixing materials)
For example, check out these tiles  from Ann Sacks: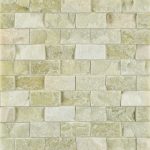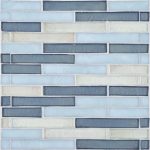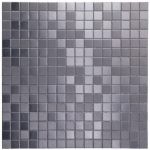 There is definitely a trend that is defining our kitchens, once that embraces our hearts and speaks distinctively for us and our homes. Envelope the many options offered today and join the uprising happening in kitchens…
Do you have a kitchen that's dramatic and worth highlighting? Do share… send a brief intro of the space and photos and you could be considered for a reader design feature. If you need some assistance to create the ultimate kitchen of your dreams… visit our Shoppe and select the package right for you!
Inspiration Images courtesy of Better Homes & Garden, House Beautiful & HGTV.