Happy Monday!! Hopefully everyone had a great weekend!! We had a wedding to attend and it was absolutely beautiful! We also finally began cleaning out the garage. Let's just say it's going to take awhile… moving is the pits!! Today I am hosting a giveaway that involves a little light + shopping! That's right! The wonderful folks at GE & Target are blessing one lucky reader with a $25 Target Giftcard + GE reveal® light bulbs!
———- THIS GIVEAWAY HAS ENDED. CONGRATS TO LISA BROWN FOR WINNING!———-
It's no secret that I am full obsessed with all things Target. I am there about 5 times a week and I am addicted to their new Cartwheel App. Have you guys tried it? Basically, if you have a smart phone or tablet, you just download the Cartwheel App, and sign up through Facebook or your direct email. From there you hit browse to find the offers you would like to search for. There are many categories with tons of offers. You just add the offer you want and then present the bar-code to the checkout employee. (If you need extra wi-fi power when you are in Target, just hop on their guest wi-fi!) Here's a visual of how to navigate the App…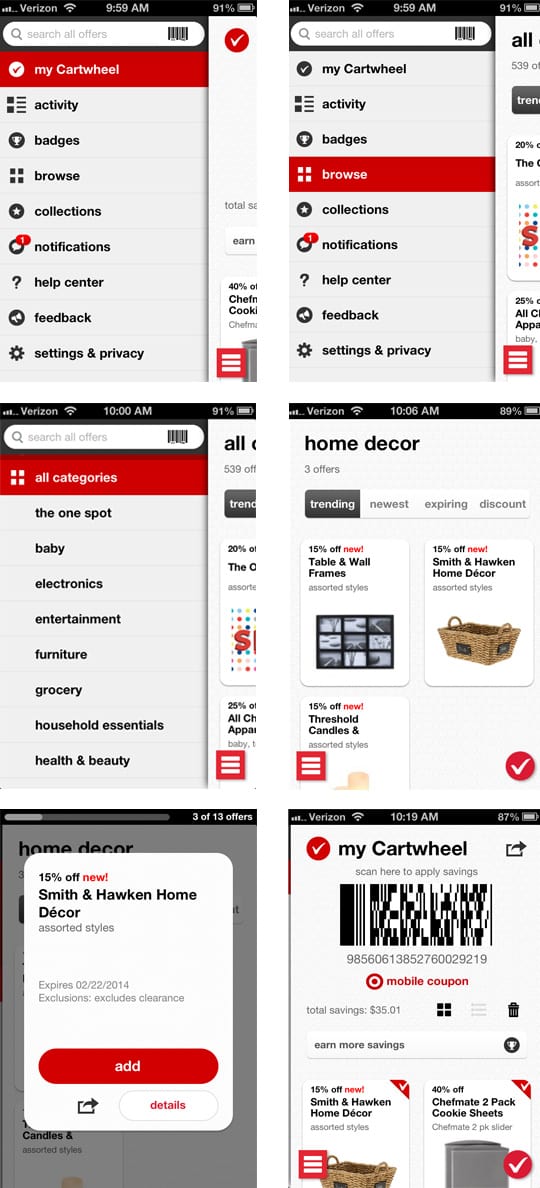 It's really very easy and every penny of savings count. I use these discount offers along with coupons I print off right from Target's site, as well as my Target Red Card for the extra 5% off! I am a pro I tell ya! They add new offers weekly and holidays are included as well! It's a great time!!
 Now for the giveaway details… Enter to win a $25 Target Giftcard + GE reveal® light bulbs!
A quick and easy way to makeover your home for the New Year is to switch your light bulbs to GE reveal® for clean beautiful light that will make the colors of any room pop. GE reveal® bulbs provide amazing clean full spectrum light that filters out the dull yellows of standard incandescent light bulbs. We were given the chance to try this babies out… check out the difference…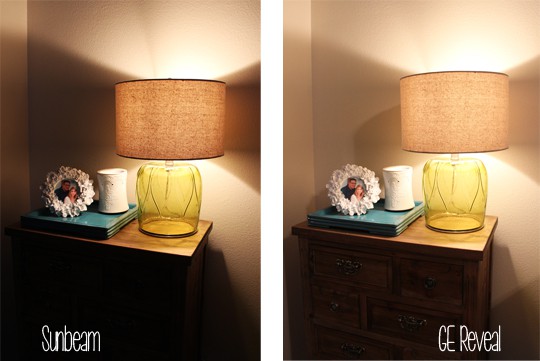 Here's a few pro's to the Reveal Bulbs that we immediately noticed…
The yellow/dull hue the sunbeam gives us is absolutely not there with the GE Reveal bulbs.
They are brighter more white lights.
It made reading + computer browsing easier on the sofa!
Removing that yellow cast off is so important me because I work hard on the color scheme and design in our home, so I want it to show exactly as it is. We are changing all of our bulbs asap to the new Reveal Bulbs!
Watch this fun and stylish video featuring four hip taste makers discussing the importance of good lighting and how quick and easy it is to do a reveal® lighting makeover.
 GE reveal light bulbs are now available at Target where all makeover needs can be purchased in one swoop and with great savings using Target's Cartwheel savings app. With the Cartwheel app, you can browse for savings ahead of shopping or while at Target, you can scan the barcode of any product to see if there is a Cartwheel saving.  Download the Target Cartwheel app on your IOS or Android.
You can also print off this coupon for amazing savings on GE Reveal bulbs at Target $2 off GE reveal at Target – Print the coupon at home and use at Target. Expires 2/8.
We have a great opportunity for you to win this makeover experience. You can enter to win a $25 Target giftcard + GE reveal® light bulbs + a free download of the Herbert Bail Orchestra EP (first track featured in GE Lighting video). Just share this post on your social media and let us know which room you would like to makeover with GE reveal® light bulbs!
Share to Enter:
Must be U.S. resident

Share this blog post on your social media and comment below

Tell us which room you'd like to makeover

Hashtag #GEreveal + #Targetgiftcard
 Here's an example:
If I win #GEreveal bulbs+ #Target giftcard on @adesignstory, I'll makeover my _____ with reveal's beautiful clean light! (Then add this posts link).
* GE and Target are only providing the product and not running the giveaway.