Friends, it's July. I have no idea where the time is going, but if you find it… tell it to slow down a bit! I have been a lil MIA still… family always comes first! Thank you all for sticking by me and my beloved blog… you rock!
I am back at it again & ready to show you my July faves…
1. Glass Lamps by Target: I bought 2 of these puppies on clearance the other day at my local Tarjay… I have had my eye on them since I first saw them in the store and I couldn't believe the price… $14 a pop! I bought them for our Master Bedroom… I can't wait to show you the NEW plans for the room!
2. Feather Sculpture by Target: This is a fun lil decor item I found when I was browsing the store the other day… I think I would spray paint it, but it would look great on top of books on a shelf!
3. Bicycle Paper Clips by Crate & Barrel: I am on a little office kick (getting ours in gear) and came across these adorable paperclips… how fun are they?
4. Seagrass Floor Cushion by Target: I think a few of these piled up near a fireplace would look great! (Maybe since we are house hunting and the home we are keeping our fingers crossed for has a fireplace… oh the possibilites!)…
5. Chevron Mug by Target: LOVE! I bought a few of these and I love them! I adore the geometric pattern and the colors…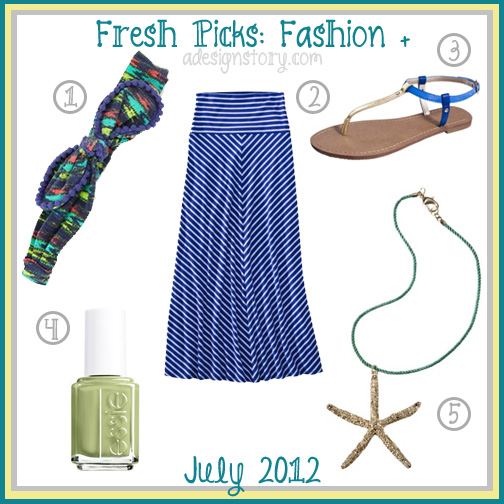 Here's the details:
1. Fabric Bow Head-Wrap by Urban Outfitters: I LOVE the idea of new headbands and now these head-wraps… During this season, I like putting my hair in 'summer buns' and adding a fun hair accessory to tie my outfits together!
2. Maxi Skirt by Target: I went to two Target's for this baby. It's a super comfy skirt and it looks great with a white t-shirt and bright sandals. I adore it…
3. Blue & Gold Sandals by Target: How great are these sandals? They come in a variety of colors and would be a perfect match to a pair of shorts and a cute shirt or a maxi skirt (like above).
4. Navigate Her Nail Polish by Essie: Lately, I have been on a Mint Green "thing"… I just bought this nail polish and added a lil sparkle to the ends for fun… it looks adorable and very summery!
5. Starfish Necklace by Target: I bought this necklace a few weeks ago… it's great! It's by far my favorite addition to my summer wardrobe this year!
What do you think? What's on your July list of favorites? Do tell…
(Disclaimer: I just realized 4 out of the 5 items on this month's home edition were from my beloved Target… I wasn't paid or perked to showcase any these items… I just happen to love them!)