Happy July!
Wow. It's July. One of my very favorite months… not only because I love summer but it's our anniversary month. I can't believe it but on the 12th we will be married 4 years. 4 years friends, 4. I get all emotional and happy just thinking about it. I married the most incredible man alive. He's mine all mine. Anyways, it's the first of the month which means it's time to roll out my favorites…
But first, I wanted to clue you all in on a huge surprise. A Design Story is about to get a real makeover from top to bottom… including a new logo. So, big, huge changes are coming and will hopefully begin rolling out this month. I am so super excited. It's been a long time coming. In fact, I have a whole bunch of neat surprises to share this month. So stay tuned… You won't want to miss out.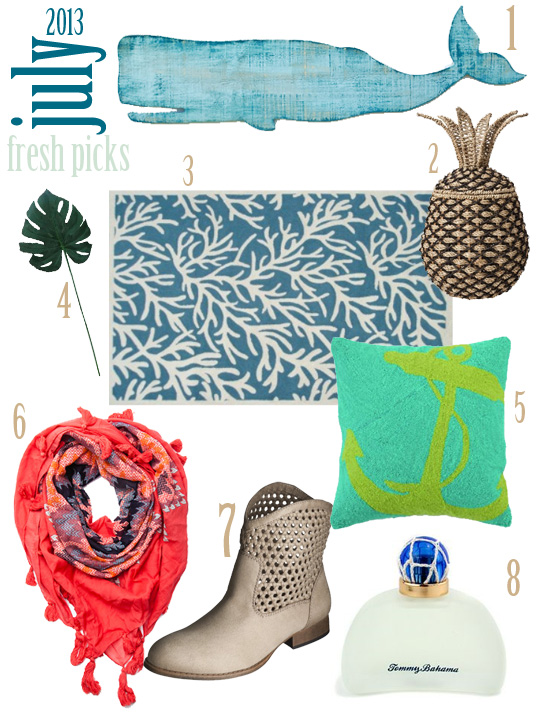 Here's the breakdown:
1. It's no secret that we love the coastal look. We have big plans for some new additions in our home soon, so I am on the hunt for items that are different and unique. I love this whale silhouette… it's adorable!
2. Oh Nate Berkus… I love this Pineapple basket from Tarjay. I think it would look adorable above cabinets in the kitchen. Don't you?
3. On a recent rug hunt for a client I came across this adorable coral rug. This would look great in an entry way or sun room. Pair it with bold turquoise and some aqua, green and yellow and you've got yourself a fabulous color scheme going.
4. Adding a tropical vibe to a few accessories during the summer is fun for me. I love the idea of adding a few of these palm leaves in tall glass floor vases.
5. Anchors Away!! This adorable anchor pillow would look great in a sun room or on a guest room bed to brighten things up.
6. I absolutely love scarfs… I have been wearing them a lot with my white peplum shirt and my cute summer booties. This chevron and tassel scarf is so fun!
7. My summer booties. I love. I picked up these cuties from Target about 2 months ago and I love them. They look great with summer cotton dresses, jean shorts and cute skirts. They are perfect. Seriously, go and buy them.
8. My hubby and I went out for a beach day a couple of weeks ago and decided to cut it short and go through some of our beach stores like tourists. It was so much fun.We grabbed a strawberry milkshake and shopped around! I tested out the Tommy Bahama Set Sail St. Barts perfume because I am a big believer in testing in for a day to see how long it lasts on your skin before buying. It lasted all day and night. I immediately ordered it the next day. It's the PERFECT SUMMER SCENT. It's rich and pretty!
What are you guys loving these days? Seriously, I wanna know!