Here comes the 1st Fresh Picks of 2011! Our winter mission: To keep the Cold Weather Blues Out!
This month's fresh picks could sort of be nicknamed: Design Therapy! If those arctic winds and grey skies have already got you down… snap out if it and start getting bold and bright! Seriously, why sit inside in with dark colors and drab hues… start spring a bit early!
These favorites were a result of the holidays! We got to thinking about taking down the Christmas stuff and how we usually add some darker shades during the winter for coziness… this year we aren't falling for it! No way… I plan on adding some fun bright colors into our spaces to keep the cheer up!! It is a whole near year… why not get bold and be different!
So, without further ado… Welcome in 2011 with these favorites…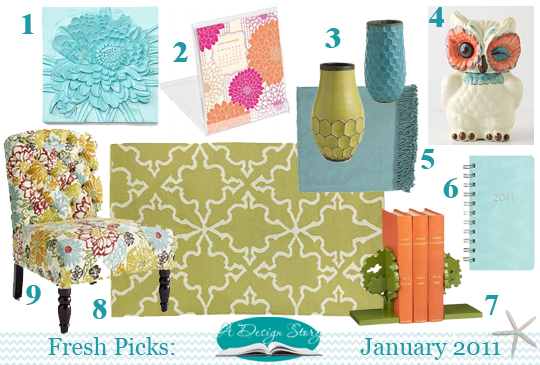 Bold and Bright, right? Here's the breakdown:
1. Chrysanthemum Plaque by Z Gallerie
2. Desk Calendar by Paper Source
3. Vases by West Elm
4. Owl Jarby Anthropologie
5. Throw Blanket by World Market
6. Date Book by Paper Source
7. Tree Bookends by CB2
8. Green Rug by West Elm
9. Flowered Chair by Pier 1
What about you? For real, are you taking down the Holiday Decor and sprucing up your space a bit? Going bright and bold? Do Tell!
P.S. We wanna hear from you! We are taking submissions for Reader Redesigns! Have a DIY Project you want to showcase… Email me @ lindsay@adesignstory.com and get your project in!