Happy June. Can you believe it's already June… I totally can't. Time sure is flying by. I have been a little MIA around the blog for awhile now. I have been keeping a small secret.
A Design Story is getting an update. Like an entirely new look. A new logo, new color scheme and even a new website design. It's going to be epic. It's why the blog posting has been suffering a bit lately (well that and a few other things). Re-branding is a big deal and I wanted to make sure that this time I do everything right. So, soon the blog posting schedule will resume, just in a new and improved way. Get excited and hang tight…
As always, every new month brings a new set of Fresh Picks. Let's begin…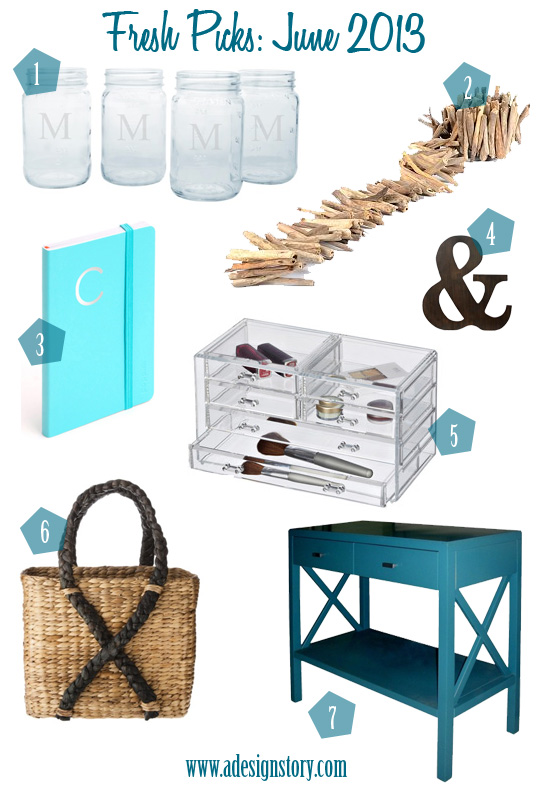 Here we go… for the details…
1/ Who doesn't enjoy drinking out of a mason jar these days? There is just something about some sweet tea with a lime that just tastes better in a mason jar! Or I think so anyways! These adorable monogrammed mason jars would be a fun addition to a summer soirée.
2/I love summer and beach décor! I love the idea of this driftwood garland draped across a fireplace mantel or shelf. It's rustic and beachy… add tea lights around it and a few pieces of beach glass and shells for a casual summer look.
3/ I love a good journal. I use them for blog planning and ideas… lately I even use them for time blocking and to do-lists. I love this monogrammed journal for my to-do list making…
4/ The rustic vibe has become a favorite of mine lately. I am starting to fall in love with rustic wood tones and not-so-perfect room finishes. I think this wooden ampersand would look adorable paired with white pictures frames and gold sunburst mirrors in a gallery wall.
5/ I am in a major "organize-it" mode. I have a list of every room, closet, drawer and cabinet that needs a little organizing and I am going to begin to de-clutter and dis-own a few things around here. A few weeks ago I caught a glimpse of the show "Keeping up with the Kardashians"… yes I watch it ONLY because I enjoy looking inside their homes and spaces. Unbelievably chic style. Anyways, Kim's makeup collection is quite fierce and I love the acrylic organizer she had to make everything look tidy and well kept. I went on a hunt and found an acrylic organizer similar to hers to put on my summer wish list.
6/ Since I am in the midst of de-cluttering and organizing, I found this really fun basket to keep some magazine or extra throws in. I love the dark handles next to the lighter basket color. It's just fab.
7/ If you follow me on instagram (adesignstory), you might have already seen this puppy. I picked up this turquoise console table originally priced at $129.99 for just under $57 with a sale, coupons, a gift card and my red card. Gotta love Tarjay. I plan on putting the basket above below and adding a few other decorative elements to the top. It may go in our living room… not quite sure yet. I am still playing.
What are you all loving these days? Any new summer décor you are enjoying? Share…