It's May! We're getting closer and closer to summer… yay! I have been "out of my studio" for over a week and it feels good to get back in here today and start working. I feel refreshed and ready to get rolling. As always, it's time for my monthly favorites post! I am so ready to relish in the new month, are you? I came across so many great things this month… some I bought, some are on my list and some I just love… but, all are worth a mention! Let's give it a go, shall we?
Let's begin with the "home edition"…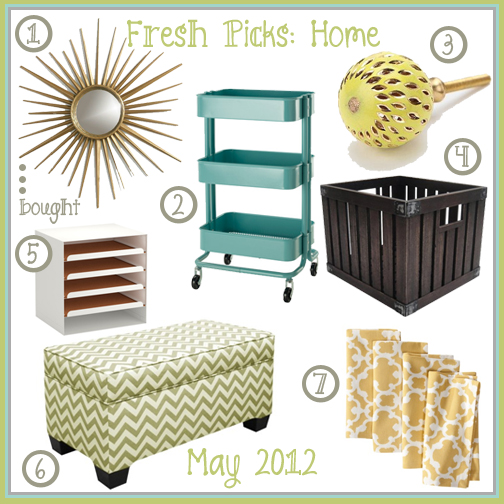 Here's the breakdown…
1. I recently came across a fab sunburst mirror from the Martha Stewart line at Home Depot. It was a must-have. At only around $35 it felt like a total steal… I brought it home and it's hanging in our living room wall. It's gorgeous… I'll show ya soon!
2. I have been looking around for new storage ideas for our bathroom and kitchen and I came across the great metal cart (on wheels) from Ikea… it's the perfect color (it also comes in gray). I thought it might be cute with folded towel on the bottom and bath accessories on top in the bathroom… I haven't bought it yet, but I love it.
3.  I bought a great wooden furniture piece a while back and it has the ugliest knobs. I plan on painting the piece, but I was searching for knobs the other day for inspiration and I fell in love with this knob from Urban Outfitters. It's adorable… right?!! (I'll show you the before/after soon).
4. Who doesn't love a milk crate for storage? I do! I love the dark stained version from Target… add throw pillows, blankets or even office supplies inside to conceal the "mess". Another great way to utilize milk crates (or baskets) is to place 2 of them under a console table for extra storage.
5. We are still organizing and finishing up our office redo… (which I will show you when we are done). I am still looking for a few office organizational pieces and I love with white letter tray from Ikea. I am pretty sure we both need one of those!!
6. I love, love, love, l-o-v-e, love this storage bench from Target. I am putting it on my "on hold" list for our foyer or bedroom. I'll let you know what I decide to do there… cute right?
7. I love to sew and I love new pillows. I recently picked up a set of these yellow napkins on clearance at Target to diy my own set of pillows for the upcoming summer season. I love using inexpensive fabric from unexpected sources for quick & easy projects. Think outside of the box… it's fun!
What do you think? Are you crushing on any of these picks? What's on your must have list these days? Do tell! Now for the fun fashion edition…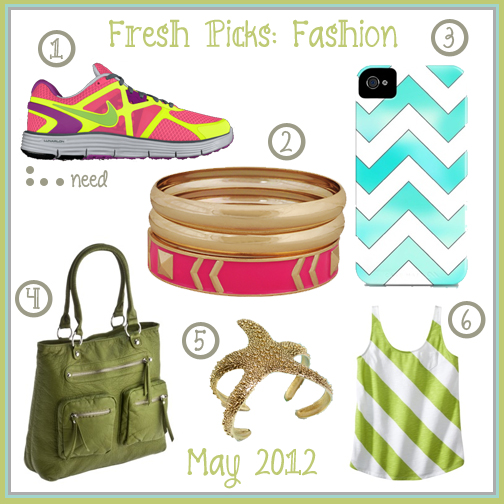 1. I am in need of some new shoes! I love my old sneakers, but I really could use a new pair now that we invested in Annual Passes to Busch Gardens & Sea World (plus–thanks to Kevin's cousin, we get into any Disney park for free anytime!)… so it really is a need now! (Like how I justify my "needs"?– ladies, you know you do it too!) I have a pro-nation issue with my feet so I need really good support… so the Nike Lunar Glides are supposed to be the best for this these days. I love the new bright colors they come in… I actually customized these for fun. Not sure what colors I am going to go with… stay tuned!
2. It's no secret I am a girly girl. I love jewelry. All kinds actually, not just the expensive stuff. I really like custom jewelry for my "trendy" accessories. I am loving this gold & hot pink bracelet set from Forever 21… cute?!!!
3. New iphone case? I would love this aqua chevron one from Society 6… and just in case you love the pattern, they have art prints to match!
4. I love my new purse. It was a sale item from Target… it's the perfect Kelly Green and I bought it for only $24. I am my Memaw's gal… I adore changing out my purse frequently and I don't always run to my designer purse shelves in the closet… I like to have a "everyday"/ "any day" stash I can go to for just fun outing and with certain outfits. I think they have this purse in several colors and it's heavy duty!
5.  Yes to anything beachy. I love fun beach jewelry. I actually pinned this Starfish Cuff Bracelet on Pinterest awhile back and came across it again on Furbish the other day. Friends, it's only $24 and it would look great with a summer outfit. I need it. I just do!
6. Since we live in Sarasota (Florida), summer hits us early. I love everything to do with summer… shorts, tanks, flip flops, cute dresses and swim suits. I can't help it… I just do. Since this lovely 80's & color blocking trends are back in, I have been pairing up fun tanks like this green & white tank I bought from Target with aqua or hot pink shorts. It's just plain fun.
So what do ya think? Any item you slapped on your must-have list? Please share what's on your lists or maybe something you just bought and love! Don't be shy…
P.S. Thanks for your patience while I was "out"… I promise I am coming back to fulfil my new blog schedule…