It's that time of year when you just want warm comfort food!! Being gluten free, sometimes it's hard to come up with creative, quick and easy fall & winter meals…
We love chicken. We have chicken I would say 4 or 5 out of the 7 days in a week. Seriously, we do! I have ventured out recently in search of new recipes because I don't want dinner to start getting boring over here! I have made (all gluten free) chicken n dumplings, a yummy squash & zucchini pasta with chicken and now chicken pot pie. They were all so good, I just had to share the recipes with with everyone… starting with Chicken Pot Pie!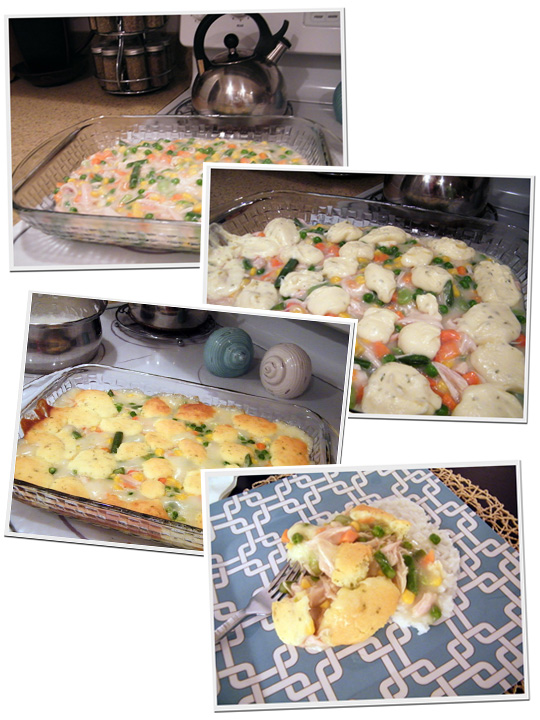 Prep Time: 15 Minutes, Total Time: 45 Minutes, Makes: 6 Servings
Main Ingredients:
2 tablespoons butter or margarine (I always use butter because it's better for you)
1 medium onion, chopped (this is optional)
1 bag (12 oz) frozen mixed vegetables
1 3/4 cups Progresso chicken broth (this is gluten free)
1 1/2 cups cut-up cooked chicken (we usually buy a yummy rotisserie for the chicken)
3/4 cup milk
3 tablespoons cornstarch
Topping Ingredients:
3/4 cup Bisquick Gluten Free Mix
1/2 cup milk
1 egg
2 tablespoons melted butter or margarine
1 tablespoon chopped fresh parsley
Here's how to make it:
Step 1:Heat oven to 350ºF. In 3-quart saucepan, melt butter over medium heat. Add onion; cook, stirring frequently, until tender. Stir in vegetables, chicken, chicken broth, salt and thyme; heat to boiling. In small bowl, mix 3/4 cup milk and the cornstarch with wire whisk until smooth; stir into chicken mixture. Heat just to boiling. Pour into ungreased 2-quart casserole.
Step 2: In small bowl, stir all topping ingredients except parsley with fork until blended. Drop topping mixture by small spoonfuls over chicken mixture. Sprinkle with parsley.
Step 3: Bake 25 to 30 minutes or until the topping is browned.
* Even if you are not gluten free, this is super good andyou can use regular bisquick if need be! I linked up to CentsationalGirl's Comfort Food Linky Party!
Yummy or what? What are your go to comfort meals? Anything gluten free readers out there have any other recipes? DO TELL. (P.S. we have a fun giveaway coming at you on Monday… stay tuned!) Want more recipes? We have tons of good recipes and MORE TO COME for the holidays!