Treat Your Feet to Pure Natural Fibers
Decorating with natural area rugs is one of the easiest ways to revitalize, update, improve and beautify any room in your home. Natural sisal and sea grass rugs can turn a drab room into one full of color and life. Or use natural rugs to create a focal point or define an area of interest. These rugs can add warmth to otherwise cold tiles, stone or concrete floors. Plus, natural rugs will protect hardwood floors or rooms with wall-to-wall carpeting. The right natural rug can truly unify an entire room's décor elements.
One of the main reasons sea grass rugs and sisal rugs have become so popular of late is the trend towards more natural interior decorating. Whether you are just beginning to "green-up" your home, or you are well on your way, consider natural fiber rugs when making new décor decisions. From hardwood and laminate flooring, to stone tile and ceramics, the hottest design fads in home improvement are embracing materials that hearken back to natural materials. Because sea grass rugs and sisal are made from natural woven fibers, they fit in with many of the most popular home designs. Plus, by using natural rugs, you are using materials that do not emit harmful toxins into the air… so basically it is better for your health in general (keep this in mind especially for nurseries).
Sea grass Rugs
Sea grass rugs are a popular choice as an area rug because of their durability and looks. Sea grass is grown in India and China in coastal areas, where seawater floods the fields as part of the growing process, hence the name. It is a tough and non-porous material (totally water resistant), making it perfect for high traffic areas. It is also very easy to clean and resists the buildup of dust, dirt, and allergens, making it the perfect area rug for those with respiratory concerns. Most sea grass rugs come in natural colors, ranging from light beige to olive green, and are backed with a non-slip, foam padding. Because it's such a tough material, it can be slippery when applied over slick surfaces like hardwood and tile so be sure to use a backer. Sea grass is readily abundant making it relatively inexpensive! (Fun fact: there are 2.5 million acres growing off the coast of Florida alone).
Sisal Rugs
Sisal is a material that has been used in rug making for a very long time. It is a tough, durable, natural fiber that stands up well to heavy traffic. The fibers do not attract dirt because they are naturally anti-static. Unlike synthetic fiber rugs where dirt can become trapped and difficult to remove, dirt in a sisal area rug is easily removed with a vacuum cleaner. Speaking of cleaning, sisal area rugs are easy to clean using mild dishwashing detergent and water. To do this, take the rug outdoors. Dip a brush in a detergent solution to clean the entire surface, and rinse with a hose. Hang the rug up to dry in the sun (be sure it dries quickly and completely as damp natural fiber rugs will mildew and eventually disintegrate). A sisal rug is definitely for use only indoors. Water and weather will rapidly degrade the fiber of a sisal rug and shorten its life considerably. The sisal area rug's natural beauty, durability and ease of cleaning make it a great addition to the home or office. Side note, sisal rugs breathe and will actually regulate humidity levels within your home.
While both sisal and sea grass rugs are a beautiful addition to any living space (no matter your design style), they are also some of the most economical rugs you can purchase. Here are some inspirational interiors that have been completed with natural rugs as well as some fabulous rugs I came across lately on my shopping endeavors…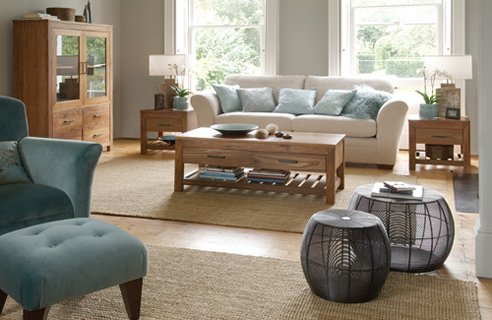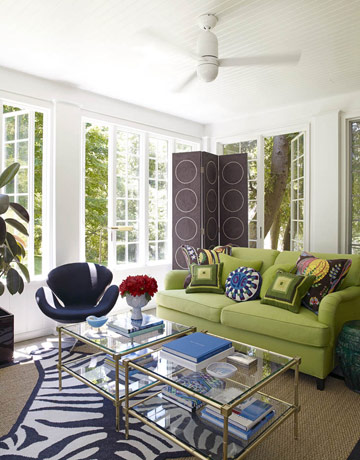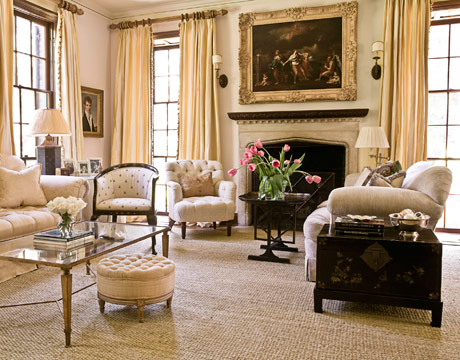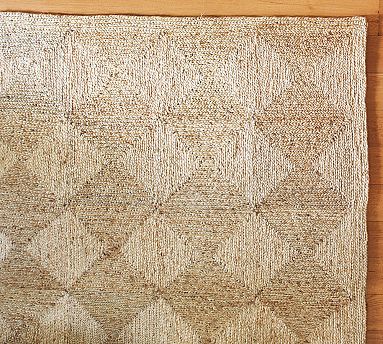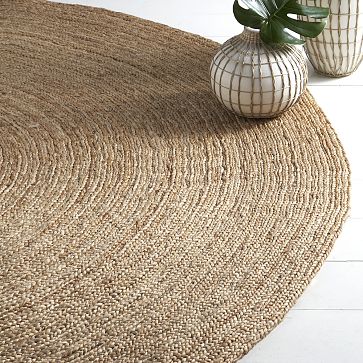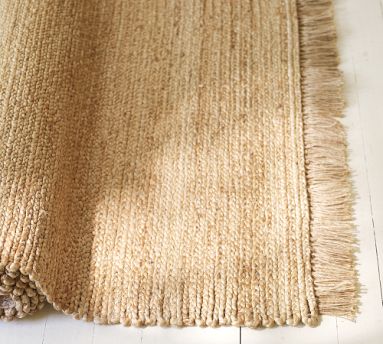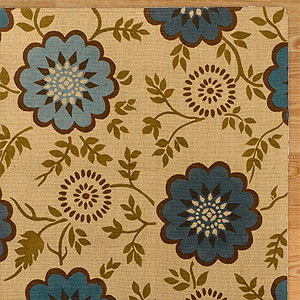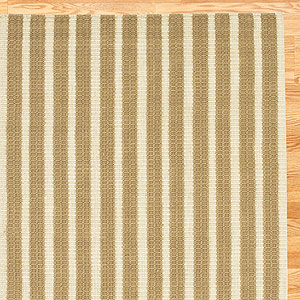 There are so many new design options when it comes to natural rugs now.  Have you decorated your home using sisal, jute or sea grass rugs? Do tell! What defined your decison to do so? The look or the "go green" movement? If you're interested in purchasing a natural fiber rug and need help selecting the right one for your needs and design, talk to us!
Photos courtesy of West Elm, Pottery Barn, World Market, The Company Store ,Crate and Barrel and House Beautiful.