I am back from a weeklong trip to NYC! Remember last week when I mentioned I had been invited to the Nate Berkus show? Well, I was also invited to HGTV for lunch and the Rue Magazine launch party at the New York Design Center.
The trip was every bit of AMAZING. I truly have so much to talk about; it may just take a few days to break everything up! So first things first… The HGTV Luncheon…
Here is a "clip" of my invitation to the HGTV luncheon…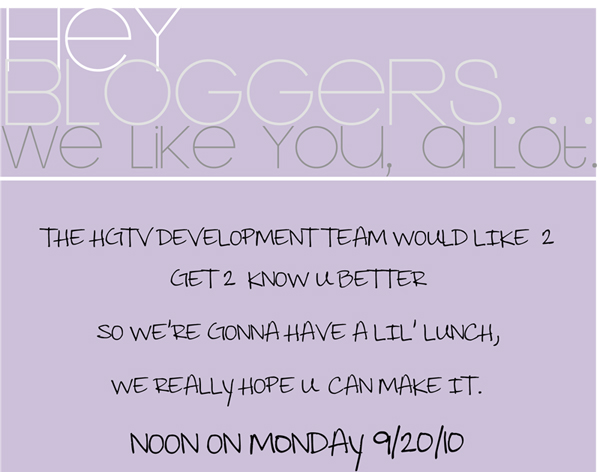 My Mom, Husband and I took the trip to New York on Monday and then my Dad flew and met us Tuesday Night… we made a vacation out of it! SO FUN!
We arrived in Manhattan at 8 AM; we checked in our hotel, changed and headed out to the streets of Manhattan…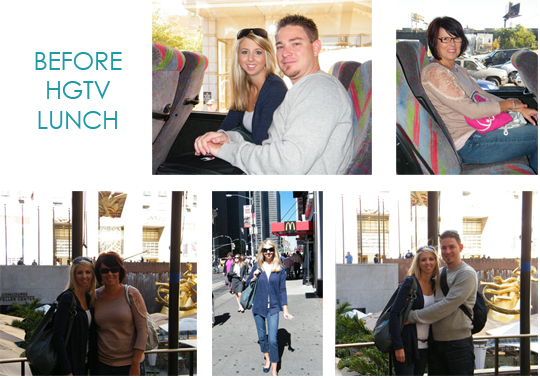 At 12 pm, I found the HGTV Building and headed up to be greeted by the nicest people… HGTV truly has the most professional and kind employees! They had beautiful flower arrangements, a fabulous spread for lunch & dessert! The entire room was filled with HGTV employees and Bloggers alike. Then, in walks Emily Henderson, winner of this year's HGTV Design Star.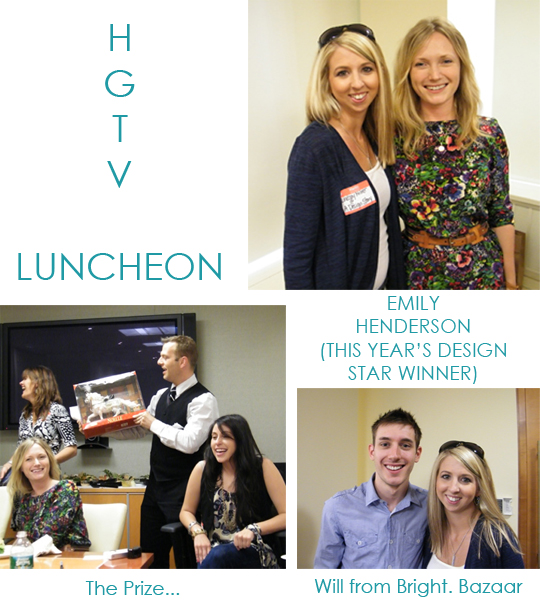 We mingled for a little over two hours!! I met some new blog friends and friends at HGTV. I can't tell you how much I appreciated the peeps at HGTV taking the time to tell us individually how much they loved our blogs and just how big our voices are in the design world. Me being an interior designer and the Mr. a realtor, I can't stress enough how much we love design and real estate shows on HGTV… but the fact that they took time of their busy day to let us know they value us, makes their network even that much better!
They had their photographer, Megan Blemur taking photos too… check out her slideshow by click here. 
At HGTV, I also met Swee10, Will from Bright. Bazaar, Kate from Centsational Girl, Katie from The Design Apprentice, The Moggit Girls, Cristin from Simplified Bee, Amy from Maison Decor, Nicole from The Brooklyn Contessa & many, many more fabulous bloggers…
We introduced ourselves & our blogs and then played a game mentioning our favorite HGTV shows (mine are Design Star, Candace Olsen, House Hunters, House Hunters International, Selling New York & Dear Genevieve) and what design trend we wished would slip away for awhile.
The HGTV Luncheon was fabulous and I had a great time!
So…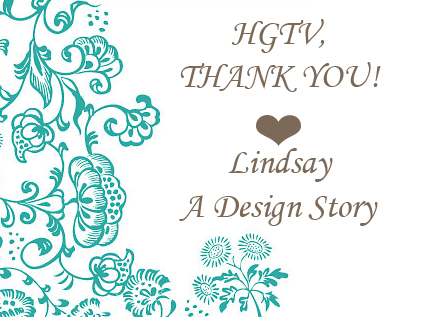 Here's what you can look forward to this week on A Design Story…
– Rue Magazine Launch Party Break Down
– Arise and Shine Jewelry Giveaway still going on… Click Here.
– The Nate Berkus Show Break Down
– NYC Inspiration
– The Milner's new Rides
& more!
P.S. If you are looking to showcase a project you recently completed, do tell us! Email us at Lindsay@adesignstory.com for details!
Also, we are running a special on Advertising and you can check it out here.