An irresistibly stylish abode…
The first (unintentional) interior invasion!
I am super excited to share the first home I have crashed since my adventure in blogging! I thought it would be a great idea to feature homes that have stellar designs to share with you all on a regular basis.  The story behind this reveal is that I actually ended up at this home for a bridal shower for my friend Erin who's getting married this March. After taking a quick peek around this Bradenton, Florida home; I couldn't help but pull out my camera to share this beautiful home with all of you.
When it comes to creativity, homeowner Dana knows no boundaries. When her and her husband bought the home about 9 years ago, she immediately began to transform the house into a home.  The home has undergone a few alterations along the way, but the end result is stunning to say the least. Dana not only enjoys designing for her home, but she also likes helping her friends achieve a stylish abode as well. Her eye for design will soon be carried out with her up and coming party planning business her and her daughter are starting up. The party was very cute with the beach theme portrayed in the food display, (the entire food display was tropical… even the fruit was cut into flower shapes) centerpieces and the sand castle pound cake she made for the Bride. With results like that, she is going to be very busy lady when she launches her new company!!
 But on with the tour.
First impressions are everything and she absolutely achieved a level of instant attraction from the moment you walk through her door. Her entryway is both grand and welcoming, with tiled floors (that continue throughout the main living spaces), beautiful lighting fixtures and stunning views out to the patio and pool. The elegant ambiance flowed throughout her entire home unifying each space together.
A few steps from the entry is the formal living room with its inviting and dream-like fur rug and white furniture and accents. The window treatments and ottoman add to the formal tone of the room and create a sense of drama in the space. The room truly beckons you to sit for a relaxing afternoon of reading or a quiet nap overlooking the gorgeous views sweeping in from the golf course just steps from the pool.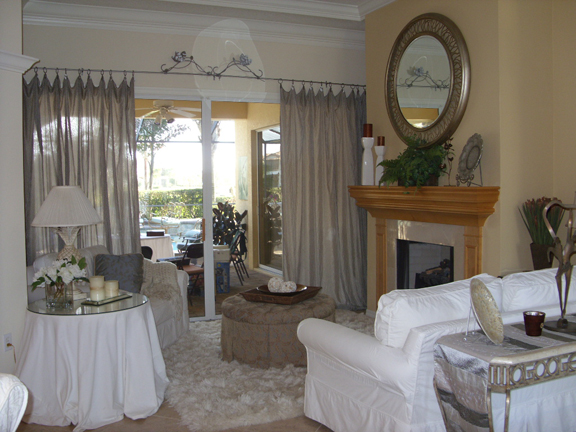 Adjacent to the living room sits the chic and stylish dining room. There is a natural and chic feeling about the room that unifies the space with the entryway and living room. I love the arched mirror which was set back within the niche to open up and enlarge the room. The mirror paired with the silver chandelier really adds a special touch of glamour to the space. Dana's use of white, silver and clear accessories positively adds sparkle that radiates from nearly every room of the house.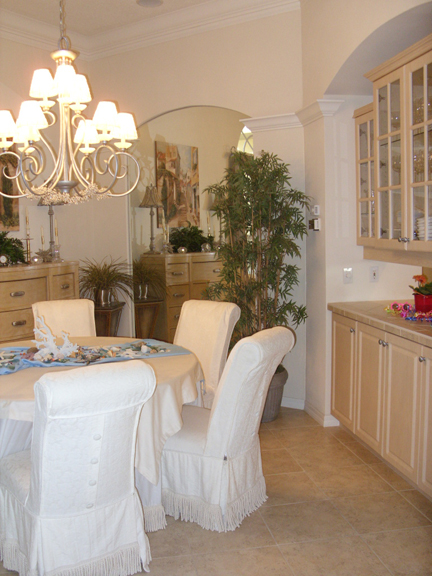 Just beyond the hall is a posh little bathroom with charming character and elegant touches. I absolutely adore everything from the brilliantly painted walls to the white shower curtain cornice and those fantastic white accessories displayed on the window sill and countertop. Dana actually designed this room many years ago… funny how some trends never grow old. This room's décor is truly classic and crisp in every detail and continues to stand the test of time!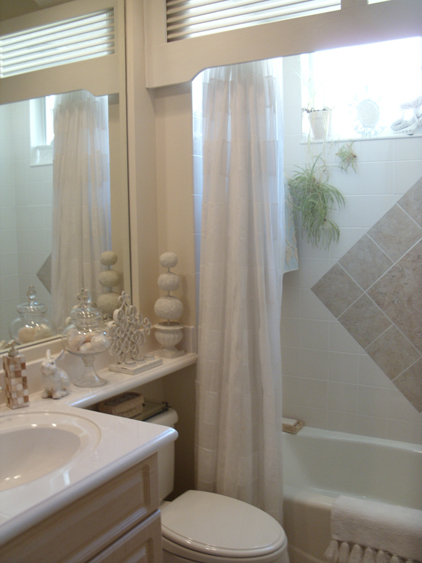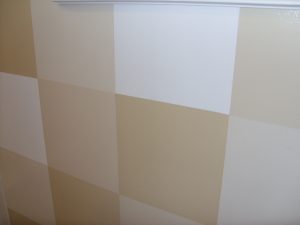 Dana adores designing with neutral "staples" (larger pieces that you tend to invest more money in and therefore keep awhile like couches etc.) and adding a pop of pattern and color with accent chairs, pillows, drapery and accessories, that way she can change the less expensive things out seasonally or with time. Plus, lighter sofas and rugs are functional for them as their kids are all grown and it is just her and her husband living there. She cleverly added bright lime green, gray and black throughout her family room to create a tropical escape. Who can miss the fact that this room truly brings the outdoors in with its pocket glass doors which allows this room to continue right out to the patio.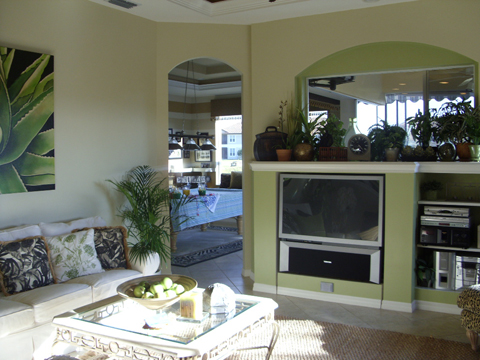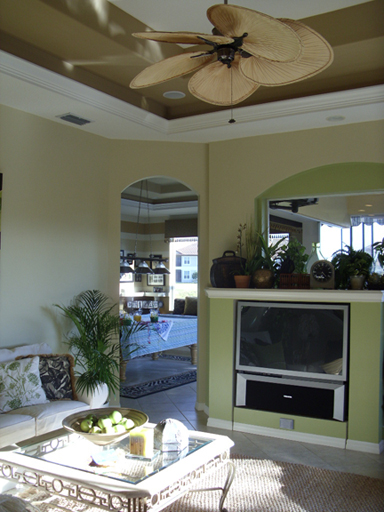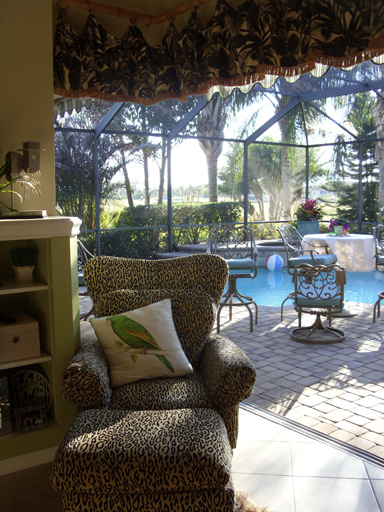 The game room's (aka "man room") décor was an idea Dana came up with and completed by herself. She truly is a step ahead because six months later painted stripes became the newest and hottest décor direction. The classic and timeless style is also echoed throughout this room with the clever way she arranged the artwork on the walls. Quick side note… think about function when designing a game room. Check out the drink rails (shelves) in the corners that are functional and versatile (plus they continue straight from the chair rail so they are more pleasing to the eye). It is small design choices like this that can really create a space that is not only stylish by dynamic in functionality.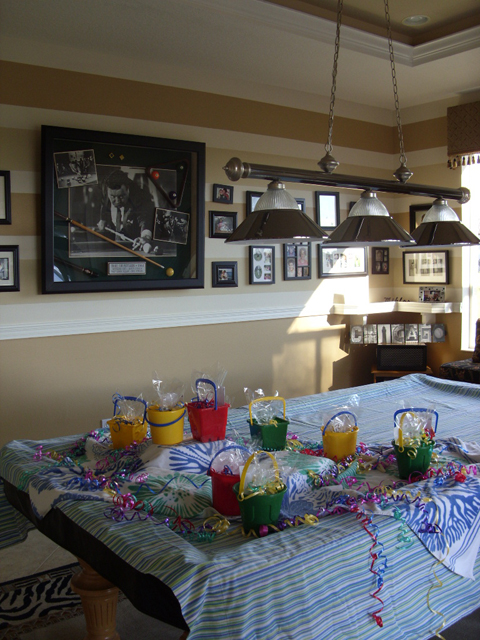 Last but not least, the patio. I would think it is easy to relax like royalty in this lush and tropical outdoor haven! P.s. If I lived at this address, I would spend most of my days poolside!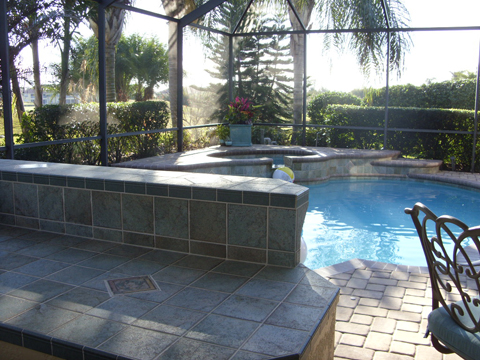 Part of what makes Dana's home so abundantly welcoming is her neutral palette and her direct use of accent colors, pattern and attention to detail. Her sweet personality not only was evident in her hosting abilities but also shows through her design style. Dana's hard work paid off because she achieved such a timeless and elegant design! I am looking forward to hearing about her new party planning endeavor and the creativity that will shine through that!!
So what do you think of Dana's home? Doesn't her use of color, pattern and furnishings blend seamlessly from one space to another? The whole house is beautifully pulled together yet functional. I can't wait to hear what you think. A big thank you goes out to Dana for allowing me to spontaneously crash her house and for taking the time out to chat about design with me! Do you have a home or space that is crashworthy? Let us know, we would love to invade your space!!