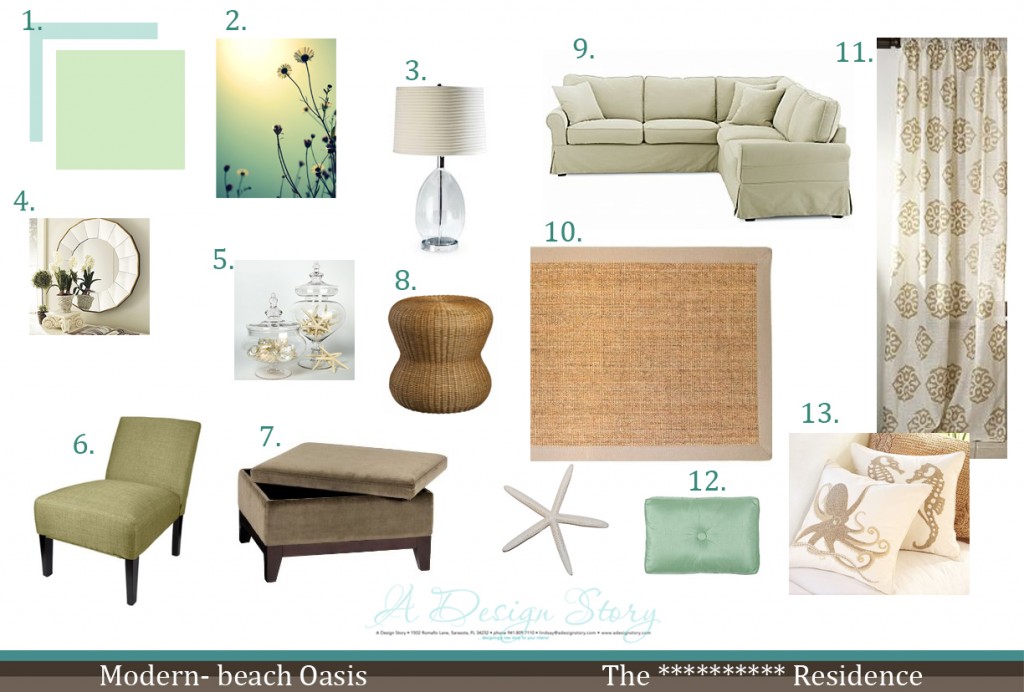 1. I know you talked about livening your space up and creating a room you can relax in, we're big believers in the transformative power of color. A splash of fresh, fabulous color instantly updates any space. Once you get fresh paint on the walls you will be on your way to a huge makeover! To create a contemporary palette I think Sherwin Williams 6750 Waterfall will look great on the walls when combined with a crisp white fireplace, trim, shelving and doors. For an extra hint of color I think painting the walls behind the bookshelves Sherwin Williams 6928 Green Vibes will add to the serene color palette of your room. Since it was mentioned that you would love a suggestion for the cracked and loose brick on the face of the fireplace, I think painting them white will create a clean and simple look that will lend itself to many décor options! When it comes to the rest of the color palette we'll be bringing in some soft natural tones and layering in some modern and airy accessories along with soft aqua and celery greens and a fair amount of soft tan and cream to keep things cozy, casual, open and inviting.
2. I love the idea of framed art on that soon-to-be-repainted fireplace. Instead of hanging the art on the wall, we'd like you to just rest it on the mantel for a more modern approach. Plus, this means you can change out your art from time to time or for holiday décor. Depending on your functional desires, if you decide to hang a flat screen TV above the fireplace, just hang the art on the wall instead! Make sure to try and keep the frames in your space cohesive, (all in the same natural wood tones) which will tie everything together. And grouping everything about 3-5″ apart will make it all relate so it doesn't look too spaced out. This colorful and earthy picture will create a stunning focal point in the room while unifying the oh-so-fresh color palette.
3. To continue with the modern beach theme, this gorgeous table lamp full of endless decorating possibilities will really update the entire room and add to the open and relaxing vibe the room will give off. By using a clear lamp, you can add shells and starfish inside the lamp for a summer-look or add in holiday ornaments for Christmas.
4. The basic mirror next to the window should get switched out for a pretty antiqued sunburst mirror that will instantly add effortless style to the entire space. It's beachy, soft and will bounce around so much light for that airy and visually open effect. Sometimes just a few special accessories like this can make a room feel instantly elegant and modern!
5. These beautiful and delicate glass jars would look great on the fireplace mantel. On the left side of the mantel add a medium sized jar (layered beside the art which will rest on the center of the mantel). For an asymmetrical and cheerful effect, try adding a tall and short vase on the right side. Be sure not to be too symmetrical when adding accessories around your room. As for filling them, add some shells and starfish for an extra "beachy" feel. Also remember, you can add holiday ornaments, cork bottle stoppers, feathers and other fun fillings for special occasions etc.
6. The price is right! I love Target and always seem to find something that will look perfect in any room. I selected this clean-lined, armless lounge chair in a soft sage color, which is perfect for squeezing in a bit of interest and a splash of subtle color to echo the accent walls behind the bookshelves. When it comes to the placement of the seating area, I envisioned the L-shaped sectional positioned so it faces the fireplace and the lounge chair facing in towards the sectional to create a U-shaped seating area that feels balanced and floats in the middle of the room on an area rug that will create a designated "living space".
7. I love the idea of a large storage ottoman used as a coffee table so you can stash blankets, toys, games, and anything else you love to keep out of plain sight in a moment's notice. Plus ottomans are super pet and kid friendly and this one comes with a soft microfiber-ish texture that's easy to maintain and keep clean thanks to the dark, forgiving shade. Additionally, for entertaining purposes you can add a large tray for a more "coffee table" approach if you need a more solid surface. This ottoman will fit perfectly into the right angle of the sectional I chose for you and will create a cozy and welcoming area for you to relax in!
8. This contemporary ottoman makes for great extra seating or a side table. You can place this warm toned ottoman beside your sectional or in the corner for more great texture and seating in your space.
9. The comfortable sectional I suggest is easy to maintain and comes with a budget friendly price. The classic design and timeless, natural shade of the fabric will lend itself to the modern and fresh look we are shooting for! As I suggested before, the lounge chair should be placed on the left side of the rug and the sectional will follow on the right side creating the U-shape arrangement we already mentioned! Remember to add throw pillows for that extra comfort and splash of color!
10. I love this 8×10 natural jute rug since it surrounds the space with the natural, earthy elements we are looking for to complete the space. The binding comes in both a soft green and natural shade, either one would look great in this space! This rug will add so much of the natural textures you would find beach side and with its simplicity it will help the space to feel more open! I'd love to see it centered in the room with the sectional on two sides of it and the slipper chair on the third side facing the wall with the fireplace and bookshelves.
11.  As for the windows I suggest continuing with the natural shades and putting these subtle and breezy panels hanging high above each window for even more balance and style. Since your ceiling isn't real tall, I suggest mounting them about an inch or two below your ceiling which will make your windows look taller and visually brighter!
12. For an extra burst of color and sheen, I think you should add this oblong accent pillow to the lounge chair. It is an inexpensive way to add sparkle to any slipper chair.
13. I know these adorable sea life embroidered toss pillows will bring this beach themed space to a whole new level. I love these pillows and have one myself! They should be added to the sectional for the added comfort we mentioned earlier.
Oh… and for some extra ideas and inspiration…
Add natural woven baskets to your bookshelves for a more modern organized look!
Accessorize with green and aqua odd and ends (like potted plants, candle holders vases etc.) This will really unify the space and create the dramatically relaxing atmosphere you are looking for!
Add extra colorful pillows and throw blankets to the floor beside the sectional for another pop  of color and comfort! Placing them in a large woven basket will add to the clean and organized look we are striving for!
Quick side note: Be sure not to add too many beach themed accessories… only a hint here and there! That way it doesn't start looking like the outdated nautical looks from long ago!
So… enjoy and relax in your new modern- beach oasis! We can't wait to hear your thoughts and see the outcome! Good luck and happy shopping! And if you are in need of a custom room renovation, click here to purchase your design package and let us design a new story for your interior!