Happy Monday! Hopefully everyone had a great weekend. Kevin and I received the most fabulous box in the mail from Target last week and I can't wait to show you what's inside later this week! In the meantime, I have promised more blog posts since it's been spotty around here for quite some time. I have a ton of new things to show you, new projects I am working on & so much more. And this time… it's for real.
Let's begin the week right with an E-Design Feature! I had the pleasure of working on a new living room design for Jake and Aubrey. They have been married for around 1 year and just recently purchased their own home. Here's their email:
"Hi, Lindsay! We are so eager and excited to start working with you on the design of our living room. We are starting from scratch in pretty much every room except our bedroom, so the slate is clean! We both love brown, turquoise, white, but we want to add some other colors in there. We like reds, yellows, turquoise, aqua, orange & green (not necessarily all at once). We want this space to be fun & inviting… a place we can hang out, entertain friends & family and also enjoy ourselves. I (blank) want a "trendy" room filled with bold pops of color and blank is really into rustic spaces. We would love to have a design we could add to ourselves… kind of like you build the foundation and we can add our own art, personal pictures and even some more accessories. The one thing we must tell you— we have replaced the laminate flooring with dark rustic wood flooring and we have also replaced the ceiling fan with one that's a little more us (here's the new ceiling fan). We really want to get away from the look the previous owners were shooting for… we love the beams so they are staying too! We picked out our paint color already for this space… its Sherwin Williams 7004 Snowbound. We do have a fun collection of books we would like to incorporate on the shelves in the built-ins, but we wouldn't mind another area to display small items & accessories. We trust you… We are really looking forward to seeing what you come up with! Thank you so much!" ~ Jake & Aubrey
Here's a few pictures they sent (before they painted & replaced the flooring)…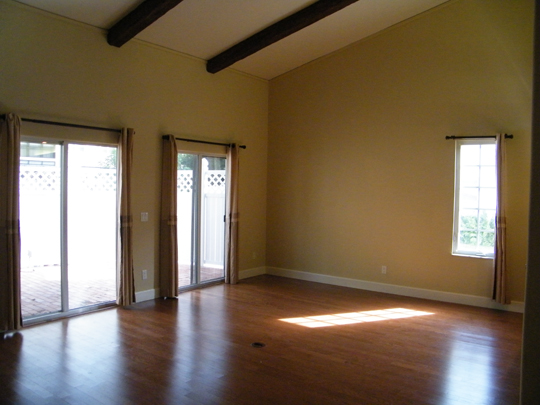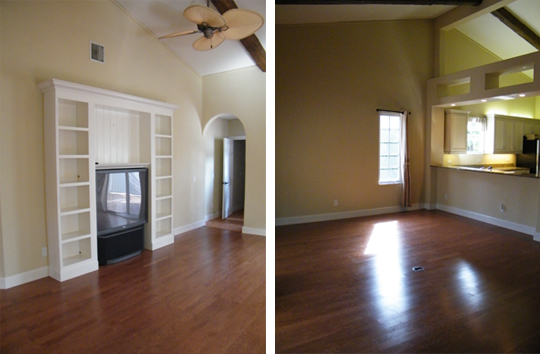 Here's the design I came up with…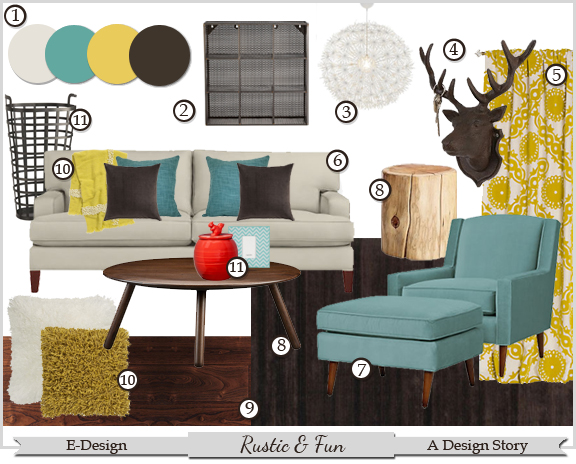 Here's the breakdown:
1. The Color Pallet: I love that you picked SW Snowbound for the walls; it's a great warm white. Creating a fun room with bold pops of color requires a nice neutral "canvas" as a foundation. We are going to add a quirky color combo of putty, teal, yellow & dark brown to create a fun & whimsical look. These colors work well with one another, but can also be paired with red, orange or green.
2. Shelf: I love the you already have built-in shelving around your TV—it's a great place to display books, travel souvenirs or picture frames. Let's add this industrial wall shelf above your sofa on the back wall. Pair it with a fun industrial letter & a few frames for an updated gallery look.
3. Maskros Chandelier: I love, love this chandelier! It's modern, whimsical & crisp. Add this to the back corner above the chair (below) for extra lighting & a fun focal piece. It will cast a great shadow on the gallery wall (mentioned above & below). Hang it level with the gallery wall.
4. Deer Head: I think this weathered iron deer head is a great addition to the gallery wall above the sofa. It's the perfect mix of modern + rustic. It's an unexpected element that goes perfect with our rustic & fun theme. Plus, these are on the super trendy list. (I kinda want this myself!)
5. Blossom Curtains: Since the walls are a nice warm white & we have a lot of solid hues, let's punch up the windows & glass doors with these patterned curtains. The yellow is unexpected and the pattern is bold & eclectic. Hang them above 6" above the window & doors since you have tall ceilings… hanging them this way adds extra height & draws your eye up… in your case to your beams.
6. Sofa: I always recommend going neutral with your sofa. Bring in color, pattern & texture through pillows, throws, lamps, rugs & etc. It's like having a black dress in your closet—you can dress it up or down & pair it with all kinds of great colors! This one has classic lines & great wooden legs. Place it close to the back wall in the center.
7. Chair & Ottoman: Every living room deserves a comfy chair & ottoman. I adore this teal one… it's perfect for the corner of the room below the fun chandelier. It brings in some color & texture, while echoing the clean lines the sofa offers.
8. Coffee Table & Stump Side Table: I love the idea of a round coffee table for your space, especially since you like to entertain. In a room full of straight lined furniture, round coffee tables pull your room in & create a great gathering space. This one features a warm wood finish & the legs mimic the sofa & chair. (Remember, the key to a successful design is repetition, repetition, repetition.) In addition to this table, place this stump side table beside the sofa & the chair (closer to the chair). It's the perfect match for our rustic theme!
9. Rug: Simply put, rugs ground any space or room. I selected this solid dark brown wool rug for the space… it goes perfectly with your new rustic flooring and will bring a comfy element to the space. Go with the 8×10 size… it will fit your space the best!
10. Decorative Pillows & Throw: Add a bunch of fun throw pillows on your sofa & chair. They bring in texture & color. I love, love, love the furry Mongolian pillow, it brings the rustic element in once again! Bring in the yellow shag pillow, these brown velvet pillows & the teal throw pillows for extra color & comfort. In addition, the yellow throw blanket from Anthropologie is adorable!!
11. Accessories: I love the industrial bins that are everywhere these days. They are the perfect blend of vintage & industrial. This umbrella stand is perfect for puppy toys, extra blankets & storage. As far as accessories go, I left the majority of them to you guys—these are the finishing pieces in a room that make a space "yours". I did add a fantastic reddish squirrel canister (from Target) to your coffee table & an aqua chevron picture frame.
So, what do you think? Love it? Any favorite color combos these days? Thank you to Jake & Aubrey for giving me the pleasure of working on your new home. I enjoyed creating this design for you guys & I hope you love it! What about any of you… do you need a new look for your living room? Do tell…