Hi… Happy Monday!I have a great tropical e-design (interior design) project to show you guys today! Are you excited? I am back— like back as in full time! It has been a whirlwind around here since March and I am happy to be back in my studio like old times! Thank you for the sweet emails, tweets & prayers for my grandparents. My family and I are praying that they continue to improve everyday! Oh, and in case you have been wondering why the lack of posts— I spent time with my grandparents and family throughout the spring & summer. Thank you for your patience and for always being such dedicated readers!Today… I am finally starting the new agenda I posted about back in March! I have a ton of things to show you guys and catch you up on! Although the blog hasn't been updated very much, I have been hard at work with new e-design projects and will be showing you those on a weekly basis! Plus, I have some other really exciting and fun things coming in the next few weeks! Let's start with a new E-Design Story…Holly's Design Dilemma:
I'm SO excited that you're going to be helping us whip our open floor plan living/dining/sun-room into shape! We bought an outdated condo on the beach and really want to transform the space into something that blends our two styles seamlessly. I love the modern mix of metals, crisp white & clean lines, while my husband enjoys tropical decor. Everything has to go—but we need help the most with rugs, furniture and an overall color scheme. My dream is to have a space that feels very resort-chic! –Holly
It was a pleasure "virtually" working with Holly on the design of her open plan dining/living/sun-room "new beach condo". I mixed both decor styles and created a design that classically compliments each while adding chic and unexpected details.  And now for the e-design board breakdown.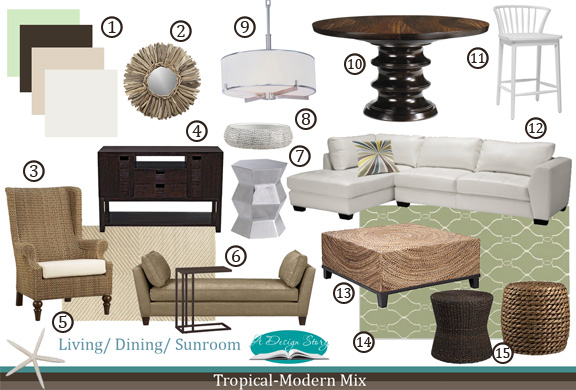 1. Our color palette will contain an abundance of fresh white tones, earthy greens,tans & browns. To spice up the sophisticated natural color scheme, a plethora of textures will be incorporated including: a mixture of metal finishes, sea-grass & jute and dark wood tones.
2. This driftwood sunburst mirror was the first piece I found and it helped build the overall-look. I recommend hanging this above the dining buffet (see below).
3. I love the textured "faux" bamboo detailing on this dining buffet, the clean-lines follow the modern look we are shooting for, while the tropical look brings in that resort-chic style. It has plenty of storage and has a dark, rich ebony finish.
4. When you are creating a polished & seamless look when mixing different styles, you have to think outside-the-box and be clever on your approach. This clean-lined lighting fixture will bring in that modern style in a big way. Pairing it with a tropical, "less modern" dining table will give you an extremely successful blend of styles. This light will reflect in the driftwood mirror and create a unified look. Remember to repeat styles, textures and finishes to create a cohesive look with-in the open floor plan.
5. In an open floor-plan, most seating furniture plans will be rectangular in shape, which is why as a designer, I think it is important to breakup some of the geometric square shapes going on in the floor & furniture plans. Incorporating a round dining room table will bring in an organic shape and will emphasize intimacy for family meals. This beautiful pedestal dining table brings in rich tropical wood tones and is the perfect scale for the space (it's definitely sturdy & "think").
6. To repeat the metal finish from the lighting fixture, bringing modern metal chairs is perfect! These metal chairs are durable, chic and can also be repeated at the kitchen island in bar height.
7. Add a textured metallic bowl, candle sticks or accessories to the table for a polished, finished look!
8. When designing homes with open-floor plans, the keyword to remember is designate, designate, designate… especially if you have more than one space within the plan. Since you have a dining room, living room & sun-room within one open plan, you want to try and keep the 'zones' separate to create intimacy and spaces. Using a sectional in the living area forces the 'zone' to take shape that you can build upon, it blocks in the space a bit and sets furniture flow. This white sectional is perfect for the space, it's modern, crisp & super durable for the pets & kiddos (I have used it before). To carry the "theme" through, layer decorative pillows in bold colors, patterns & textures to the sofa!
9. These aluminum hexagon end tables are one of my favorite pieces in the design. The bring in another metallic finish and a stylish element to the living room. Place one beside the sectional and one near the chaise. Add shell or wooden picture frames and a plant to create the tropical vibe!
10. Let's add in a big tropical statement with this large textured coffee table. Add in some metallic accessories and some plants for decorative finishes. Using a large square coffee table with the above sectional will really create a good furniture plan for the designated living space.
11. The best way to define a space within an open-floor plan is by using rugs. This geometric patterned rug will bring in some color and personality within the living room. Mimic the pattern with decorative pillows and throw blankets.
12. Versatility seemed to be important to you in your design questionnaire. Bringing in small ottomans/stools to the living room will allow you to quickly have extra seating or mobile seating if need be. This light basket ottoman and dark stool are light enough to move around the space (from living to sun-room) efficiently.
13. Let's bring in the tropics to the sun-room… adding this fantastic plantation wing back chair will define the theme in the space.
14. It was important to you to have seating near the window to see out to the 'water-view', I selected this sofa-daybed for comfort and style. It brings in a chic element, while adding functionality to the room. It's perfect for reading, site-seeing from your window and relaxing!
15. To again, create a separate zone for the sun-room, I would add a simple, sophisticated rug to ground the space. Less is more with this rug since it sits close to the living rooms "patterned rug"!
Note: remember repetition is your friend with the style we have chosen for the space. Incorporate some plants, candles and picture frames to finish the look! I hope you enjoy your new tropical-modern mixed space! I had a blast working on your beach condo and look forward to the after photos!
__________________________________________________________________
Love all things design and motherhood? Come and join the ads facebook community.