Introducing Felicity from Our Little Beehive. She is a new found friend of mine and I am so excited to welcome her over here @ A Design Story. She has prepared a fun post about her sun porch…. please enjoy!
It is a pleasure to guest blog for fellow blogger Lindsay @adesignstory while she is spending some time with family. What better place to reveal one of our biggest before & after projects than @ A Design Story? Enjoy!
When S and I made our first list of house projects, "renovate sun porch" was high on the list. After researching the costs of hiring companies to replace windows and blow-in insulation, we decided to tackle the project ourselves. How hard could it possibly be?
We started with an un-insulated, pine paneled, drop ceilinged porch that had been enclosed with fixed, single pane windows that kept the room cold in the winter and hot, hot, hot in the summer. It was in rough shape. A picture is worth a thousand words: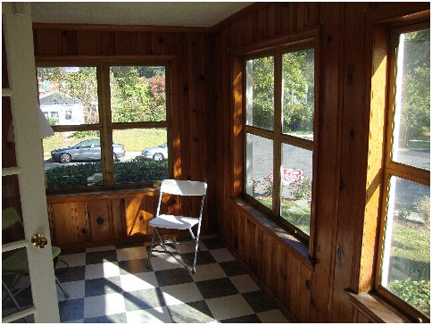 Room for improvement, no?
We started the project by removing the drop-ceiling tiles. We expected to see straight through to the rafters; we were shocked and ecstatic when we revealed an original bead board ceiling.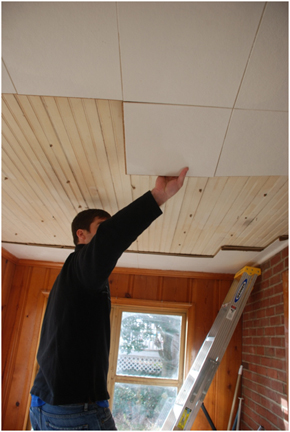 Next, on a sunny winter day we removed a few courses of aluminum siding from the exterior of the porch near the roof and carefully cut a square in the wood siding underneath just large enough for S to squeeze through. Then S climbed into the small attic of the porch and laid insulation as his dad and I passed it through to him. S also crawled under the porch to insulate the floor too.
We ordered custom sized double-width, double-hung JeldWen windows from the Home Depot and read-up on installation instructions while we waited a month for delivery.  Once the windows were delivered we got to work installing the four massive units, which was definitely a three person job. Thankfully, S's dad subscribes to the "how hard can it be?" mantra too, so he was on hand to help.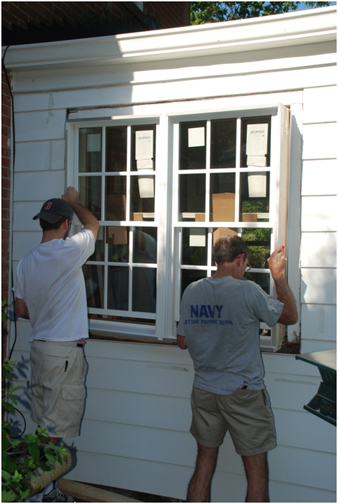 It took us three days to get all four of the windows in place and then another few to install all the trim work outside and in. While S worked on interior trim, I primed the ceiling and walls a couple of times, and then painted the ceiling a pale bluish gray and the walls and light seafoam green. With a brush. A two inch brush. Switching to a three inch only for the second coat on the walls when I just couldn't feel my arm anymore.

After the paint dried we moved my desk into the new room, my new office. Then we waited patiently for the perfect storage and seating furniture to present itself. Which it did, in the form of Crate & Barrel's annual sale. So without further ado, I present to you our new sunroom, my new office.
This is the seating area side of the room where we have two "nines" chairs from Crate & Barrel and a little wood bench that I covered with ticking fabric to give the space a beachy feel. Since the rest of our house is very blue and neutral, I used pink accessories to girl-ify this room a little bit.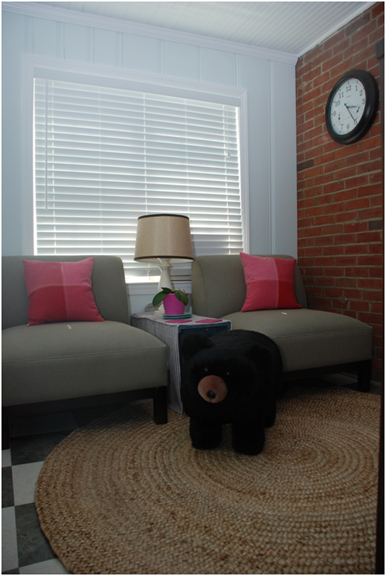 The bear ottoman is from L.L.Bean and was a Christmas gift from S to remind me of the baby bears that came running through our campsite every night during our honeymoon at Mt. Katahdin. The round jute rug is from Pottery Barn. I bought two of these six foot round rugs using gift cards from our wedding and placed the second on the other side of the room, the "office" side, as a way to tie to two spaces together.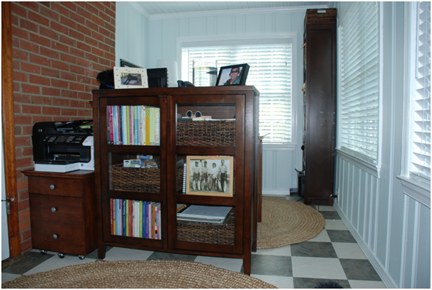 The Abbot cabinet from Crate & Barrel is where I keep my favorite crafty books and a few baskets filled with work necessities and printer paper. The file cabinet is from World Market and matches my desk, which is behind the cabinet. You can see Mr. Norman, the fish, on top of my desk in this photo. The tall bookcase from Crate & Barrel's Payton collection, holds my second printer and more baskets of work stuff.
I'm super proud of the work we did to take what was essentially storage space to make a comfortable place for me to spend my days. Thanks for letting me share our renovation project with you. Visit us over at Our Little Beehive, www.ourlittlebeehive.com to see more of this project and everything else we do around here!


Thank you so much Tiffany! I appreciate your awesome post and showing my readers your progress! So, what do you guys think? Isn't their Little Beehive adorable? Please go and visit Our Little Beehive for my fabulous decor posts!