WOW… So, do you notice anything different? A Design Story has a new website design. It's been a long time coming. Thankfully, I have the best website designer who works with me and my never-ending design ideas. He really makes my design ideas reality.
It all started early summer when I felt like my logo needed a change. I had it designed in the beginning of my business and I never felt like it looked like 'me'. When I started researching what kind of brand I really wanted, it really transformed the way I looked at my entire blog and website. After chatting with Kevin,  we decided to change what I felt so unhappy with on my site. That launched a ton of time researching, brainstorming and developing what kind of site I wanted, what I wanted it to look like and how I wanted it to function.
Here's the very first design concept I created… it totally changed from there but I thought it might be fun to show you where it all started!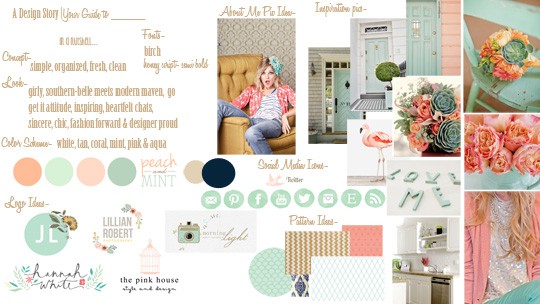 After we came together on color and the overall look, I wrote up what I wanted and then created a Photoshop design layout of what I wanted where and then Mike coded the heck out of things and made everything custom. It's really a nice partnership there.
After a only a few rounds of logo looks, we narrowed the design down and then from there we went through a couple of color scheme rounds…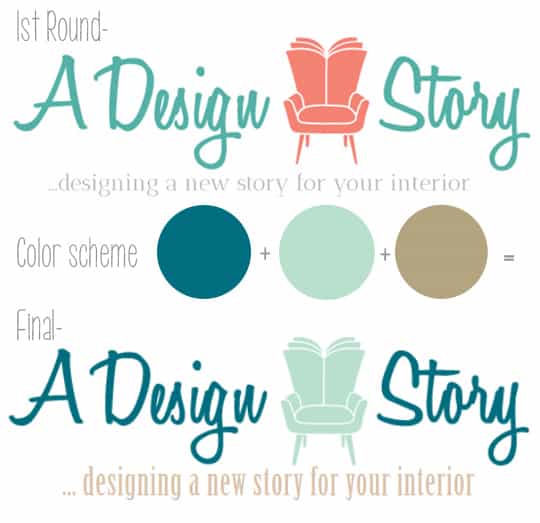 Ta-Dah. It's pretty much adorable I think! I love it. It's very crisp, clean and Lindsay!
With the new look, new post subjects and new ideas are heading your way. With big changes come even bigger ideas. It's really exciting! I have spent countless hours working on this new and improved design with you all at heart. I wanted a place that was fresh, crisp, clean and super functional. A place that looks like I had my mark on every page! I really feel more at home on the blog now. I hope you will love it as much as I do!
Let me give you a small tour…
The home page is the place that has changed the most. No sidebars, no clutter… purely design at it's best! You can view new projects on the slideshow or scroll down to find a design tip, style packages and a link to my portfolio. Also, the 4 most recent blog posts are all up for you to click on!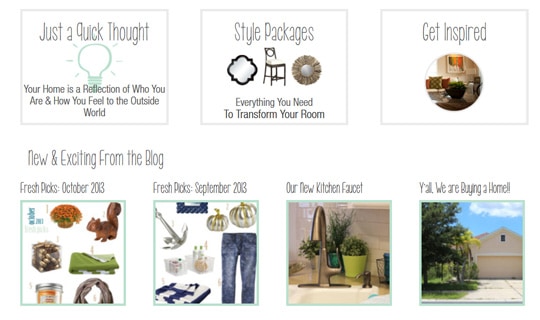 At the bottom of every page, you will find a place full of links and ways to connect with me! Fun isn't it?

I have cleaned up the site a bit and made things easier to find. It's just more concise! Here are a few sidebar differences you will notice…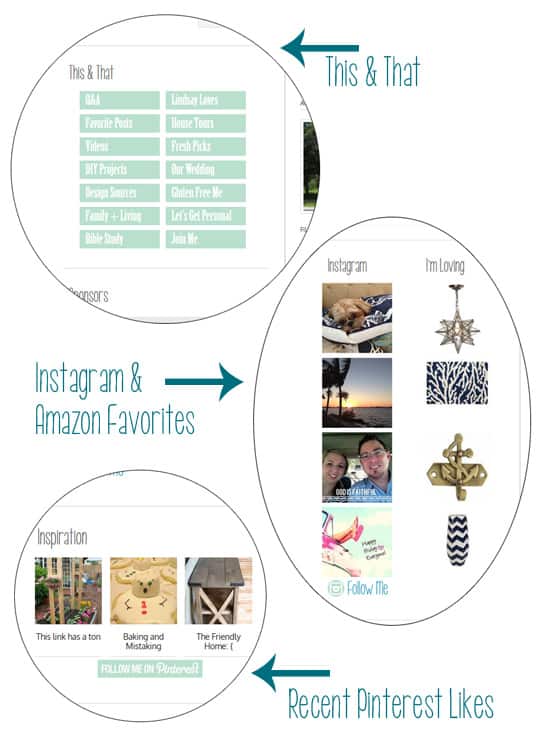 This & That
These are a mixture of old categories that were secondary tabs at the top of my old website design & new categories that I have created! Here's a detailed description of each
The first difference you will notice… sidebar… See? There are a few new one's there too! I have an entirely new lineup coming at you and I can't wait until you see! In the meantime, a few of those categories are empty… but they will get filled up in the coming weeks!
Q + A: This is going to be a bunch of fun frequently asked questions & answers!
Favorite Posts: This are some of the top read and most favorited blog posts!
Video's: There are a few (older) videos in this que…. but I have a new series coming at you and there will be plenty of fun video's to look for soon!
Diy Projects: Under this category, there is a fun gallery of all kinds of do-it-yourself projects & tutorials to look at. In fact, I have a bunch of new projects to showcase and share soon!
Design Sources: Need help shopping? Here's a design resource guide of my favorite go-to places for all things home & decor!
Family & Living: I believe in keeping it real. I have the best family in the world and I want to share with you guys all about our fun traditions, how we live and ideas on fun family activities!
Bible Study: Here's something new to the bloggity blog. One of the things that keep me going is my Lord and Savior. He's everything to me. I can't exactly be myself and showcase who I am on the blog if I don't first showcase who He is. I absolutely have this fun idea of a virtual bible study and devotional. It's going to be fun to see where the Lord takes me in this! Stay tuned for details!
Lindsay Loves: Here's where I dish what makes me tick… what I love and why I love it! This is updated all the time!
House Tours: I am going to be adding new home pictures to each section under this category. It will showcase the home we rehabbed, our previous home and our new home! Since our new home is a work in progress, the pictures will be updated frequently!
Fresh Picks: In the beginning of every month a Fresh Picks post will appear. It's one of my favorite posts because I get to dish all of the home decor and fashion items I am totally crushing on even recently purchased. It's really a fun post and the best part is hearing what everyone else is obsessed with too!
Our Wedding: This one explains itself. I married my prince charming and all of the gushy wedding details are here!
Gluten Free Me: It's no secret that I am gluten free (I have been for about 4 years now). It's been a life changing journey and I plan on sharing it all on the blog. I also have a ton of fun recipes and tips I would love to share with those who are interested!
Let's Get Personal: This one is easy! I thought it might be fun to share some fun and interesting things about myself, our city and just more about my life.
& Join Me: For the first time, I thought it might be fun to bring on a few contributors to A Design Story. It's been something I have been thinking about for awhile now and I really think it would make a great addition to natural flow of ADS. So… if you are a fabulous blogger and are interested, please click to read the details and contact me!
So that's the latest and greatest on the sidebar categories. I do have many more blog post categories too and you can check those out further down on the sidebar!
The Instagram feed is just a fun new feature… follow A Design Story on instagram for sneak peeks on projects and to see what I am up to each day! Next to the Instagram is my Amazon Favorites Roll… it's just a few items I am in love with, have or are on my wishlist. Now for Pinterest lovers, you can follow me or come and take a look at the sidebar to see my most recent pins…
Also… check out the rest of the pages on top to see the whole site re-design. A few things are still in the finishing stages (the shop, e-design store has a few new packages coming your way & the porfolio has a ton of new projects being added soon).
So… what do you think? Do you like it, love it… still looking around? Do tell! The new line up is officially start next monday… but there will be a few posts this week too!