We have been extremely busy over the last few weeks! You might be thinking where in the world I am. Well, I have been crazy busy with new local interior design projects (photos of one project coming soon), planning new ideas for this ol' bloggity blog and creating some fabulous things for the soon to be shop! Stay tuned for all that fun stuff…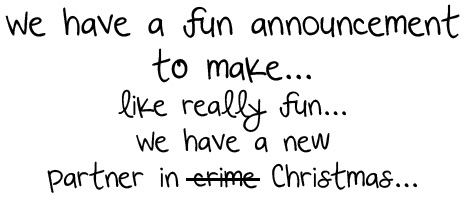 Earlier today, my doorbell rang and there sat a huge box. I opened it up and the most fantastic Christmas scent flew out!! I quickly grabbed my iphone and snapped a few pics…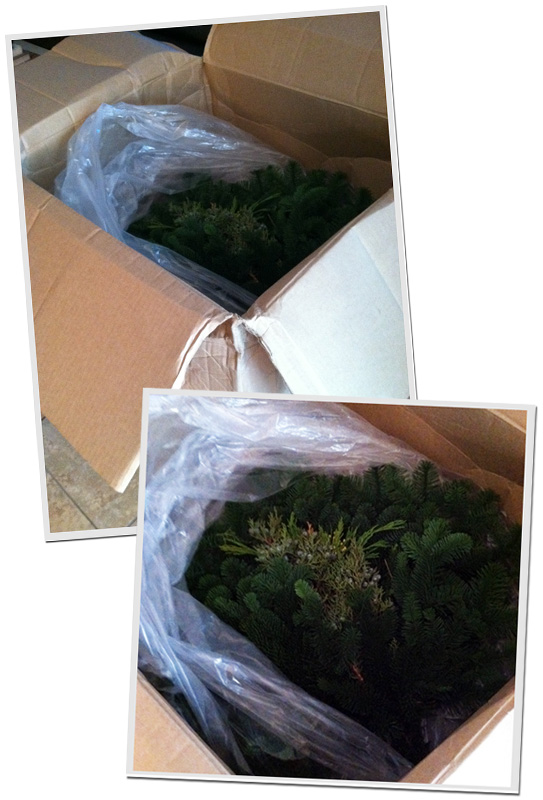 It's too bad you can't smell the wonderful scent from my website… (you know like a scratch & smell button)!
So… Let me start from the beginning. About a month or so ago, I was browsing the Internet looking for Christmas wreaths & décor for the upcoming holiday season. We decided we wanted to go 'real' and 'fresh' with this year's holiday wreath outside. I came across this fabulous company called…

I contacted Lynch Creek Farm a little over a month ago to discuss their holiday decor and to talk about ways to team up this year! One of their team members, Nathanael, emailed me right back with an idea!! They had recently decided to team up with bloggers to create a partnership for the holiday seasons. The partnership gives them a chance to showcase their product line, while also giving bloggers the chance to share creative and innovative holiday decorating ideas! They had already chosen their West Coast blogger, but Nathanael wrote me explaining that they would love to extend the partnership to someone on the East Coast as well! I was offered to become part of their team!! Yay!! I have been asked to be their East Coast Blogger! Of course, I said YES, YES, YES!!! (I am still pinching myself!)
I am thrilled to be introducing to you (& representing) Lynch Creek Farm. They offer FRESH holiday garland, wreaths, centerpieces, door swags, specialty greens & much MORE. I am so excited to be using their products this year to give our home that 'holiday look'.
This brings me to the box that was delivered to my door step today…
The décor in the box is intended for the exterior of our home for the holidays, but boy oh boy are they making their mark on the inside until we get outside to decorate!! We have BIG plans for our house for the holidays, so stay tuned because we can't wait to share what we have create with the help of our newest friends & partners, Lynch Creek Farm!
We are truly honored and excited to be their West Coast bloggers and we hope to build a long lasting relationship with Lynch Creek Farm!! Stay tuned… we plan on spending the entire day on Wednesday to decorate and enjoy some quality holiday time together. In the meantime, check out Lynch Creek Farms and get your holiday décor on…
P.S. We have a few giveaways lined up for you to win your own Lynch Creek Farm decor!