We have been brainstorming about Fall Decor lately… maybe it is because we are dreaming about cooler weather? Or maybe I am just ready to get started on the new season early! At any rate, I decided to beat the heat and go virtual window shopping to show you a few of next season's must-haves! Take a look & enjoy!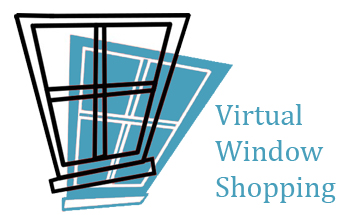 I took the liberty of making a fun design board chock full of fabulous fall decor! Remember, you can take inspiration from the products at stores and DIY with the ideas! I have a few up my sleeve… so stick around and I will show you! Oh, and we are going to give you tips on seasonal decor and maybe even let you "watch" us leave the summer behind and fall right into fall!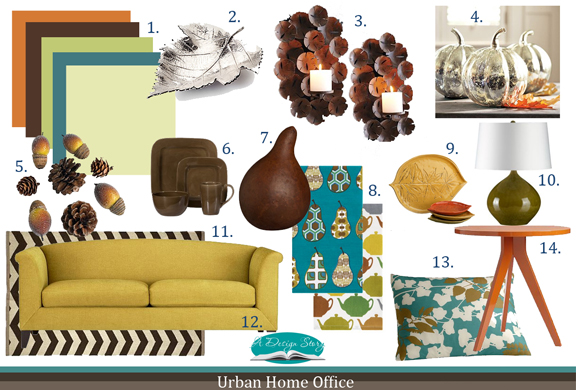 Here's the Fall Board Breakdown:
1. Paint Colors by Sherwin Williams
Orange- SW 6664 Marigold
Brown- SW 6111 Coconut Husk
Green- SW 6423 Ryegrass
Turqouise- SW 6488 Grand Canal
Yellow- SW 6400 Lucent Yellow
2. Silver Leaf Bowl by Z Gallerie
3. Leaf Wall Cluster by Wet Elm
4. Mercury Glass Pumpkins by Pottery Barn
5. Acorn & Pinecone Mix by Pier 1
6. Brown Dishes by Target
7. Gourd by Crate and Barrel
8. Pear Dish Towel & Teapot Dish Towel by Crate and Barrel
9. Gold Leaf Plate by Crate and Barrel
10. Table Lamp by Crate and Barrel
11. Zig Zag Rug by West Elm
12. Sofa by Crate and Barrel
13. Pillow by West Elm
14. Tripod Table by West Elm
So, what do you think? The fall season is looking fabulous from my window! What about you? Do you like to decorate seasonally? I always enjoy the lush deep colors for the fall, you? Do tell! or if you have an interior design question you are dying to ask, please by all means, ask away! Email us @ lindsay@adesignstory.com.
Don't forget we are having a sale on all design packages in "our shoppe", 40% off with the code: summer! Also, we are having a major sale and incentives to advertise, go and check those out too!
ALL DESIGN BOARDS AND IMAGES COURTESY OF A DESIGN STORY, LLC.
This Post Was Shared With The Inspired Room.