Hey, hey! This week has been super duper crazy!! We are preparing for a getaway to North Carolina for a wedding, working on a few house updates before we go and getting the pets ready for their house sitter!! I can't wait to show you the vacation house my family rented for the stay in NC… It's stunning!! But for now, let's talk about our foyer design plans…
Besides the dining room, the foyer is the next closest space to being done. I am so thrilled to have an actual foyer in this new house. Our goal with this space is to make it look nautical & crisp with classical interior architectural elements. We love moldings, bead-board and board on batten!! I start all rooms with a list of needs, budget and a mood board. Here's what I came up with…
To Do List:
– Paint Walls
– Architectural Moldings, Bead-Board or Board and Batten
– Paint Front Door (both sides)
– Add Light Fixture Where Can Light Is
– Address the Sidelight w/ Curtain
– Paint Ceiling (Not sure the color we want to use quite yet)
– Paint Interior Laundry Door and All Door Trim White
– Add Furniture, a Rug & Accessories
Here's the mood board I put together…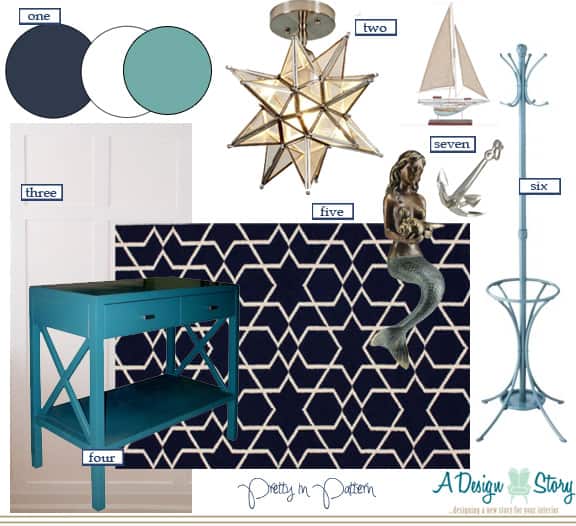 Here's the breakdown:
1/ Color Scheme- For the walls, we decided to go pretty dark… Sherwin Williams Naval #6244. I knew we were going to be adding some type of bead board or that would make the lower half of the room white.
2/ Lighting- I knew from the moment we bought a house that the Moravian Star Light was going to be located somewhere in it!! We talked about it and decided we would add the star fixture to the foyer to bring in a nautical feel. I used my designer discount, so we saved money on this!
3/ To add the crisp and classical element in, we decided to add board and batten to this space. Something similar to the look above. Like I mentioned before, we really wanted to add white to brighten up the space a bit since we were painting it so dark. I have a board and batten tutorial headed your way soon!!
4/ We actually bought this turquoise table from Target on clearance for $57.00. It's the perfect size and style for this space. I can actually move it to either side of the room and it works!
5/ As far as the rug goes, I really wanted something with a bold pattern to it. Something similar to the star rug above. I wouldn't even mind if it had additional colors in it as well. I will show you what I finally decide on.
6/A coat rack was a must. It's a place I can hang bags of things that need to be returned, my purse from time to time and our guest's purses and coats. I found this turquoise coat rack at Target online and ordered it the week before we closed on our house. I love it!
7/ Accessories are something in our house that float around. I love moving things around and adding and changing accessories. I just love it. Three things I picked up for this space is the silver anchor, a mermaid similar to this one and a sailboat we picked up on our summer vacation.
We have a pretty good handle on this space! So far, we have painted, installed the board and batten (tutorial coming soon), hung the star light fixture, added the furniture and accessories. The only thing left on the to do list in this space is to add a rug, paint the doors (laundry interior door white and the front door turquoise) and the trim around the doors. So, we are very close to being done!!
What about you guys? Any projects happening in your house? What's left on your to do lists? Do share…