Hey girl, hey! Let's talk about makeup okay?
Here's a lil roundup of 7 of my favorite makeup must-haves! These are part of everyday makeup routine… so it's totally safe that I am totally obsessed with these 7 items!
Disclaimer: This post contains affiliate links and marketing.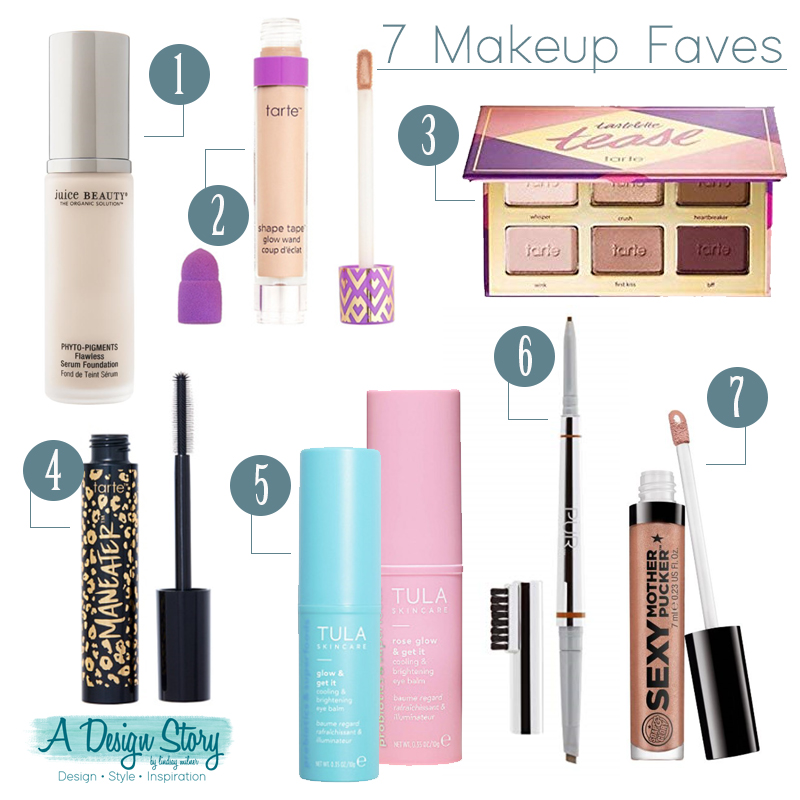 All of these products are gluten free per the companies websites/information.
1// Juice Beauty Flawless Serum Foundation 
I have been using Juice Beauty for 10 years now. This is an organic brand and almost all of their products are vegan and gluten free. When I was diagnosed with Celiac about 10 years ago, my dermatologist suggested that I go gluten free for everything right down to my makeup and all beauty products. I researched and found Juice Beauty and 10 years later, I am still just as obsessed with this product now as I was then. This foundation has full coverage but is so weightless… it's not oily or thick, it's just perfect! I love it so much! I use this in the Buff shade!
2// Tarte Shape Tape Glow Wand
This is a new obsession! I tried this concealer on a whim and oh my goodness! Completely changed my makeup game! Perfect coverage and has a little glow and sparkle to your face. I am completely obsessed and I just can't go backwards! This is in my daily regimen for good now! This is a run, don't walk to get product! It won't disappoint! I bought it in the sunbeam colorway!
Sparkle/glow eyeshadow is my type of look right now! This eyeshadow palette has the perfect colorways and it literally stays on all day! I just can't say enough about how great this palette looks! I have multiple Tarte eye shadow palettes to be honest, but this ranks up on the top of my list!
I have tried a ton of gluten free mascara, but I end up having dark smudges because they run throughut the day. This mascara is a must-have! The volume and length of my lashes are amazing and it lasts all day without smudges. It's also buildable so you can add a little for extra volume later in the day if need be. It's awesome!
5// Tula Glow and Get It Cooling & Brightening Balms
Obsessed. I have this in the Rose and the Original (Blue) and use it with and without makeup. It really does add a little glow to your face! I use it under my eyes and to my cheeks on top of my makeup for just a little added glow and shine. It feels so good and I just love it!
6// Pur Arch Nemesis Eyebrow Pencil
This eyebrow filler is dual-sided so you can fill in your eyebrows perfectly. I bought it in the medium shade and it looks so natural. It fills in the holes without look drawn in and painted. This company is great about the ingredients they put in their products, which is important for girls like me!
7// Sexy Motherpucker Lip Plumping Gloss in Nudestar
Yes!! This little find was actually a product I tried on a complete whim and quickly became obsessed. I will say it tingles a little, but stops within a few minutes after plumping your lips just a bit. I like a more nude lip and this gloss is perfect! This is my everyday go to gloss!
So… friends, what products make your daily makeup routine? Share and comment below! Check out my latest post—>> 10 Amazon Faves!