Happy February! I have rounded up my recent top 10 Amazon finds for you! Who doesn't love Amazon and hearing what everyone else is digging these days?!? I love a good Amazon recap and I hope you will too!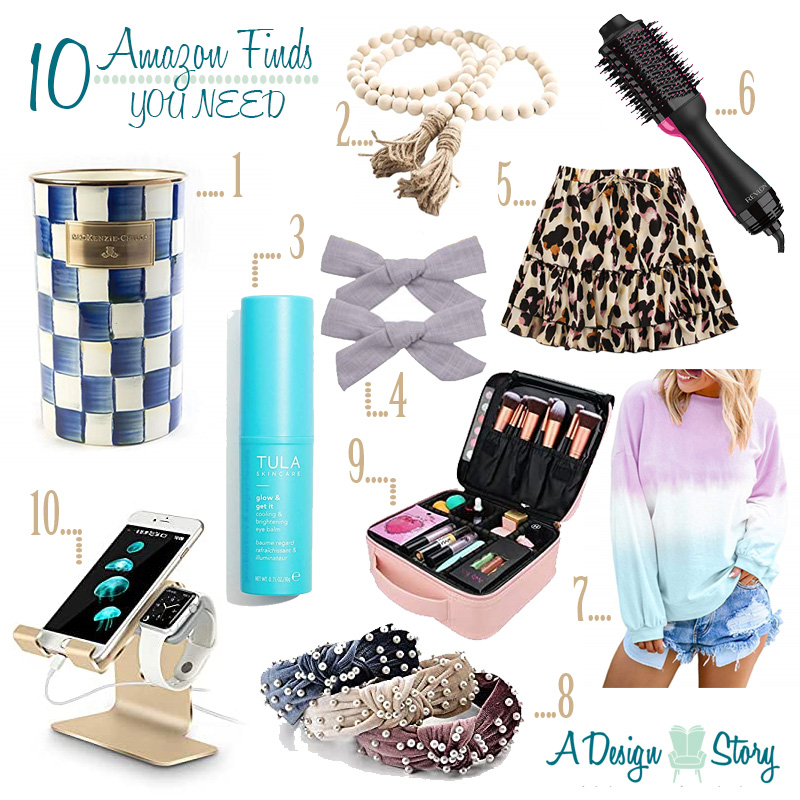 Disclaimer: This post contains affiliate links.
1// Mackenzie-Childs Utensil Holder
I have had a crush on the Royal Check pattern for a long time. Although the Courtly Check pattern is pretty, I am more of a blue girl myself. My birthday happens to fall in February and I picked up my first two Mackenzie-Childs pieces! I got this utensil holder and the cookie jar too! They are truly kitchen staples!
I love to use these beads on a glass jar, stacked on books and sitting on a bookshelf. They go farmhouse, modern or even beachy in style. I have several in our home and I always get compliments because they just add a little texture to a vignette.
Um… run and grab this asap! I absolutely love this product! I use it on my face with or without makeup. It adds a little glow underneath your eyes while also brightening. It's a total must-have item to add to your makeup or daily face routine. I also have the rose glow and get it and equally love it!
4// Girls Hair Bows
Love these classic hair linen hair bows. You get 20 bows (10 colors) in perfect modern colors. They are great for matching pigtails or solo ponytails. I love the timeless/vintage look of these.
Leopard is in for good! This is the perfect skirt to wear with a cute sweater for chilly days or a tank for those spring and summer ootd's. I love pairing a cute skirt with a plain cotton tank and a pair of Tory Burch sandals for those warmer days. Super cute and inexpensive fun look!
6// Revlon One Step Hairdryer and Volumize
I bought this hair dyer on a whim on black Friday… let's just say this Mama is in love. It dries my hair incredibly fast and it looks like I had my hair blown out by a professional every time. The volume is amazing and I absolutely adore it! One of my favorite purchases ever!
This is a recent purchase for me! Tie dye is also a fun repeated trend on the horizon this upcoming season. This is a cute lounge thin sweatshirt and is really cute paired with a jean short or skirt half-tucked in the front.
8// Pearl Headbands
I am super into headbands right now… they are such fun accessories to add some personality into your style! I have these and wear them all the time with many different outfits!
9// Makeup Case
This is THE makeup case to have. I love having an organize spot for everything in my makeup bag for travel or even home. So, I have some of my makeup on my makeup vanity in our bathroom in acrylic organizers, but I am also a momma on the go and need have my makeup easily accessible! This makeup bag keeps everything organized and in the right spots… I love it and you will too!
10// Charging Station
This charging station is also a must-have item! It comes in several finishes and is perfect if you smart watch and phone. I like having everything in one spot for function and for me everything has to look nice… this does the trick!
OK… there ya have it for my recent amazon must-haves! Let me know if you have anything you want me to try out for you or if you have an item you are dying to share about! If you have any top amazon finds.. please share because I just have to know!