Happy Thursday! We South Floridians had a minor cold front come through last night and it's a bit on the chilly side this morning! So, let's dive in deep today and hit it right with a fun Outfit of the Day post!
If you are on the go all the time like I am, sometimes you just need to tone it down and get comfy without sacrificing style. I am one of those girls who genuinely enjoys picking out my outfit and I actually try 98% of the time. I just enjoy it and I truly always have. Here's a little confession for you… In high school, I used to write down what outfit I wore to school in my agenda to make sure I had something different on and I always put my best looks on. I look back on that and laugh, but the truth is… I have always been a cute clothes, pretty shoes and luxurious purse kinda girl.
Now that I am a busy mom, not much has changed, maybe except for the fact that I don't document what I wore on my calendar. I do try to always look my best and I still really love to feel stylish! I love putting my looks together and now I am thrilled to be sharing them with you!
This post contains affiliates links. 
So, let's get to today's outfit of the day! I picked up these cute camo joggers and paired it with a simple white tank, denim jacket, Tory Burch shoes and my coveted Louis Vuitton Neverfull! It's incredibly comfy and a cute run around the town outfit! What do you guys think? Shop the links below!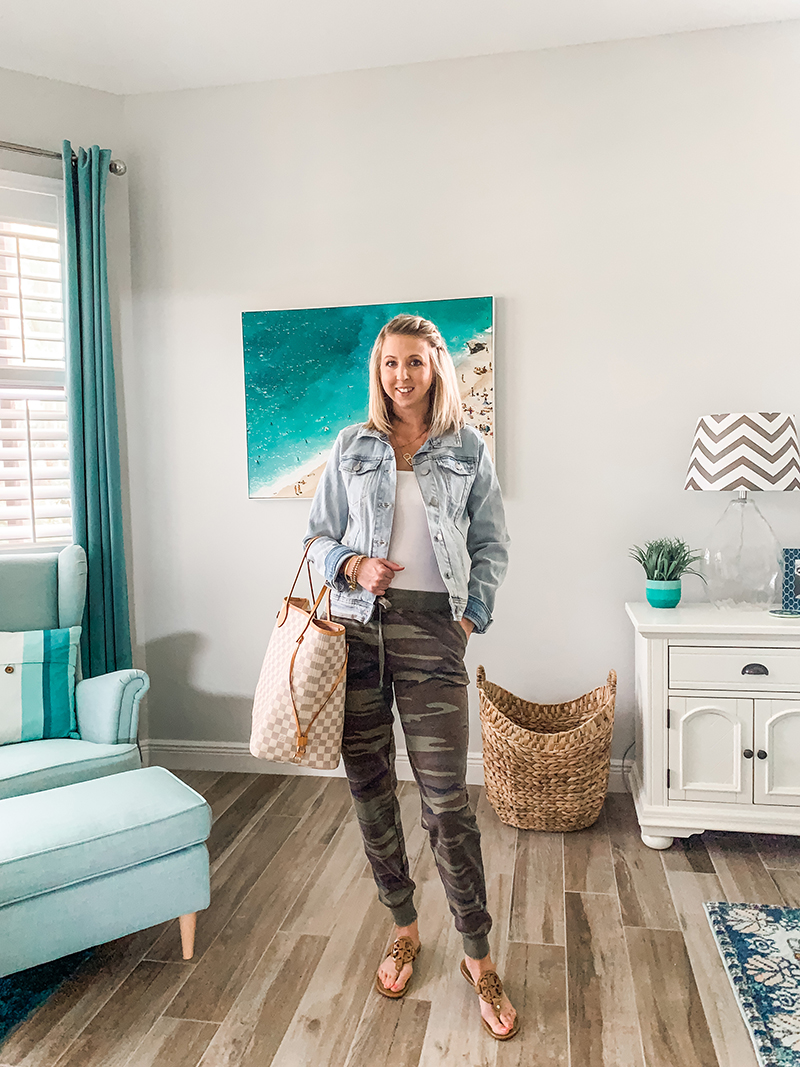 1// Camo Joggers (wearing a Small/True To Size) 2// White Tank (wearing a Small/ TTS) 3// Denim Jacket (wearing an XS/ TTS) 4// Tory Burch Miller Sandals (wearing a 6/ TTS) 5// Louis Vuitton Neverfull GM
Shop My Instagram Looks Here
So, what are you gals wearing today? What do you wear when you are running around town getting your mom to-do lists done? Do tell…