Blue and White Porcelain is a classic look that is back on the home décor radar and is here to stay!
The blue and white porcelain trend is here to stay! A few years ago, I started building up my collection of blue and white ceramic décor. The style is a more traditional look than I usually shoot for, but it was just calling my name! I built up a small collection and I have them spread out over a few rooms in our home. I have several pieces on the top of my dining hutch, and then a few here and there in my family room, kitchen and foyer. It's funny, a few years earlier my mom got rid of her entire collection and I didn't blink at the time. Now… I would have begged for a few pieces or told her to hang on to them a bit longer! My husband thought it was a dated look until we were walking through million dollar model homes and the blue and white porcelain pieces were everywhere. I showed him that he stand corrected and I jumped on the look before it became popular again!
I rounded up a few affordable and pretty pieces in case you all are interested in adding a few to your home! They look great in a grouping or just on a shelf as a stand alone piece. I also added a beautiful water color and pillow cover to the mix for a different twist!
Disclaimer- this post contains affiliate links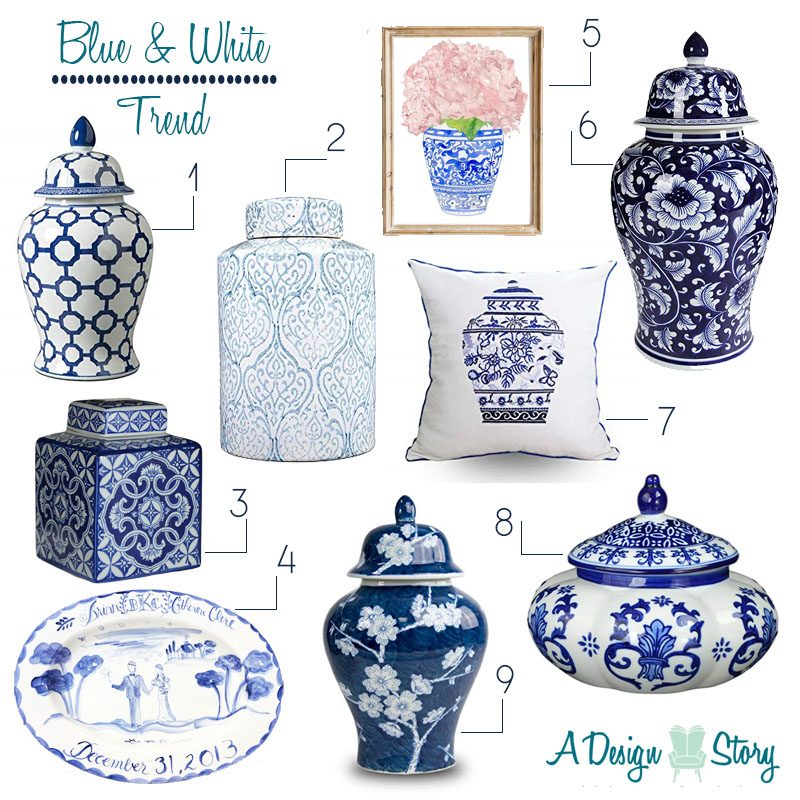 Shop Links–> 1 // 2 // 3 // 4 // 5 // 6 // 7 // 8 // 9
Alright… what kind of collection do you have? Are you into the blue and white look? Do tell! I plan on showing you all my collection in the coming days!
Have you seen my latest amazon favorites? Check it out here! New here and want to know more about me… click here!