Happy President's Day! We're not exactly 'celebrating' President's Day over here or anything… are you? I mean, I did sort of… I met my family (parents, sister, sister-in-law, 3 nieces & 3 nephews) for lunch and a walk on the beach… so I guess I did a little something! Poor hubby was stuck back at the office working away… hey, someone's gotta do it, right?!?! He's the best!
Anyways…
 Friday I showed you some candlesticks I had picked up from a thrift store… They were brand new from Crate & Barrel… still had the packaging and tags on them. I am not sure why someone wouldn't have taken them back from store credit or a refund, but I sure am glad they didn't! Anyways, I had been 'eyeing' those candlesticks for awhile… it's something about greens that have me a little excited these days!
I think it started when I was designing a beach condo on Longboat Key this fall. My client l-o-v-e-d chartreuse and wanted to use it in her bedroom. The more I added the hue to her home, the more I fell in love with it too! I am adding little chartreuse elements here and there, but I may eventually add it into our bedroom. Hopefully.
The "true" Chartreuse hue is between a yellow & green and is a vibrant, bold and fun shade to use in interiors. Pair it with browns, whites, tans, turquoise or even other greens for a great look! It works as a great accent color on pillows, throws, accessories or even curtains.
Since I am totally crushing on chartreuse, I pulled together a fun board chock full of the yellow-green goodness…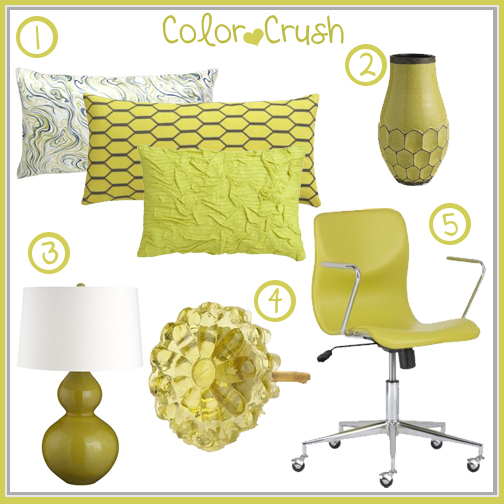 Here's the breakdown:
1. Pillows: (1st) West Elm, (2nd) CB2 & (3rd) CB2
2. Vase: West Elm
3. Gourd Lamp: Crate & Barrel
4. Glass Knob: Urban Outfitters
5. Chair: CB2
Are you loving chartreuse too? I thought it might be fun to add some pictures of rooms that incorporate Chartreuse for inspiration…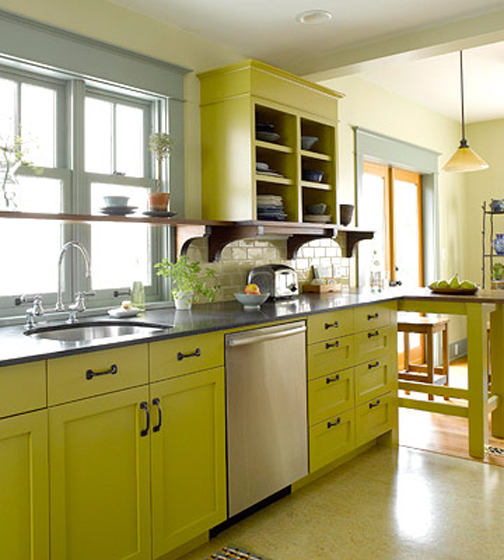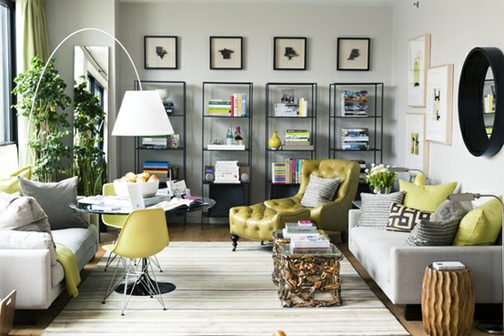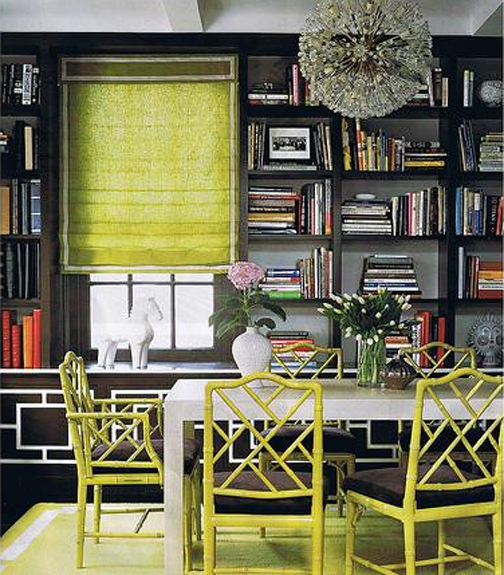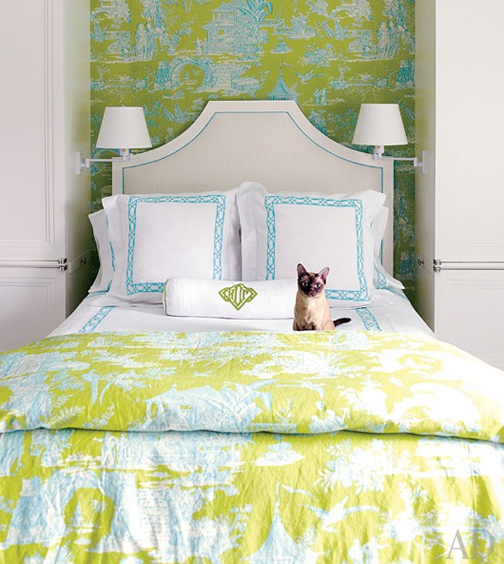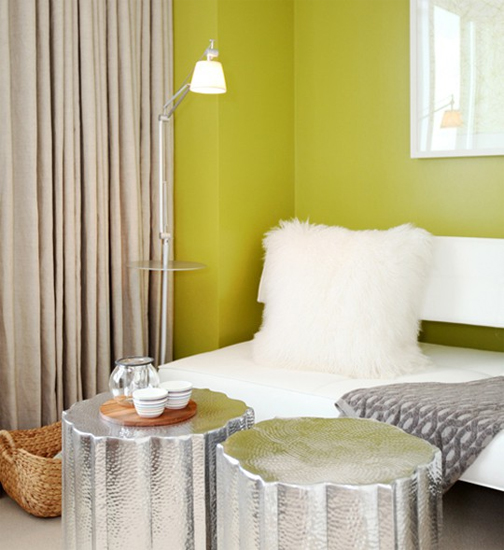 (Sources from top to bottom: here, here, here & here, here)
What do you think? Love it, like it, maybe not? What new bold shades are you loving these days??? DO TELL…
P.S. We have a new line up coming this week. PLUS, Our shop is finally going to have products in it…. just wait & see!