Over the last few months, I have been re-designing our home office/studio. In case you didn't have a chance yet, take a look at our newest & most updated home project list.
We started re-designing the room back in February of last year with the idea that both Kevin and I would be full-time in the space. With that notion came the idea to keep it styled more … We decided on a whim to paint the room with orange stripes on an accent wall. I really wanted to go out of my comfort zone and create a space that could dual as an office & man-space! I liked it after two days and then I hated it again after. Who am I kidding? I am so not an orange wall kind of gal. Or at least not like this. I literally felt almost sick every time I looked at it! So… what was a girl to do? Re-paint it.
Actually, Kevin switched real estate firms and with the change came new requirements. He has an awesome office downtown and that left me with the home studio to myself… well almost. There are times when he needs a space in our home office so I didn't go too girly with the space. We sat down and talked about what I really had wanted from day one… a space that feels crisp & clean, with a few patterns and colors that echo my personality and design style. I went with a bright & fresh color scheme of light minty aqua for the walls, bright white clean-lined furniture & bold & fun patterns & accessories.
Let me show you the design board I pulled together to get us started…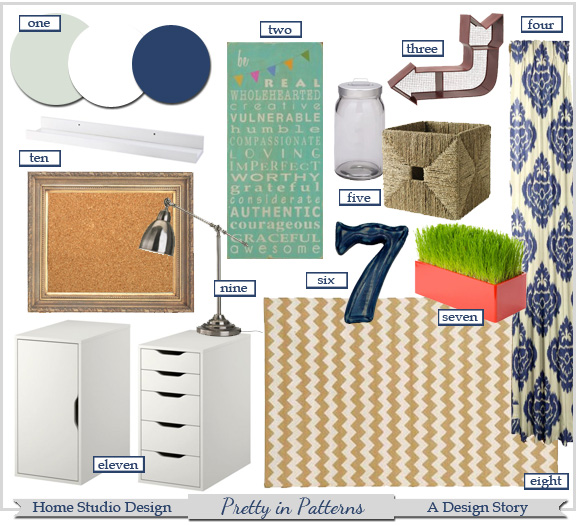 Here's the breakdown:
1. Color Scheme: I went with Martha Stewart's Spring Melt (MSL114) for the walls, it's a beautiful minty-aqua green shade. The trim will stay bright white to create the fresh look I am striving for. As for accent colors, I decided I would stick with a nice navy, beige and a few pops of green & coral. I really wanted the home office to flow with the rest of our home, just with a few added colors & patterns.
2. Art: I was browsing through Target recently and found this great "be real" art. It really goes with my word of the year and it has all
3. Wall Decor: I really want to fill this space with fun decor that says "me". I love beachy/urban/vintage/classic decor and I may just mix a few items into the space for an eclectic look. I love this red arrow shelf… I don't necessarily need another shelf in the space, I just think the arrow would be a fun element to add some personality & character to the office.
4. Drapery: I ordered Duralee's Kalah Blue fabric to make the curtains with. It's a really beautiful navy blue ikat pattern that looks both classic & a bit traditional. It's a bit pricey, but so worth the extra pennies! I am going to sew my own drapes… I'll show you the process of course!
5. Storage: I need a ton of storage in my office for both the blog business & local interior design projects I am working on. I picked up these clear jars & baskets on a trip to Ikea to store some of my items in. I plan on putting them in my expedit bookshelf that's existing in the space currently.
6. Personalizing the Space: I want to include personal elements in the office that speak to me/or us! I love the number seven… Kevin first told me he loved me in July and we were married one year exactly from that date. July is 7 and it's why I love it! Plus, 7 is the number of completion in the Bible and it just speaks me! I am going to incorporate a wooden 7 somewhere in this space!
7. Punchy Accessories: I can't wait to add final touches to the room. I love the idea of adding some bold elements like this coral bin with faux grass in it. It's just fun and brings a little bit of outside in.
8. Zig Zag Rug: It's no secret that I am in love with all things chevron. I bought this rug in an 8 x 10 for the office (and a 5 x 7 for our hall). I absolutely love it. It really falls in line with my desire to mix patterns, yet the beige color keeps it from looking to busy!
9. Lighting: I already purchased this fabulous green glass lamp from Marshall's, but we needed additional work lamps for our desks & I love this one.
10. Additional Wall Accents: I bought an old vintage frame from a thrift store a while back and I thought it would be perfect to use as a bulletin board. It's going to be fun little diy project. We also purchased a few of these picture ledges so I can switch art & accessories out every so often.
11. Furniture: We purchased desks from the Ikea Vika collection. Two of the cabinets, two of the drawers, one of the file drawers and 2 tabletops (& two legs)… all are in white! The new desks will give each of us plenty of working space. They are cleaned lined and will add a touch of modern style to the space. I will show you the floorplan in a post next week…
I have a ton of progress happening as we speak. The entire 2nd floor of our home is having the carpet ripped up and wood installed… this includes the office! I am really excited! Once the flooring is complete, we will have a chance to go in and hang up the art and put the room together. My head is spinning I am so excited! Since I have to wait a few more days, tell me what's on your agenda? Any new projects? Have you gotten to your list this year? Do tell…