All Natural DIY Cleaning Supplies
I am somewhat of a clean freak and always looking for the best product to clean the surfaces and fixtures in our home. Have you taken a trip down the cleaning aisle lately? With so many products with "promises", you can't keep a clean house without loading your shopping cart with a different cleaner for each surface, floor and sink in the house. These All Natural DIY Cleaners are you going to impress you and make you want to ditch the alternatives.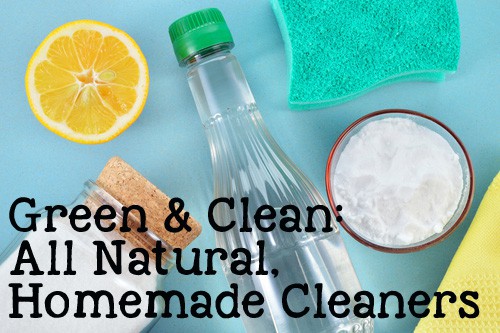 Simple recipes using products right from your own pantry make powerful household cleaning solutions. An added plus: these natural products are more environmentally friendly than commercial alternatives and aren't as harmful either!
Baking soda: provides grit for scrubbing and reacts with water, vinegar or lemon by fizzing, which speeds up cleaning times
Borax: disinfects, bleaches and deodorizes; very handy in laundry mixes
Distilled white vinegar: disinfects and breaks up dirt; choose white vinegar over apple cider or red vinegars, as these might stain surfaces
Hydrogen Peroxide: disinfects and bleaches
Lemons: cut grease; bottled lemon juice also works well, although you might need to use bit more to get the same results
Olive oil: picks up dirt and polishes wood; cheaper grades work well
Vegetable based (liquid castile) soap: non-petroleum all-purpose cleaners
Washing soda: stain remover, general cleaner, helps unblock pipes; should be handled with gloves due to its caustic nature. Washing soda is usually found in the laundry aisle of grocery and drug stores.
Ammonia:  a strong alkaline solution, clear; non-sudsing ammonia creates stronger window and all-purpose cleaning recipes than acidic vinegar.
Rubbing Alcohol (isopropyl): provides the base for an evaporating cleaner great for glass.
Grab an empty spray bottle, save old rags and used toothbrushes for wiping and scrubbing!
So are you ready to stock your cleaning shelves with these homemade recipes that are sure to make your home sparkle? Try these easy simple recipes:
WHOLE HOUSE:
Air Fresheners1
Simmer whole spices such as cinnamon sticks, cloves, allspice. Hang an orange or apple studded with cloves in small spaces. Herbal potpourri in bowls.
All-Purpose Cleaner
1/2 cup borax
1 gallon hot water
Mix in bucket (or use smaller amounts in a spray bottle: 1/8 cup borax to 1 quart of hot water) dissolving the borax completely; wipe clean with rag.
Surface Spray
2 tsp. borax
¼ tsp. liquid castile soap
Hot water
Homemade Spray Cleaner Recipe
Mix in a sprayer bottle:
1 cup white vinegar
1 cup water
Window, Chrome & Window Cleaner
5 parts water to 1 part white vinegar, OR
1 c. water, 1 c. vinegar, ½ tsp. castile soap (like Dr. Bronner's)
Homemade Glass Cleaner Recipe #2
Mix in a sprayer bottle:
1 cup rubbing (isopropyl) alcohol
1 cup water
1 tablespoon white vinegar
Mildew/Germ Killer
2 c. water
25 drops of tea tree oil
25 drops of lavender oil
Spray on tile and do not wipe off.
Dusting
Slightly dampened microfiber cloth
Floors:
Wood
1/4 cup white vinegar
1 gallon warm water
Linoleum
1 cup white vinegar
2 gallons warm water
Mix in mop bucket, rinse afterwards.
Carpet Stain Remover
1 part borax
10 parts warm water
Combine in spray bottle. Spray on stain, wait 5 minutes, blot with clean rag.
Carpet Deodorizer
Baking soda
10 drops of essential oil (optional)
Mix together then sprinkle generously on carpet, wait 15 minutes and vacuum.
Furniture Polish
1/2 cup white vinegar
1 teaspoon olive oil
Mix and apply with a clean rag to dust and polish. Reduce the olive oil if wood looks too oily.
Metal Polish:
Copper and Brass
2 Tbsps salt
White vinegar
Add vinegar to salt until you've created a paste. Adding flour will reduce abrasiveness. Apply with a rag and rub clean.
Stainless Steel
Baking soda
White vinegar
Apply baking soda with a damp cloth, using the vinegar to eliminate spots.
BATHROOM:
Toilet Bowl
Baking soda
White vinegar
To clean and deodorize, sprinkle toilet bowl with baking soda, add white vinegar and scrub with a toilet brush.
Tub and Tile
1/2 lemon
Dip the face of the lemon half in borax to create a hand-held scrubber for dirty areas. Rinse and dry the surface afterwards.
KITCHEN:
Countertops
Marble: Mix one Tbsp castile soap with a quart of warm water, rinse well, and then dry with a warm cloth.
Other surfaces: half a lemon and dip the face in baking soda to scrub off residues. Follow up by spraying with glass cleaner mix (below).
Drains
1 cup baking soda
1 cup vinegar
Add baking soda and vinegar to a pot of boiled water and pour down the drain, then flush with tap water. For more stubborn clogs, use a "snake" plumbing tool to manually remove blockage, or try suction removal with a plunger. To prevent clogs, install inexpensive mesh screen, available at home improvement and hardware stores.
Glass
1/4 cup vinegar or 1 Tbsp lemon juice
2+ cups water
Fill a clean spray bottle with water and either white vinegar or lemon juice; wipe with a rag or old newspaper.
Oven
baking soda
Water
Sprinkle baking soda on surfaces, spray water, and then let soak several hours or overnight. Rinse with water.
Refrigerator Cleaner
2 tbs. baking soda in 1 qt warm water
Wipe down inside and out and rinse with a clean wet cloth.
Microwave Cleaner
½ c. vinegar
2 c. water
Combine in microwave safe bowl, heat on high for 3-4 minutes, remove bowl and wipe down inside of microwave.
Dishwasher Detergent
2 c. borax
2 c. baking soda
4 little packages of unsweetened lemon Kool-Aid (or generic)
Mix together and store. You can substitute ½ c. of citric acid for the Kool-Aid but it's harder to find.
Stovetop and Oven Grease Remover
1/2 tsp washing soda
1/4 tsp liquid soap
2 cups hot water
Add washing soda and soap to hot water in spray bottle. Since washing soda is caustic, wear gloves.
Fruit and Vegetable Wash
1 cup water
1 tbsp. lemon juice
1 tbsp. baking soda
Spray on produce, wipe after 5 minutes.
LAUNDRY ROOM:
Bleach alternative
1/2 cup hydrogen peroxide
Laundry Detergent
Mix 1 cup Ivory soap
1/2 cup washing soda and
1/2 cup borax
Use 1 tbsp for light loads; 2 tbsp for heavy loads.
Fabric Softener
Add ½ – 1 c. vinegar to your softener dispenser
Want more? Here are some other things we (Team Milner) do in our humble abode:
We take off our shoes right when we walk in & place them in a basket… shoes track in dirt, sand & bacteria
We use a squeegee to wipe off all the water droplets from the glass after our showers… it keeps our shower looking cleaner, longer
We use cold/cold on our washer
We replaced all our dusters with reusable & washable microfiber cloths (I got mine from the dollar store)
We frequently microwave our sponges to kill germs (we only keep our dish sponges for like two weeks)
So what about you? Do you have any homemade cleaner secrets? Do tell. If you love a good DIY project, we urge you to consider trying out one (or all) of these natural cleaning remedies this weekend & come back & share your story (results)!!
Not in the mood for DIY cleaners? Check out my Amazon Store for more choices!
Note: This post contains affiliate links. Facts came from: The Green Guide, About (Frugal Living), and Earth Easy. Photos courtesy of A Design Story, LLC, Martha Stewart & Petersons.