Trending… Peplum! There is really no way to ignore the burst of peplum tops & dresses that have been popping up on my fashion radar ever since fall.
Peplum tops first became popular around the 1940's when the fabulous Christian Dior started creating them. I really think that the Peplum style fits most body shapes… they flatter your figure by adding fullness to the hip area to create the illusion of a slimmer waistline.
My tips for Peplum:
– Pair a peplum top with super skinny jeans or pants.
– Longer peplum tops look great with a wide leg pant.
– Peplum dresses look great with pointy shoes or rounded.
-Peplum tops also look great with a pencil skirt for business attire.
I gathered a bunch of budget friendly peplum tops & dresses for some fun examples. Some are dressy & some are casual… keep in mind there are all kinds of styles out there! I have seen a few spring lookbooks and have spotted lacy, floral, animal print & neon peplum tops… how fun!!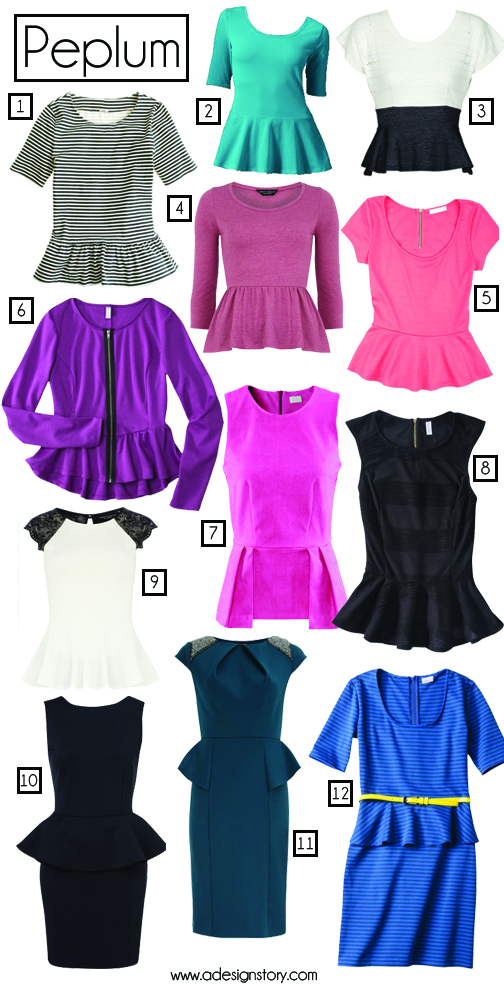 Shopping Resources Pictured: 1 / 2 / 3 / 4 / 5 / 6 / 7 / 8 / 9 / 10 / 11 / 12  
Ladies, where are you in the peplum trend? Love it? What are your favorite ways to wear those peplum tops & dresses? I would love to know. Do you have any other fashion trends you love these days? Share, please do!