Happy Friday! Hopefully everyone has fun spring plans for the weekend… my plan is to get my closet into shape for the spring. What about you? In addition to cleaning the ol' closet, I am cleaning the blog too! In an effort to get my website organized and ready for some big changes, blog posts are going to become more frequent. Normally, it would go the other way, but I have ideas I want to begin implementing before the bigger changes begin. So stay tuned for that!
I have a really fun e-design project to show you guys. Remember the Rustic & Fun Living Room I designed for Jake & Aubrey? Just in case you missed that post, click here. Anyways, I was thrilled to get an email a few weeks back from them saying how much they loved how their living room was coming together after following the design board & ideas I presented to them. It's always nice to hear positive feedback, don't you think?! I was excited to hear that they needed a few suggestions for their kitchen. Here's that portion of the email…
….. "Lindsay, we are really enjoying the color scheme you selected for our living room. It's so us! We have also finally purchased the last item off the design board… so now everything you suggested is in the room and we are in love. It's really become a place we love to be in and have parties in. But, we need your help, again! Since the kitchen is directly off the living room, we want to keep the same color scheme and add hints of vintage-rustic design elements into the space. We need curtains for the long windows, a few accessory ideas, some kind of interesting rustic movable island, a rug and a lighting fixture. We can't wait to see what you come up with! Thanks, Jake & Aubrey!"
It's always a pleasure to have repeat clients that come back for more design help. I absolutely love to help people achieve the look that's right for them in their home. Your home should be a reflection of what you love, colors that make you feel good & furniture that suits your tastes! I pulled together a really fun & rustic kitchen for Jake & Aubrey. Let me show you…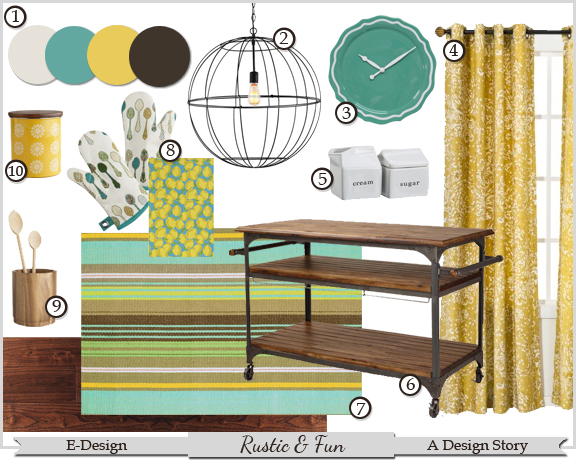 Here's the breakdown:
1. The Color Pallet: Keeping with the wall color you guys had already painted the living room and kitchen (SW Snowbound), we'll continue with the same great color scheme to unite the two spaces. Creating a good flow within spaces that are openly joined together is important for a successful design scheme.
2. Globe Lantern: I love the idea of adding a fun globe lantern to the kitchen. It's open so you can see the light-bulb, which makes it feel a little vintage. It will sit right above the new island and center the space.
3. Plate Clock: Add vintage elements in small doses around the space for added personality. Since you don't have much wall space, add this wall clock and pair it with a few framed prints for a fresh, vintage feel. If you have access to vintage wallpaper samples, you can frame a few of those and add those to the wall as well. Pattern is a big element when you are trying to incorporate rustic and vintage design styles. Don't be afraid to mix & match!
4. Yellow Paisley Curtains: Your kitchen windows are on the side farthest from the living room. Yellow tends to brighten up a kitchen in ways that other colors can't do. I say stick with the yellow color scheme when it comes to the drapery. Without anything in it, your kitchen tends to be darker with the warmer finishes that are in it (dark cabinets, mocha colored granite & dark wood flooring)… let's brighten it up a bit!
5. Sugar & Creamer Set: Nothing says vintage more than these little guys. Add these to your coffee section of the kitchen… make a coffee station by adding a tray next to your coffee maker… Add the creamer and sugar dishes, a cute tin full of extra spoons, a tea towel & extra coffee in a canister. It's one of the best things I did in our kitchen… it works well when it's just us and it's even better when we have guests over!
6. Island: Movable islands are a great way to add extra counter space to a kitchen, while also giving you freedom to clear it out and make room for parties, etc. I selected this rustic island for the kitchen because it's pretty skinny and long, making it the perfect size for the space. It has rustic elements and will go seamlessly from one room to another should you need it for serving, etc. Add some baskets to the bottom for kitchen storage and a tea towel on the end!
7. Striped Rug: This is a great rug for the space, not only does it incorporate our color scheme in a big way, it's very easy to clean! It's a pretty light weight rug, which is great for durability in a kitchen setting. Add this below the island to ground the space… keep in mind it's big enough to cover the middle of your kitchen!
8. Linens: Add bright colored and bold patterned linens (oven mitts & tea towel) to the space. Hang them off the island or the oven and near the sink for added pops of color and personality.
9. Utensil Holder: Go rustic with this wooden utensil holder. It will blend in with the rustic vibe and add another wooden element to the counter.
10. Canister: I love, love, love these vintage inspired canisters. They carry them in yellow, aqua and reddish-orange. Go and grab a few of these!! They will look great on the counter & serve for extra storage for items you use on an everyday basis… (cereal, sugar, flour, cookies… etc.)
So, what do you think? Love it? Any favorite color combos these days? Thank you to Jake & Aubrey for giving me the pleasure of working on your home again. I enjoyed creating this design for you guys & I hope you love it! What about any of you… do you need a new look for your kitchen? Do tell…