Happy September everyone! It's time again for Fresh Picks! I love sharing some of my favorite things on a monthly basis. Plus, I love hearing what you all are into too!
I have been a little more MIA from the blog the past two weeks than I had planned. We have been SO BUSY. We are working on renovating our new house, packing up the current house, finishing up the blog & site re-design and trying to enjoy the entire process. Whew… it's exhausting. This month is going to be crazy and I am gearing up for the transition with a lot of prayer & coffee! In the meantime, let's get rolling with September's faves…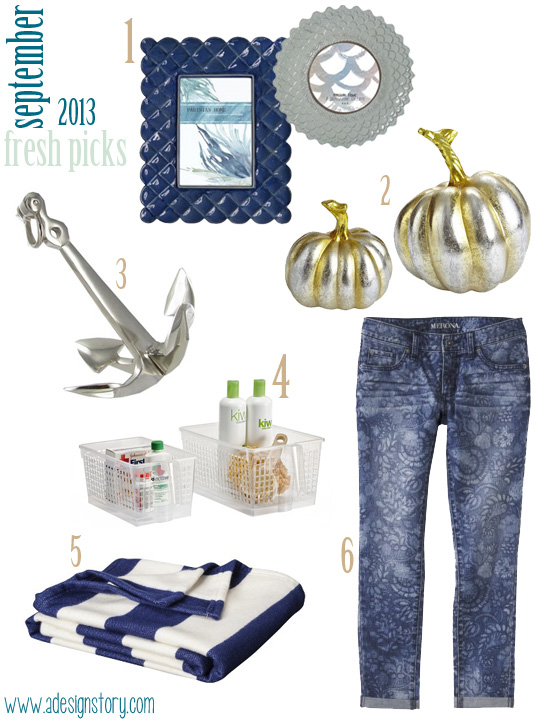 Here's the breakdown:
1. I absolutely am a sucker for pretty picture frames. I want to create a unique gallery wall in our new house, so when I saw the blue frame and round frame at Kohl's the other day, I grabbed these beauties up! They both have a unique color and shape and I think they will be perfect for the idea I have… stay tuned for more on this!
2. It's fall y'all… well almost. I always feel a bit weird putting out all of my fall decor right after Labor Day. I am pretty sure it's because it's still blazing summer outside. Plus, this year it's already packed up in boxes and ready for the move. So I won't be pulling anything out until we get into the new house and settled in. The thought of that sounds like so much though! I do have my eye on these mercury glass pumpkins though… we will see what the budget allows with all the home renovations going on!
3. I know it's fall (almost), but our home decor theme is coastal-beach-chic. The theme is going to be carried out in a fun way in the new home. I happened to be at Hobby Lobby the other day with my mom & sister and came across this fun metal anchor. I thought it might look cute on a few stacked books or maybe on top of the kitchen cabinets. It was a little it pricey, but with their 40% off coupon, it had to come home with me!
4. Kevin and I stopped in at the Container Store about a week ago on a quick day trip to Tampa for a family dinner. It was our first time there and wow I couldn't believe all of the organizing possibilities. We figured we would go back after we move into our house, but we did pick up a few of these large handled bins for our pantry.
5. Target is famous for making my heart leap with new home decor trends and goodies. I love this navy & white striped throw blanket and it's on my wishlist for the new house. I may wait until it goes on sale or I find a coupon… we'll see if I can wait that long!
6. I love these skinny jean capri's… wouldn't they be adorable for fall (well here in Florida anyways) with cute flats and a cute t-shirt & scarf? I had a coupon for these and grabbed them up as soon as I found it!
So, what about you guys? What are you crushing on these days? What are your favorite recent purchases? Come on & share!