Happy February! This month is absolutely one of my favorite months of the year! My birthday falls on the 6th and I adore all things Valentines! This month I came across so many wonderful things it was hard to narrow the list down!
I adore shopping for unique gift ideas, home décor (obviously), dog toys for Bentley, fashion accessories, etc. Therefore I thought I would put my obsession with shopping to good use and share my findings. Every month I will feature a "fresh picks" blog, posting my new favorite items so you can shop! So, here we go… the first edition of "Fresh Picks":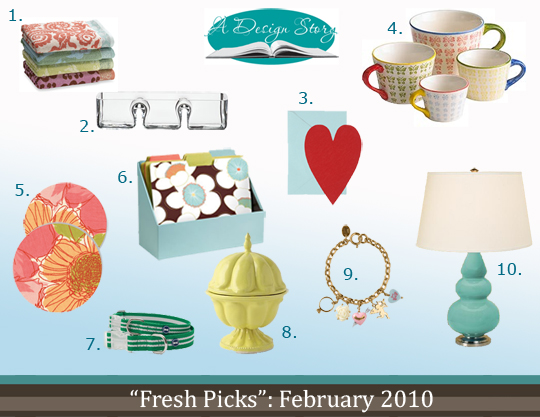 February's breakdown:
These top-ten "faves" are both easy on the wallet and unique! Have fun shopping! Do you have a product you are dying to tell us about? Feel free to comment or email us and share!!