Offering interior design packages online has been a fun way to pursue my love of helping people with their spaces, while also allowing me to be a stay at home mom. It's the best of both worlds truly. Recently, I had the pleasure of designing a bathroom for a family friend who just moved into a home that's partially been renovated. The guest bathroom was up on the chopping block next and is stripped and ready for a reno. My client really wanted a classic and nautical theme throughout their home. Together, we decided the guest suite would boasts white, tans and blues for a Nantucket design scheme. I absolutely loved working on this project and can't wait to show you what I came up with!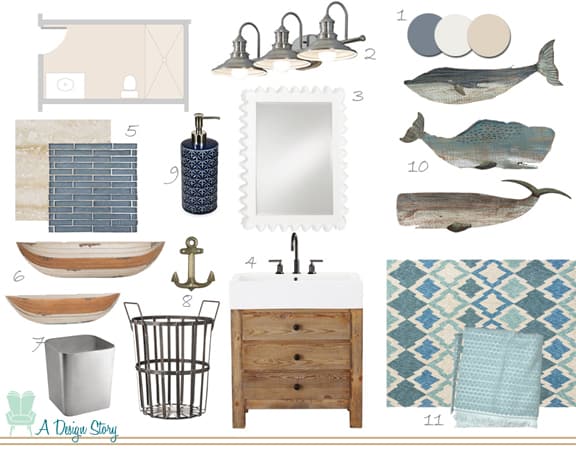 Quick Breakdown:
(Note- All E-Design clients receive their packages via email, this is a scaled down version of what they receive).
The color palette for this room includes some soft neutrals, crisp white and Nantucket blue as the accent color. In a small bathroom, keeping to a minimal color scheme will create a timeless look. Walls- Sherwin Williams, Softer Tan 6141.
 To add a coastal feeling to the vanity, I chose this (Antique Pewter) Lantern Light. It has three lights and creates the perfect vibe for this design theme.
I fell in love with this Scalloped White Mirror for the space as soon as I saw it. It mimics coral and makes you feel like you are living on the shore. With the sink basin being white, the mirror adds to the character without making the room feel top heavy, or out of proportion.
The vanity needed to be special without being ornate in design. I came across this Reclaimed Pinewood Vanity and instantly knew it was the one. It has the right amount of storage for a guest bathroom and the wood tone lends itself to the washed, beach wood look we were looking for.
Tile Surround + Floor: Tumbled Marble 18×18, Listello: Blue Glass from Local Shop
 Above the toilet, I added these adorable Boat Shelves for added display space and for an additional coastal feel. My suggestion would be to hang them about 15″ apart, one right above the other (not staggered).
This Stainless Waste Basket gets the job done without being too much of a fuss. This design really is a less is more type of space and the waste basket shouldn't be over the top.
Places to hang towels, a robe or even an outfit is a nice feature to add in a guest bathroom. I chose these Anchor Hooks (they come in a package of 3) and can be found in-store at Target. I would hang them on the wall behind the door or directly under the whale art, closest to the shower. Additionally, a place to put dirty towels is also a great element to add in a guest space. I love this Industrial Hamper Basket for it's design and it's absolutely perfect for this space.
My client really likes to have a ceramic soap dispenser in her bathrooms. I found this navy dispenser that has a small white pattern for the sink top.
A great way to hammer home your theme in a space is with art. I found these Wooden Whales on my hunt and think they are the perfect design addition to this space. I recommend hanging them on the wall opposite the toilet (directly across toilet and boat shelves).
To finish off the space, I like adding this patterned rug and these towels for guests to use. Small pops of pattern bring in a little character while adding a fair amount of visual interest.
I am happy to report that my client loved the design and is currently making the design a reality. I absolutely adore designing online for clients and I can't wait to see it all completed. What do you think? Are you a coastal design theme lover too? Do tell. If you are interested or in need of a new room design, please visit my e-design page!